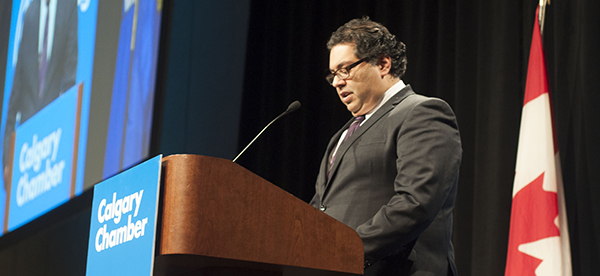 Dec. 17, 2014 | CREBNow
How suite it isn't
Council votes 8-7 against secondary suite reform
''If this fails today, we're done ... I'm done, frankly."
So was the sentiment of Mayor Naheed Nenshi earlier this week prior to council voting 8-7 against a reform plan for secondary suites in the city.
The mayor, expressing frustration at the tedious talks, followed up by saying if secondary suites showed up in council again, he'd leave the room until it came time to vote.
Ward 7 Coun. Druh Farrell, meanwhile, likened the entire process to "giving birth to a chair." What proponents did get from council's raucous debate is another report on possible next steps, which will be ready by next spring. Among the options will be to allow suites next to major transit stops, limit suites to four central wards, a licensing system for suite owners and a citywide plebiscite on the issue.
The framework initially presented to council by senior special projects officer Cliff de Jong would have established a discretionary development permit process for suites where they are currently not allowed, as well as furthered public consultation with Calgarians to fully develop regulations moving forward.
If it had been endorsed, the framework looked to protect the safety of tenants, ensure neighbourhood consultation was part of the development review, increase diversity of housing choices, establish requirements for secondary and backyard suites and provide a consistent approach to regulation.
It would also have meant people applying for suites could do so through administration instead of having to appear before council, with a licensing program, similar to having a business in your home would take effect.
"If we're going to have some sort of regime to license secondary suites, it shouldn't be exclusive to R1 and R1C zones," said Ward 10 Coun. Andre Chabot, who made an appearance at a Calgary Chamber of Commerce event Dec. 12 in support of suites only to argue that Calgary had "240 years' worth" of serviced land supply for secondary suites.
Currently, more than 53 per cent of homes in the city are zoned RC1 or R1, meaning secondary suites are not allowed. An amendment by Ward 14 Coun. Peter Demong passed 12-3 for the aforementioned licence program to cover all dwellings
The City is currently on pace to approve 150 suites this year.
Earlier in the week, seven councillors commissioned a poll finding 71 per cent of Calgarians were in support of suites, yet only 57 per cent supported blanket zoning in the city. Ward 5 councillor and suite naysayer Ray Jones said out of 57 calls to his office over the weekend, only three were in support of suites.
Secondary suites have long been a hot topic in the city, especially in recent weeks. A consortium of local advocates known as Calgarians for Secondary Suites gave followers the option to send support letters to the mayor and council.
Provincial politicians such Alberta Party leader Greg Clark and Liberal MLA Kent Hehr have also waded into the debate, and even the mayor himself pleaded with the business community at an annual Calgary Chamber luncheon about the importance of suites moving forward.
"There is one thing that would be really easy to do, and we really need to do it, and every other city in Canada has already done it and I can't quite get there," said Nenshi.
"So now ... I'm begging for your help. There is no question in this city that we have to legalize secondary suites. We have to do it. There can be no more dithering. There can be no more fighting about this. It has to be done."
A recent report from the Canada Mortgage and Housing Corp. (CMHC) found, while vacancy rates across the country improved slightly in October, Calgary's sat at 1.4 per cent, 0.4 per cent better than the same period last year, but still the lowest among major centres in the country.
"Between October 2013 and October 2014, the supply of purpose-built rental housing units rose by 2.7 per cent. Overall, this increase in supply outpaced the rise in occupied units, slightly pushing up the national vacancy rate," said Bob Dugan, chief economist at CMHC's Market Analysis Centre.
"That said, demand for rental housing was supported by net migration and steady levels of full-time employment in the 15 to 24 age group."
Tagged: Andre Chabot | Calgary Community | Calgary Real Estate News | council | Druh Farrell | Naheed Nenshi | reform. Calgary | Secondary Suites | Secondary Suites
---
---
Connect With Us