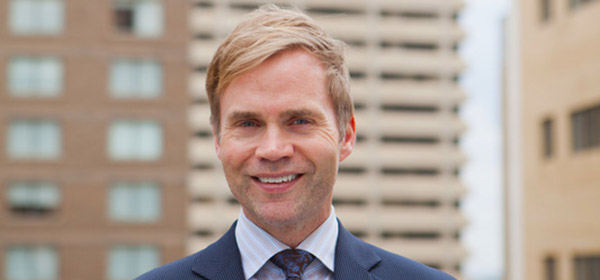 ATB Financial chief economist Todd Hirsch. CREB®Now file photo
Sept. 19, 2016 | Miles Durie
Changing expectations
Housing market offers some surprises, different perceptions, say local experts
A quick look at today's real estate market might not exactly fill first-time homebuyers with optimistic anticipation. Yet dig deeper and there's plenty of reason to get excited, say housing experts.
Even though home sales are down by double-digit percentages in terms of units sold and money spent compared to a year ago, the average selling price is up slightly — about two per cent, to $474,605 in August, according to CREB®.
While perceivably negative news for would-be homebuyers, CREB® chief economist Ann-Marie Lurie noted average price doesn't really tell a useful story. It's all about the benchmark.
"The benchmark price represents similar product. The average price is quite different — it's really influenced by composition," said Lurie.
"One isolated high-priced sale can skew the numbers."
And benchmark statistics are positive for first-time buyers, or otherwise: when you compare similar home types, benchmark prices in the city declined 4.2 per cent in August from the same time a year ago to $440,200, according to CREB®. It's dropped by 3.7 per cent year to date.
"Now is a great time to buy."
Apartment-style condos lead the way last month with a 7.1 per cent year-over-year price drop. Attached homes were down 4.7 per cent and detached homes have seen a 3.3 per cent reduction in selling price, noted CREB®.
There are some great deals out there and plenty of listings to choose from, said ATB Financial chief economist Todd Hirsch
"Now is a great time to buy. There are a lot of homes on the market right now, and that really favours the buyer," he said.
As for those interest rates, Hirsch doesn't see them getting any lower. "But they aren't increasing, either — I'm still saying for at least a year."
New attitude
Despite market incentives to shop now, the first-time-buyer market in Calgary is shifting. Attitudes about home ownership have changed in the last decade, said Laura Parsons, area manager and mortgage specialist with BMO Financial Group.
Where once buying a home was an essential rite of passage, today's first-time buyers are weighing lifestyle and financial considerations before entering the market.
"It's all changed. They're not looking at it as a milestone. They're looking for return on investment," said Parsons. "And people are nervous about changing their lifestyle."
Lurie added renting has become a more practical option than it may have been in the past, reducing the incentive for younger people to buy homes.
"There is still a lot of rental available, so people are not under pressure to make that buying decision," she said. "The fact that we've had fairly slow sales activity shows that we have a number of people who are waiting to see what's happening."
Young people who would once have been a prime market group for homes are now biding their time in rentals or continuing to live with their parents.
"It's a lifestyle choice. If you want to live downtown, it's going to be a condo."
And those who are interested in buying a home are weighing the differences between single-family homes and multi-family buildings including condo-style apartments.
Regardless, location remains crucial, as affordable single-family homes are often outside the inner city while condo living can keep a homeowner closer to the urban core, said Parsons.
"It's a lifestyle choice," she said. "If you want to live downtown, it's going to be a condo."
Condos are currently showing the biggest price decreases thanks largely to significant amount inventory that is being absorbed more slowly than had been expected, added Lurie.
"The competition in the condo market includes aggressively priced new product," she said. "Future supply may be limited, but you still have to work through the construction currently underway. You're adding a lot of units at a time, so it's harder to scale back."
Help getting started
Whether a first-time buyer has his or her sights set on a detached home in the suburbs, an inner-city condo in a character building or hasn't decided yet, there's plenty of help available to turn the dream of home ownership into practical reality, said Parsons.
"A lot of first-time homebuyers don't know all the programs available to them," she said. "They don't understand how they can get started."
The federal government's Home Buyers' Plan is one example. It allows first-time homebuyers to withdraw up to $25,000 from RRSPs in a calendar year, tax-free, to put toward a down payment.
The definition of a first-time buyer is anyone who has not owned a home (or lived in a home owned by a spouse or common-law partner) for the previous four years.
In addition, the First-Time Home Buyers' Tax Credit can put $5,000 back in your pocket.
Parsons also cited the Purchase Plus Improvement mortgage program, backed by Canada Mortgage and Housing Corp., as a great tool for both buyers and sellers.
"It's been around for 17 years, and it allows you to build the cost of renovations into the purchase price. It's a smart way of doing things," she said.
Finally, Parsons noted a program such as BMO's Getting Started is a great way for would-be homeowners to get used to the idea of mortgage payments and understand what they can afford.
"For first-time homebuyers, my message is to get in front of a mortgage specialist," she said. "Do it early, even if you're not ready to buy yet. The minute you think, 'I might want to buy a home in a year,' start the process."
That way, when it's time to decide, you'll be ready to make your move.
"If you find the home you see yourself in, you shouldn't play the market and the timing game too much," added Hirsch. "This is your home, this is where you're going to live, and if you wait the danger is that you're going to lose it."
Tagged: advice | apartments | attached | benchmark price | Calgary Real Estate | Calgary Real Estate News | Condo | CREB® | CREB® Chief Economist Ann-Marie Lurie | detached | Feature | first-time homebuyers | homebuyers plan | Laura Parsons | Todd Hirsch | YYCRE
---
---
Connect With Us