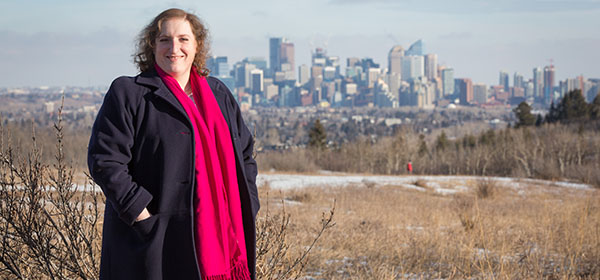 CREB® chief economist Ann-Marie Lurie expects the market to turn around in 2017, but doesn't expect conditions to return to long-term trends. Photo by Adrian Shellard/For CREB®Now
Jan. 09, 2017 | Jamie Zachary
Transition talk
Calgary housing market to see increased stability, signs of change in 2017: CREB®
The worst might be over for Calgary's housing market, according to CREB®, which is forecasting transitional conditions throughout this year on the back of renewed optimism in the oil patch.
The forecast, captured in the real estate organization's 2017 Economic Outlook and Regional Housing Market Forecast report, comes after more than two years of recessionary conditions that have been manifested by sales and price declines in virtually every corner of the local market.
"Calgary's housing market is expected to show signs of stability in 2017," said CREB® in its forecast, anticipating citywide sales to gain three per cent over 2016 to 18,335 units. "This will help reduce supply levels and support some price stability in the second half of the year."
The MLS® benchmark price for 2017 is expected to remain relatively balanced at $442,014, a 0.3 per cent increase from 2016. That follows a 3.84 per cent decline in 2016 – a year that was manifested by weak oil prices that caused many energy companies to claw back and resulted in negative net migration to the city and unemployment levels that led all other major Canadian centres.
"Home prices are expected to remain relatively unchanged over 2016 levels in the detached and attached sectors of the market, while the apartment condominium sector faces more downward price pressure due to the excess supply," said CREB® in the report.
"This will continue well into 2017 until inventory levels ease and the market returns to more balanced conditions."
CREB® referenced changing conditions in the energy sector behind its 2017 forecast. It noted expected reductions in total oil supply mean many in the industry now believe the market has hit bottom. As a result, prices are expected to stabilize between $50 and $55 US per barrel in 2017.
"While oil prices are not high enough to encourage a significant amount of investment growth, a sustained period of price stabilization above $50 US per barrel is expected to prevent any further contraction in the energy industry," said CREB®, adding that will create slight improvements in the labour market that should help prevent any further contractions in housing demand.
"The number one risk is what could happen in the labour market."
CREB® chief economist Ann-Marie, who authored the report, said a number of risks could change the forecast at any point in 2017 – such as rising mortgage and, unemployment rates, as well as unexpected changes in oil prices or domestic and international policy shifts.
"The number one risk is what could happen in the labour market," she said. "Currently, the expectation is that employment levels are going to increase. If that doesn't happen, then you're not going to see stabilization in the housing market."
She also acknowledges the housing market faces more risks in 2017 than it did in 2016 when there was a general expectation that conditions would be weak throughout the year.
"Now, when you're thinking about it in terms of risk, it's whether the transition will start this year or is it going to be delayed," said Lurie.
In fact, while Lurie expects the market to turn around in 2017, she doesn't expect conditions to return to long-term trends. She anticipates housing sales activity will remain well below normal levels for the city, and prices will be unstable to an extent across all segments and property types.
"When you're thinking about it in terms of risk, it's whether the transition will start this year or is it going to be delayed."
In the report, CREB® noted the detached sector will gain the most momentum in 2017. It forecasts the benchmark price to rise by 0.8 per cent to $506,260 and sales by three per cent to 11,550 transactions.
The attached benchmark price will likely behave similarly, rising by 0.5 per cent to $334,648 and sales by 3.5 per cent to 4,002.
The apartment sector, however, will continue to be fraught with high inventory levels in 2017, said CREB®. The benchmark price is expected to drop by a further two per cent to $271,672 after already falling by six per cent in 2016.
While apartment sales are poised to increase by two per cent, it won't be enough to compensate for current high inventory levels that, as of the end of 2016, peaked at more than seven months of supply.
CREB® pointed to elevated supply in the apartment sector - not just in the resale market, but also increased competition from the new home and rental markets. A higher volume of rental supply choice, combined with declining rental rates and stricter ownership conditions, have reduced any sense of urgency for renters to consider home ownership, said CREB®.
High inventory levels and competitive pricing will continue to present opportunities for different types of buyers, including first-timers and investors, said CREB® president David P. Brown.
"We are already seeing more investors come back into the Calgary market," he said. "That's often the case when there has been a down market.
"The famous saying in real estate is, 'I should have bought that five years ago.' This is the point where some buyers will ask themselves that question."
Tagged: Apartment | attached | benchmark prices | Calgary Real Estate | Calgary Real Estate News | CREB president David P. Brown | CREB® Chief Economist Ann-Marie Lurie | detached | energy sector | Forecast Conference | Housing Market | inventory | MLS | new listings | Oil Prices | sales | YYCRE
---
---
Connect With Us