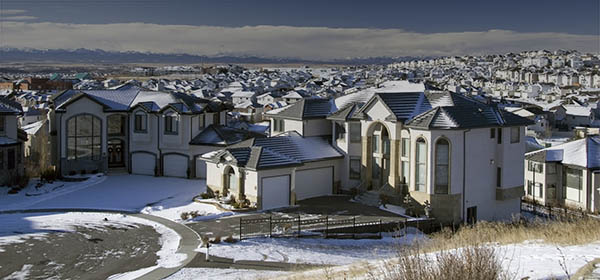 Year-to-date detached sales have declined by three per cent compared to last year, said CREB®. CREB®Now file photo
Jan. 12, 2016 | Cody Stuart
On the horizon
Resale housing market expected to navigate ominous conditions in 2016
The year was 2014. The price of oil was soaring sky high, and, like so many other sectors, Calgary's housing market was along for the ride.
What a difference a few years make.
Following the collapse of worldwide oil prices and subsequent cooling of the city's once red hot housing market, the arrival of 2016 now finds Calgary in a time of uncertainty.
In its 2016 Economic Outlook & Regional Housing Market Forecast, CREB® expects resale sales activity to decline by 2.2 per cent from 2015 levels to 18,416 units, and the benchmark price by 3.44 per cent to $438,652.
"With no economic change expected on the horizon, demand for housing in Calgary will be weak," said CREB® chief economist Ann Marie Lurie in the report, noting the beginning of 2016 will be a buyer's market, which is typically characterized by a sustained level of months of supply over three.
"Pricing trends have and will continue to vary depending on product type, price range and location," said CREB® president Cliff Stevenson.
"Sellers in this market need to have a good understanding of activity within their specific niche of the market."
Sales declines, listing increases and added supply pressure from the new home and rental markets will likely keep inventories elevated for at least the first half of the year, and place downward pressure on prices – albeit with differing activity based on location, price and product type, said Lurie. She noted, however, it will likely not erase all gains from the past three years.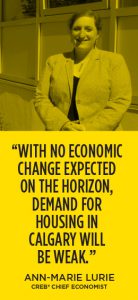 In the detached sector, the annualized benchmark price in Calgary is expected to drop by 3.2 per cent to $342,101, with sales expected to fall by 2.5 per cent to 11,229 units. Lurie expects homes in the $500,000-$600,000 range will see more downward pressure on prices as persistently weak economic conditions weigh on this segment of the market.
CREB® expects the attached sector to react similarly, with the annualized benchmark price declining by 3.5 per cent to $342,101 and sales by 1.5 per cent to 4,024 units. The sector will be significantly impacted by the new home market; nearly 20 per cent of multi-family product currently under construction consists of attached properties.
As was the case in 2015, Calgary's apartment sector is anticipated to bear the brunt of the weak economy, with prices forecast to fall by 4.2 per cent to $279,936 and sales by two per cent.
"A record number of multi-family units under construction will add to the overall supply of apartment condominium and rental projects, placing additional supply pressure in a market where demand is already weak," said Lurie.
In addition to combating weak oil prices, Calgary's resale housing sector will be challenged by a drop in the number newcomers coming to
the city.
According to the Conference Board of Canada, net migration to Calgary is forecast to reach 14,951 in 2016. Although the number represents a 27 per cent increase from the 11,747 residents the city welcomed in 2015, it pales in comparison to the 36,173 added to Calgary's population in 2014.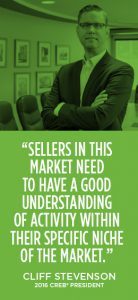 "While overall population growth is expected to remain positive, slower migration will impact housing vacancies in the city – first the rental market, followed by the ownership market," said Lurie.
"As a result, newly completed projects may have some difficulty being absorbed, pushing up overall housing inventory levels."
Similarly, the energy sector is also expected to impact the city's employment numbers – and, by virtue, the number of homes changing hands – in one way or another.
The Conference Board of Canada's forecast calls for a 0.9 per cent contraction in Calgary's employment level in 2016. In 2015, Calgary posted 2.51 per cent employment growth.
"While some energy companies have made significant cuts to their labour forces, others have attempted to avoid layoffs by cutting salaries, adjusting benefits and reducing paid work weeks," said Lurie.
"Depending on the extent of this activity, these measures might help minimize the impact on the resale residential housing market."
Lurie noted a recent survey from PetroLMI, a division on Enform, indicated that if similar economic environment persists over the next six months, further project cuts and or layoffs would be expected for half of the companies surveyed.
One market influence that is expected to remain static though 2016 are interest rates, which CREB® forecasts to likely remain unchanged throughout most of the year as economic conditions remain sluggish.
Tagged: Apartment | attached | Calgary Real Estate News | Conference Board of Canada | CREB® Chief Economist Ann-Marie Lurie | CREB® president Cliff Stevenson | detached | forecast | Housing Market | inventory | new listings | Residential | sales | YYCRE
---
---
Connect With Us