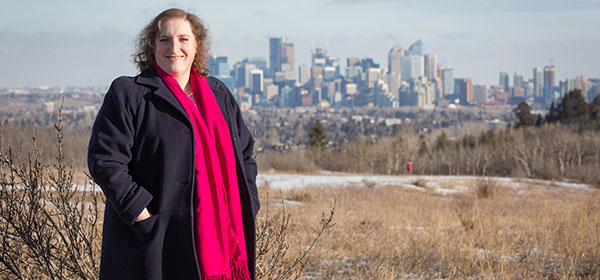 CREB® chief economist Ann-Marie Lurie expects the market to turn around in 2017, but doesn't expect conditions to return to long-term trends. Photo by Adrian Shellard/For CREB®Now
Dec. 21, 2016 | Jamie Zachary
Q&A with CREB® chief economist Ann-Marie Lurie
CREB® chief economist Ann-Marie Lurie has seen a bit of everything in 2016. From buyers' conditions to migrational changes, Calgary's housing market has taken industry observers like herself on a wild ride over the past 12 months.
CREB®Now
recently had the chance to sit down with Lurie and reflect on 2016. Here's what she had to say:
CREB®Now:
Did 2016 play out the way you expected?
LURIE:
Sales were weaker than originally thought, mostly because economic conditions were weaker than originally predicted. And prices fell at a far greater rate in the apartment sector than anticipated, too. Another thing that was interesting was new listings: I thought there would be more upward pressure on listings from people who had to sell, but that never really happened. Listings were able to contract, which was a good thing because it prevented further increases in inventory levels.
CREB®Now:
Did that pullback in listings create more balanced conditions than you anticipated?
LURIE:
Not exactly. While I thought listings might increase a bit, I didn't expect sales to fall as much. So it ended up playing out in the same manner as far as buyers' conditions for most of the year. That wasn't a surprise. It was how it got there that was a little different.
CREB®Now:
In December, detached housing prices in Calgary dropped below $500,000 for the first time since the beginning of 2014. Did that surprise you?
LURIE:
The price adjustments have been a bit higher than expected, but not by that much more. From peak to trough, it's been more than four per cent in the detached category. Now on an aggregate level, to have a four per cent decline, it tells me there has been some segments of the market that have had much steeper drops. And, in fact, when I start looking at various communities, I start to see that. If you look at some of the higher-end neighbourhoods, that decline has ranged from six to 15 per cent. Meanwhile, in the lower-priced neighbourhoods, I haven't seen that because there isn't enough stock there and those prices haven't adjusted as much.
CREB®Now:
?What do this year's numbers tell you when comparing to 2015?
LURIE:
Last year was already a weak year. If you look back at not just this year, but 2015, we had a significant drop in sales – around a 26 per cent decrease citywide. That's on top of what I'm expecting will be a six per cent drop this year.
CREB®Now:
?Did districts in Calgary react differently to economic conditions in 2016?
LURIE:
Yes and no. All of them have moved down. Every single district has seen price declines. That's because demand is weaker across the board. That is consistent. When you have economic conditions like this that impact demand like they have, that's going to be across the board. The price adjustments ultimately depended on how much supply existed in each of those districts. Even if demand dropped, if supply dropped, too, you might not have seen as severe adjustments.
CREB®Now:
?How did migration numbers play out?
LURIE:
Net migration actually fell. It was expected to slow, but was not expected to drop. We saw an outright outflow. More people left than came into Calgary according to the recent civic census. Further to that, even though it didn't seem like significant numbers, on trend, it was a lot more than during the previous recession. On a provincial basis, there was a drop, but it didn't fall into negative territory. If you look at migration between provinces, however, we lost more people to provinces like B.C. and Ontario than we gained. Enough international migrants came to Alberta that the number stayed positive. Yet then you have to consider they have a different profile that has a different impact on housing.
CREB®Now:
?Lastly, what happened in satellite communities around Calgary?
LURIE:
Most of them saw a drop in sales, but because they saw so much growth leading up to this year, levels were able to stay above longer trends. That makes sense with growing centres. Airdrie is a good example: sales dropped, but they were still well above long-term averages and still near their highs. Prices still dropped, but that's because new listings also remained near record highs, creating high inventory levels and, in turn, price adjustments. Another trend I noticed is increased pressure from new home construction. In surrounding areas, I really noticed an impact – not necessarily in the resale numbers in terms of inventory and supply, but in terms of resale pricing.
Tagged: Airdrie | Apartment | attached | benchmark price | Calgary Real Estate | Calgary Real Estate News | construction | CREB® Chief Economist Ann-Marie Lurie | detached | neighbourhoods | New home | new listings | sales | Satellite communities | Uncategorized | YYCRE
---
---
Connect With Us