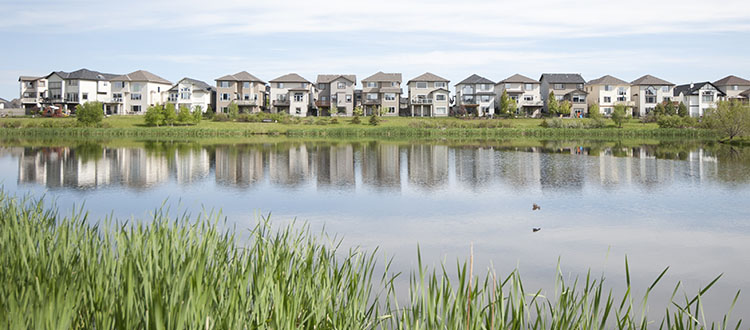 While final numbers have yet to be reported, CREB® expects Calgary's housing market to have behaved by year's end as first forecasted. At the end of November, sales in the city had declined by slightly more than six per cent, while benchmark price had fallen just under four per cent to $333,318. CREB®Now photo
Dec. 21, 2016 | Jamie Zachary
2016 year in review
Few surprises, but still highlights for Calgary's housing market this past year, say experts
In a year of sales declines, price adjustments and mortgage rule changes, the one constant for Calgary's housing market in 2016 was the number of challenges it faced as the result of soft economic conditions, say industry observers.
Yet officials also maintain challenges for some created opportunities for others. And, perhaps more importantly, there is renewed optimism heading into 2017 thanks to improving numbers during the second half of this year and a series of large energy infrastructure announcements.
"Certainly, sales are down and prices have softened, but I keep hearing people talking about the right time to get back into the market and buying land or property," said ATB Financial chief economist Todd Hirsch. "They are looking well beyond the current slump, suggesting there is solid optimism for Calgary's economy beyond 2016."
While final numbers have yet to be reported, CREB® chief economist Ann-Marie Lurie expects Calgary's housing market to have behaved by year's end as she first forecasted. At the end of November, sales in the city had declined by slightly more than six per cent, while benchmark price had fallen just under four per cent to $333,318.
"It ended up playing out in the same manner as far as buyers' conditions for most of the year."
CREB® originally called for sales to contract by eight per cent and prices by 3.8 per cent.
"It ended up playing out in the same manner as far as buyers' conditions for most of the year," said Lurie. "That wasn't a surprise. It was how it got there that was a little different."
Lurie expected there to be more upward pressure on listings from people who had to sell, but that never really happened. Listings instead contracted by 3.4 per cent by the end of November, which prevented further increases in inventory levels.
The apartment condominium segment saw the most significant change in 2016. By the end of November, the apartment benchmark price had declined by nearly six per cent from the start of the year to $277,945. Monthly prices by the end of 2016 had decreased by 10.6 per cent compared to highs recorded in 2014, reported CREB®.
Year-to-date apartment sales in Calgary declined by 16 per cent for a total of 2,582 units. Meanwhile, overall inventories remained elevated and pushed up months of supply to seven months.
The detached segment exhibited much more balanced conditions. Sales declined by slightly more than three per cent up to the end of November, while the benchmark prices fell by 3.2 per cent to $502,600. Lurie noted detached sales activity continued to improve in both the City Centre, North West and West districts of the city, but overall levels were still well below the norm.
While overall sales activity was slow in the attached segment for 2016, there was a sharp contrast in the number of transactions for row and semi-detached product. Year-to-date semi-detached sales by the end of November improved by nearly three per cent over the previous year.
"There are cycles. There have been cycles forever and they're going to continue going forward."
Year-to-date average benchmark prices declined by 2.6 and 4.8 per cent for both semi-detached and row product.
CREB® president Cliff Stevenson doesn't downplay the challenges Calgary's housing industry faced amid slumping oil prices this year. But he doesn't dwell on them either – instead, eager to see what 2017 will bring following the federal approval of pipeline projects from Enbridge and Kinder Morgan, as well as improving global oil prices.
"It's been a challenging year and a continuation of a challenging 2015, as the economy has driven the housing market in further decline," Stevenson said.
"It will be interesting to see when our confidence returns and the market rebounds, how well all of that goes with respect to sales, and what demand looks like for that product.
"There are cycles. There have been cycles forever and they're going to continue going forward."
Tagged: Apartment | attached | benchmark price | Calgary Real Estate | Calgary Real Estate News | CREB® | CREB® Chief Economist Ann-Marie Lurie | CREB® president Cliff Stevenson | detached | districts | Energy | inventory | listings | months of supply | pipeline | sales | semi-detached | Uncategorized | YYCRE
---
---
Connect With Us