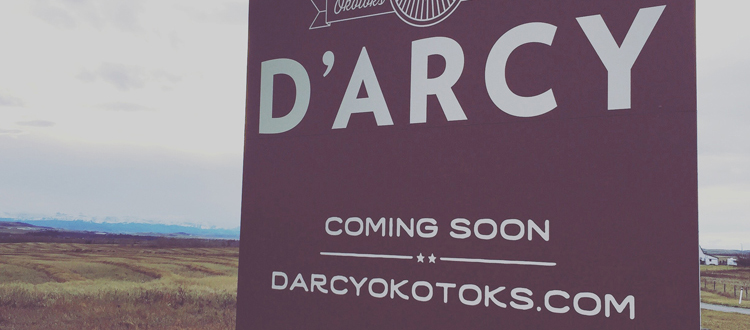 The 113-hectare D'Arcy development by United Communities in Okotoks will be bounded on the north by the town boundary, on the south by Sandstone Gate, on the east by Northridge Drive, and on the west by the D'Arcy Ranch golf course. Photo courtesy United Communities.
Nov. 15, 2016 | Marty Hope
Cultivating new roots
Two historic parcels of Okotoks land to be redeveloped for future generations
Once homesteading land for the D'Arcy and Wedderburn families, two historically significant properties in north Okotoks are to be redeveloped for a new generation of families.
United Communities has purchased approximately 178 hectares of farmland on both sides of Northridge Drive as sites for a pair of mixed use communities — simply to be called D'Arcy and Wedderburn.
The first to feel the weight of heavy equipment will be the 113 hectare D'Arcy development bounded on the north by the town boundary, on the south by Sandstone Gate, on the east by Northridge Drive, and on the west by the D'Arcy Ranch golf course.
Grading and infrastructure work will begin early next year and show homes could be opening their doors by the fall, according to Steve LePan, marketing director for United Communities.
"United is also currently planning the land on the east side of Northridge Drive between 338 Avenue and Banister Gate," says LePan. "That community will be called Wedderburn and is slated to begin construction later in 2017 or early 2018."
The northern part of Okotoks has become the hot spot for development, and these two parcels of land are among the shortening list of available properties in that part of this growing town about 20 minutes south of Calgary's southern city boundary.
And like other communities the Calgary-based developer has created in Okotoks, D'Arcy will have an uniqueness to it.
Just as Crystal Shores is the town's only lake community, and just as Drake Landing won national awards for its sustainability and energy-efficiency, D'Arcy will be home to the first leg of what is hoped to be a more expansive, town-wide "safe route network."
"The active transportation strategy is in the early days of implementation in terms of where these routes will be located on a town-wide basis but the intent is also for new communities to be designed to have safe routes for children to get to school sites from the onset of development," says Colin Gainer, senior planner for Okotoks.
D'Arcy is to be designed with the principles and goals of the strategy in mind, including the mapping out of an active transportation network and establishing safe routes to encourage children to walk or bicycle to school, the town says in a report.
There are projected to be approximately 2,000 homes in D'Arcy spread over several phases over the coming five to seven years. Homes will cover a strong cross-section of prices and lifestyles, and will include street towns, townhomes, semi-detached, single-family with rear-detached garages, estate homes. No pricing has been announced, nor has the builder group, says LePan.
"A commercial district, Gateway Village, will offer a range of retail and other shopping experiences, including a high street, as well as a mix of office and multi-family residential," LePan says.
The start of development of the Wedderburn lands will come later next year. Currently the property is zoned as Urban Holdings District because the future land uses for it will not established until the Neighbourhood Outline Plan and Land Uses are approved by the town which is currently considering the area structure plan for the Wedderburn lands (the proposed North Okotoks Area Structure Plan) and a public hearing is being held on Nov. 14.
The proposal for Wedderburn is for a mix of housing types with an 11-hectare area that will provide for a mix of commercial and residential uses. The lands will largely contain low to medium-density residential development.
Tagged: Calgary Real Estate | Calgary Real Estate News | Commercial | community development | D'Arcy | Drake Landing | energy efficiency | homebuilder | Homebuyers | Okotoks | Satellite communities | semi-detached | Single-Family | townhomes | Transportation | Uncategorized | United Communities | YYCRE
---
---
Connect With Us