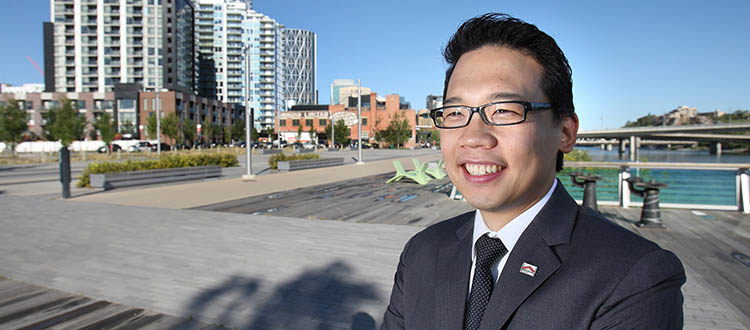 Richard Cho, pricipal market analysis for Calgary with CMHC, expects rental vacancy rates to hover around seven per cent in 2017. Photo by Wil Andruschak/for CREB®Now
Jan. 10, 2017 | Barb Livingstone
Rinse and repeat
Housing experts predict Calgary's rental market to see another year of high vacancies, low rents
Calgary's rental housing market this year will not change much from 2016 as historically high vacancy rates will continue to usher in incentives and lower rents, say experts.
"We expect the vacancy rate to remain close to 2016 levels" said Richard Cho, Calgary-based principal market analyst for Canada Mortgage and Housing Corp. (CMHC).
While some easing of the current seven per cent rate may be seen by the end of 2017, "overall, the story is the same with vacancy rates elevated over the next couple of years."
That rate — which compares to 5.3 per cent a year ago, 1.4 per cent in fall 2014, and just one per cent in fall 2013— has been good news for renters. They have seen average rent decreases of 7.6 per cent over 2015 (for an average of $1,258 per month for a two-bedroom apartment), bonuses such as underground parking or fitness/recreation facilities and increased choice thanks to a flood of purpose built rental buildings flooding the market over the past 12 months.
In 2016, about 2,500 new units came on to the rental market – a mix of new purpose-built homes and investor-owned condominium units, noted CMHC. As of the end of the year, Calgary had 36,523 purpose-built units, an increase of 1,296 over 2015. Another 1,262 investor-owned condos came on the rental market.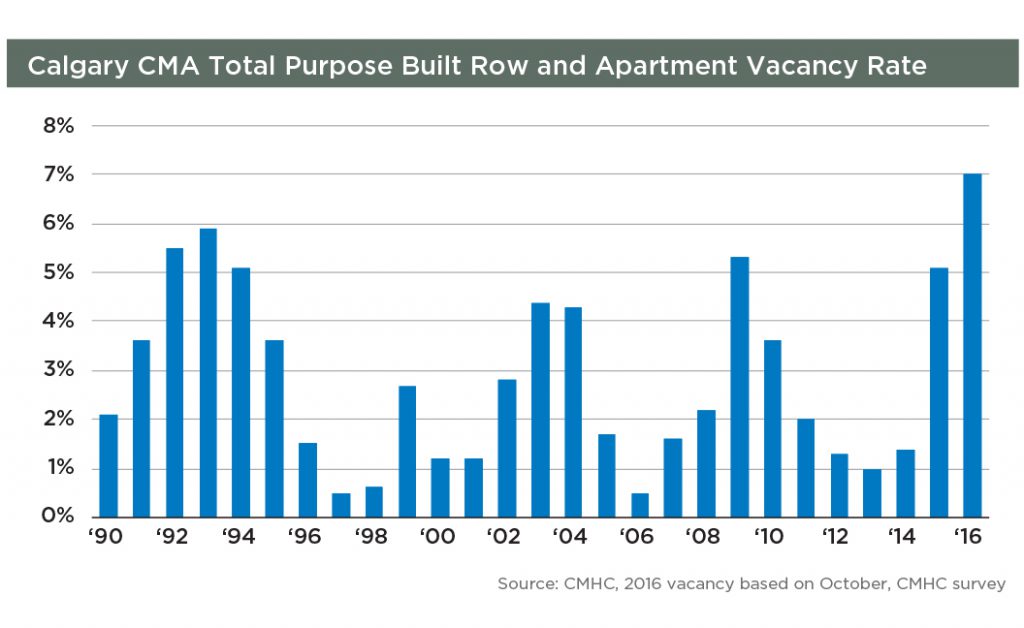 And while condo construction was down from previous years in 2016, almost 9,000 units were under construction last August – some of which, as completed, will hit the rental market this year. Generally, about 30 per cent of apartment condos bought by investors end up in Calgary's rental sector.
Cho noted that with a predicted limited improvement in the Calgary economy in 2017 — with further gains expected in 2018 — vacancy rates are unlikely to see much easing over those 24 months.
The current downturn has limited job prospects – Calgary's unemployment rate reached double figures in December at 10.3 per cent – which have dampened traditionally strong in-migration of new potential renters into the city.
After losing more people than it gained in 2016, the City of Calgary expects net migration to total 1,600 and 1,500 people in 2017 and 2018, well below the decade-long annual average of more than 14,000 people.
CREB® expects elevated supply in the rental market will likely influence investor ownership demand, as their expected returns are impacted by higher vacancy levels and lower rental rates.
Real Estate Investment Network senior analyst Don Campbell said the biggest difference in Calgary's rental market this year will be felt between areas with easy transit access.
"Values and rents within 800 metres of C-Train stations will be overall more stable than those away from these well serviced areas," he said.
Tagged: Calgary Real Estate | Calgary Real Estate News | Canada Mortgage and Housing Corporation | CMHC | Don Campbell | Economy | employment | Landlords | real estate investment network | Rent | Richard Cho | Tenants | Uncategorized | vacancy rates | YYCRE
---
---
Connect With Us