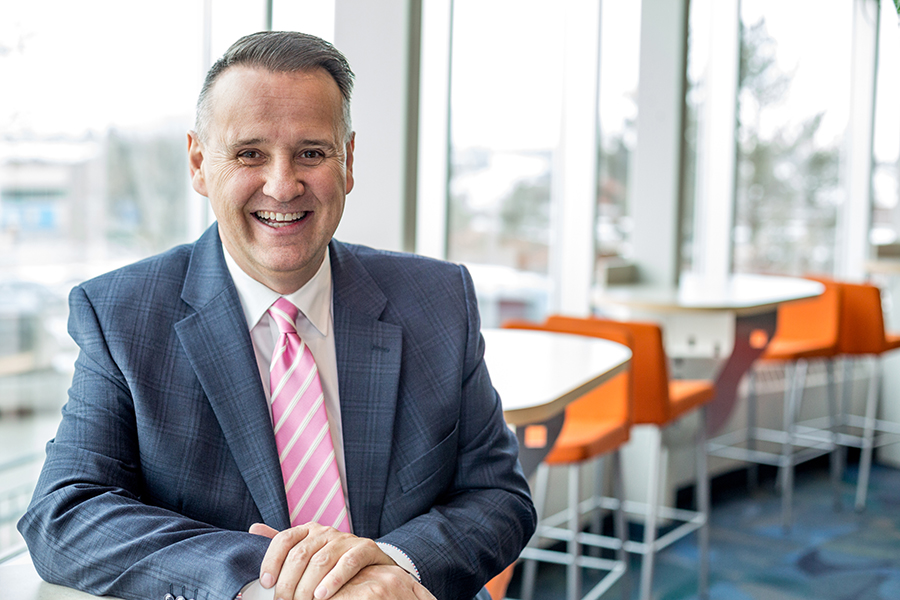 David Brown, CREB® President 2017.
Feb. 10, 2017 | Kathleen Renne
Go West
Market conditions and low dollar could entice foreign buyers to Calgary
While those in the real-estate industry agree that Calgary is not yet a top destination for international buyers, others feel optimistic that foreign buyers will want to call Calgary home.
"There is a steadily growing minority who are very interested in Calgary," said Charles Pittar, CEO of Juwai, China's largest international-property website.
"Because Calgary is a relatively small city, even if it wins just a tiny share of the buyers that have been going to other parts of North America, it would reap huge benefits."
The emphasis is on the "if."
"We don't track foreign real estate buyers in Calgary and, because of that, it's hard to say if foreign ownership is on the rise at all," said CREB® president David P. Brown, adding there is no statistical or circumstantial evidence to suggest any such increase.
He does say, however, that "Calgary has always been an area that's enticing for buyers and investors of all kinds."
Brown points to factors like the proximity of the Rocky Mountains – and their attendant recreation opportunities – as well the city's lower housing prices in comparison to Toronto and Vancouver.
"Buyers could consider two or three properties here for the price they pay for one property in other, bigger cities," said Brown.
Mark Evernden, private office advisor and owner with Engel & Völkers in Alberta, says while there has always been European interest in Calgary, it's now "financially advantageous" for them to consider investing in the city because of market conditions and the low Canadian dollar.



Buyers could consider two or three properties here for the price they pay for one property in other, bigger cities.



However, while Evernden does work with some Americans and Europeans, he estimates about 70 per cent of the international buyers with whom he deals today are from China.
"The Chinese market has changed so much. There's a mass of wealth and Chinese people are looking to put their money elsewhere," said Evernden, noting he represented Engel & Völkers last November as part of an Alberta economic development mission to China.
"China's international property investment has touched all-time highs. We believe it will continue setting records in the years to come," said Pittar, adding this is despite the fact that the Chinese government stipulates individuals are not supposed to move more than US$50,000 out of the country each year.
"They are the biggest offshore buyers of property in the United States, Australia, Canada, the United Kingdom and many other countries," he adds.
Pittar says Juwai's tracking mechanisms suggest potential Chinese buyers, when looking at properties in Canada, search out Ontario first, followed by British Columbia, Quebec and then Alberta.
"Last year, Juwai sent buying enquiries worth more than $240 million to Alberta property sellers and marketers," said Pittar, adding the primary reason Chinese buyers purchase in Alberta is for their own use.
Evernden concurs, though he says most of his foreign buyers look for either land development or commercial opportunities before committing to residential purchases.
"From my experience, they are looking for secondary homes, at picking up property as part of a long-term plan," he said.
One question on the collective real estate radar is whether last August's introduction of a 15 per cent tax on real estate deals involving foreigners purchasing property in Vancouver will re-direct some of those foreign buyers to Calgary.
"In the months immediately after the Vancouver tax was imposed, we saw rates of Chinese-buyer enquiries for Alberta property make a sharp turn upwards," said Pittar. "For example, while in July the number of enquiries was down 50 per cent from the same month in 2015, August was up 417 per cent."
Evernden also believes the tax has already "made a difference when it comes to people looking." He anticipates it will have an impact on the purchasing front in the long run, but that it will take time.
Brown, however, says it's really too early to tell if the tax will have a long-term effect on shifting buyers away from Vancouver and into Calgary, but believes REALTORS® would welcome the opportunity.
"Realtors are here to sell properties," he said. "They'd be delighted if more buyers were to come into the market, especially the way the market has been the last couple of years."
Tagged: Chinese Market | Foreign Buyers | Housing Market | Uncategorized
---
---
Connect With Us