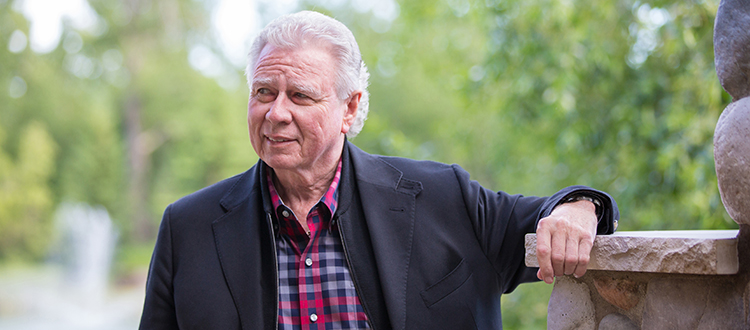 Former CREB® president John Fraser, who calls Okotoks home, recalled the Calgary region's real estate market as one marked by a renewed sense of optimism following a decade of obstacles. Photo by Michelle Hofer/For CREB®Now
Aug. 08, 2016 | Cailynn Klingbeil
55 years of real estate: 1990 CREB® president John Fraser
Former CREB® president John Fraser recalled new sense of hope in 1990 after decade of challenges
A fresh start: that's how many viewed 1990, recalled then-CREB® president John Fraser.
"We had just come out of an extremely difficult period," he said, referencing a decade defined by the National Energy Program, soaring interest rates and growing unemployment in the province.
"In about the mid '80s, things started to improve. And by about 1990, if you can believe it, almost 10 years later, we were almost back to where we were in 1981 in terms of house prices."
In actual fact, price recovery from dips in 1984-86 had started a couple years earlier, according to CREB®. By 1990, the average price of a home had increased to $131,865, compared with $107,739 in 1981.
Still, Fraser noted that recovery was a slow process, and that, for the first time in a long time, a mood of optimism seemed to prevail.
It was a cautious optimism though, as illustrated by homeowners' attitudes when oil prices spiked at nearly $36 US per barrel by the fall of 1990.
"About halfway through the year, there was an oil price shock of a different kind," Fraser said. "It was not a drop, but prices were skyrocketing as things were going on in the Middle East. The market started to drop back again, and that presented its challenges."
Fraser remembers a feeling of, "here we go again.
"Many people worried, and people were so skittish," remembered Fraser, noting, in the end, prices stabilized to under $25/barrel by year's end.
Another challenge to Calgarians' newfound optimism was the introduction in 1990 of Goods and Service Tax (GST) bill, which passed first reading that fall and came into effect in 1991.
"It was being proposed, but was not instituted until the next year," Fraser said. "It was quite a dramatic change for our business. We'd never had to deal with that before."
A sales tax previously existed on some components that went into constructing houses, Fraser said, but not on the entire cost of the property. Used homes were exempt from the new rules.
"There was quite a bit of confusion as to how it would be applied, and that went on long past my presidency," he said. "The real estate industry worked closely with Revenue Canada to continually try to clarify the rules, particularly on rural and commercial properties, all that kind of stuff. That was a big change."
Closer to home, Fraser has also seen plenty of change in his adopted hometown of Okotoks, where he has been practicing since 1976 and living since 1981.
"It was a very small town when I first got into real estate. It was a pretty sleepy place," said Fraser, who has focused on commercial real estate for much of his career. "It was about 1,500 people, and now it's about 30,000. That's fairly significant. I've seen all of that unfold."
As more people have moved to Okotoks, the town "has become less of a bedroom community," he added.
"Back in the day, a fairly high percentage of people lived here but worked in Calgary. As the town has grown, more and more commercial and industrial opportunities have come."
Looking back on his real estate career, Fraser said he's happy that the industry has continued to grow. For example, lending rules have, to some extent, positively altered the foreclosure market – which, in the early 1980s, was defined by the ugly "jingle mail" phenomenon in which homeowners walked away from underwater mortgages by mailing their keys back to the bank.
"Changes in the law really put a stop to many foreclosures," said Fraser, of lending rules in Canada, even though Alberta is the only Canadian province to broadly offer non-recourse residential mortgages in which borrowers can walk away with virtually no personal liability. "(Even by 1990), we didn't see a repeat of that – of people saying, 'I'm out of here,' and handing keys to the bank."
Fraser also noted minimum requirements for real estate professionals have also evolved, and that today's REALTOR® has to meet "some pretty high standards" to join the business.
"At the real estate council, I fought hard, as did many others. We believed strongly in increasing the educational requirements to get into the business," he said. "If you're handling people's most valuable possessions, you need more than just to read a binder and get a passing degree on a multiple choice exam."
Tagged: 55 years of calgary real estate | Calgary Real Estate | Calgary Real Estate News | CREB® | GST | Housing Market | Housing Prices | national energy program | Oil Prices | Okotoks | past presidents | Uncategorized | YYCRE
---
---
Connect With Us