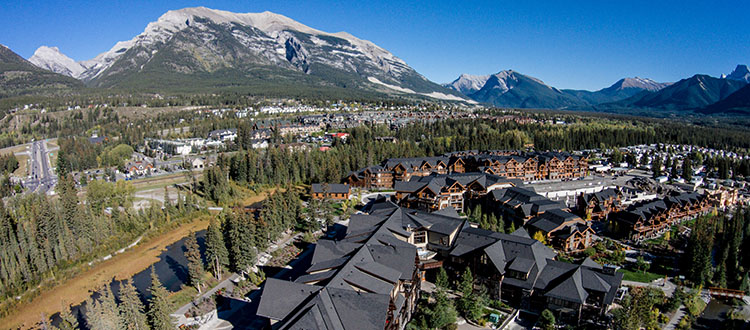 An estimated one-third of all sales over the past four months at the Creekstone condo project in Canmore's Spring Creek development have been to foreign buyers. Supplied photo
Oct. 14, 2016 | Barb Livingstone
New homes, new buyers
Homebuilders, developers cite international interest in region
Over the past four months, one-third of the 11 sales at the luxury Creekstone condo project in Canmore's Spring Creek development have been to foreign buyers.
And while there have been no purchasers from China — yet — developer Frank Kernick said it is "just a matter of time" before they come.
With the obvious scenic and recreation draw of the Bow Valley Corridor, just down the highway from the new $2.6-billion International Terminal at Calgary's airport, it may be an obvious place for foreign buyers to look.
And it's not likely to be alone, with other homebuilders and developers conveying similar stories on the heels of the new international terminal, as well as continued fallout from British Columbia's new 15 per cent surcharge on foreign purchasers in metro Vancouver (where the 10 per cent foreign buyers, many of them Chinese, are blamed for skyrocketing housing prices).
Qualex-Landmark's Park Point project in Calgary's Beltline — a 34-storey, 289-unit development facing onto historic Central Memorial Park — has, since launch, seen four sales to American purchasers and three to buyers from mainland China.
"If that means we need to expand our reach to introduce our products in uncharted markets outside of Calgary, we are up for the challenge."
Over the past 14 years, the company has invested $370 million on seven land parcels in the Beltline.
Qualex-Landmark vice-president of planning and marketing Parham Mahboubi said the company has not marketed directly to the Chinese market, mainly because it hasn't had to given Park Point is more than 50 per cent sold.
The vast majority of buyers have come from Calgary, despite its sluggish economy.
"If that means we need to expand our reach to introduce our products in uncharted markets outside of Calgary, we are up for the challenge," said Mahboubi.
Ian Macdonald, director of sales and marketing of the upscale Watermark at Bearspaw neighbourhood, said the development has seen prospective buyers from the U.K., South America, Asia and the Middle East.
He said those potential buyers have not indicated, to this point, they are deciding between B.C. or Alberta because of the foreign tax change.
Macdonald said while Watermark has not marketed itself specifically to foreign buyers, the Calgary airport's continued growth and reach will play a part in the attraction of the city, and his community, to homebuyers.
Growth within the transportation, shipping and distribution sectors in Calgary will also play a part in driving the economy, and bringing new purchasers into the market, he added.
As for Canmore, where there have been recent sales to Chinese buyers of luxury single-family homes, Kernick expects foreign investment to continue — not just because of Vancouver's foreign tax, but also because of the lower Canadian dollar and access to the mountain lifestyle.
Compared to other markets, like Vail or Whistler, he said Canmore is still affordable. Spring Creek's four-storey Creekstone Mountain Lodge consists of 56 units priced at $459,000 to just over $1 million.
Steady visitor traffic from other countries in Banff, Lake Louise and Canmore, is one reason Kernick said he will open a 124-room hotel — called The Malcolm — in Spring Creek next fall.
"Visitors have ensured there have been no hotel vacancies — and the price of rooms have skyrocketed. And it is visitors, when they see what is here, that turn into buyers," he said.
Tagged: B.C. | Bearspaw | Calgary Real Estate | Calgary Real Estate News | Calgary Real Estate News | Canmore | China | Foreign Buyers | homebuilders | Housing Market | investors | luxury | New home | park point | Qualex-Landmark | Watermark | YYCRE
---
---
Connect With Us