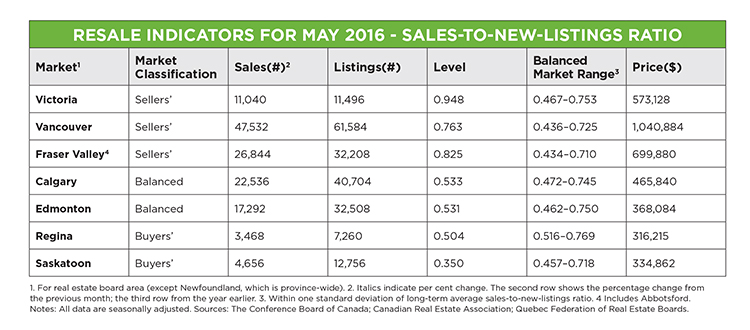 June 30, 2016 | Jamie Zachary
Calgary MLS® prices expected to rise in 'balanced' market
Sellers' conditions in B.C., buyers' in Saskatchewan
A new report from the Conference Board of Canada says balanced conditions in Calgary's resale housing market are expected to create price gains in the coming months.
In its June Metro Resale Snapshot, the organization anticipates the city's MLS® price will increase between zero and 2.9 per cent over the short term. In May, the house price in Calgary was $465,840, up 1.1 per cent from April and 2.3 per cent from a year ago.
Study author Robin Wiebe classified Calgary's housing market as balanced, noting sales volumes in May increased by 1.6 per cent on a month-over-month basis, while listings declined by 1.9 per cent.
Wiebe noted the city's sales-to-new listings ratio in May sat at 0.533. The city's balanced range is 0.472 to 0.745.
"Although volumes rose slightly in Calgary, they were down in most other Prairie cities," said Wiebe, noting declines in Saskatoon (6.7 per cent), Winnipeg (3.7 per cent) and Edmonton (2.2 per cent).
Year-over year, Saskatoon led the Prairies with an 18.3 per cent decline in sales volumes, followed by Calgary (13.5 per cent) and Edmonton (9.9 per cent). Winnipeg and Regina reported 2.9 and 8.2 per cent increases, respectively.
Nationally, sales were up in only seven of the 28 markets that were part of the report between April and May, but remain generally elevated.
Wiebe noted supplies of resale homes in many markets continued to tighten and may have limited sales. Listings fell in 15 areas between April and May and were below their year-earlier levels in 21 markets.
The easing in listings, plus brisk sales, lifted the sales-to-listings ratio (on a monthly basis) in 10 areas. Sellers' conditions prevailed in markets such as Vancouver, Victoria and the Fraser Valley, while buyers' conditions emerged in markets such as Regina and Saskatoon.
Tagged: balanced | Calgary Real Estate | Calgary Real Estate News | Conference Board of Canada | Edmonton | fraser valley | Housing Market | Housing Prices | inventory | listings | mls prices | regina | sales | Uncategorized | Vancouver | victoria | winnipeg | YYCRE
---
---
Connect With Us