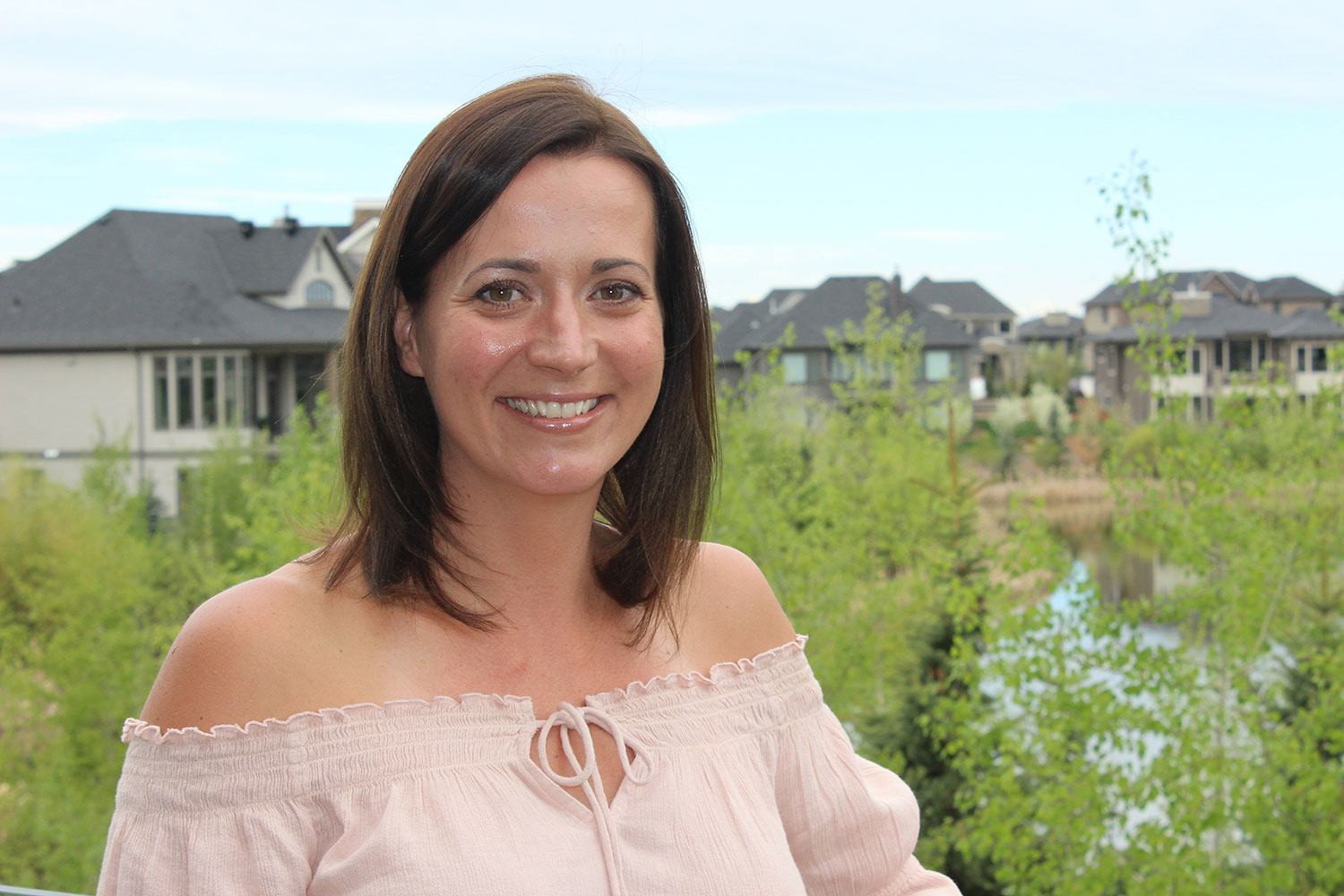 For Amy Shafer and her family, Watermark provides the perfect mix of wide-open park space and accessibility. Andrea Cox / For CREB®Now
June 29, 2017 | Andrea Cox
City-limits bliss
Amy Shafer found her own private oasis in Watermark at Bearspaw
Amy Shafer grew up on a farm, so when it came to building her dream home, being immersed in nature on the doorstep of wide-open park space was a top priority. She and her husband, and their three children, had been living in Valley Ridge, but just didn't feel connected. Their search for the perfect lot brought them to Watermark in Bearspaw, where they purchased a 1.33-acre home site that backs on to an Aspen grove, a freshwater pond and walking trails. The community features 46 acres of parkland and 16 ponds, and brushes up against the Haskayne Legacy Park, with trails connecting to Calgary and Cochrane.
CREB®Now:
What attracted you to the community of Watermark?
Amy Shafer:
We looked inner-city and rural, but we found acreages to be too much work. About the time when we were looking – around six years ago – the ads for Watermark came out, so we went to take a look. It was so close to the city and yet the lots were really huge. When we looked at it, the development was still a farmer's field, so we really got a feel for what the area was like. We chose our lot because it is really this private oasis that backs onto a pond and a forested grove. Plus there are all of these walking trails – the pathways are phenomenal. I have a dog and walk her twice a day, the kids can skateboard and ride their bikes, and there are so many parks. The central plaza with the water feature and barbecues is an amazing spot to hang out in and meet with the neighbours.
CREB®Now:
Can you talk about the sense of community within Watermark?
Amy Shafer:
We were really searching for a community that had a close-knit feeling and Watermark is everything that we were looking for – I don't think that we will ever leave. It's all young families here and probably three-quarters of the kids go to Bearspaw School. The school bus literally stops on our driveway, so I don't even have to get out of my pajamas in the morning.
I love my neighbours so much. Because we were in phase one, everybody was new at the same time. The developer did all of these gatherings at the beginning so that everyone could get to know each other – Stampede breakfasts, Easter egg hunts, movie nights in the park, and those events are ongoing.
On Fridays school is out at 2 p.m. and everyone goes to the park. It is just packed and everyone knows each other. There is always something going on – someone is having a fire pit or a dinner or friends over to watch the game. We don't need to leave the community – we just go to a neighbour's house. We really weren't expecting the social part of the community. It's been amazing.
CREB®Now:
Could you speak to the location and the amenities?
Amy Shafer:
We are right on the edge of Tuscany, so we are basically in Calgary, but just have a Rocky View County designation. My husband works downtown. It's no different of a commute than it was from our previous home in Valley Ridge. He's never complained and he likes living out here so much that it is well worth it. We also have a CTrain station a few minutes away in Tuscany that takes you right downtown.
The accessibility from here is fantastic. With Stoney Trail, it is so easy to get anywhere – to the mountains and to the east side of the city.
Tagged: Amy Shafer | Bearspaw | Buyer Profile | Cochrane | Haskayne Legacy Park | Rocky View County | Surrounding Areas | Tuscany | Valley Ridge | Watermark
---
---
Connect With Us