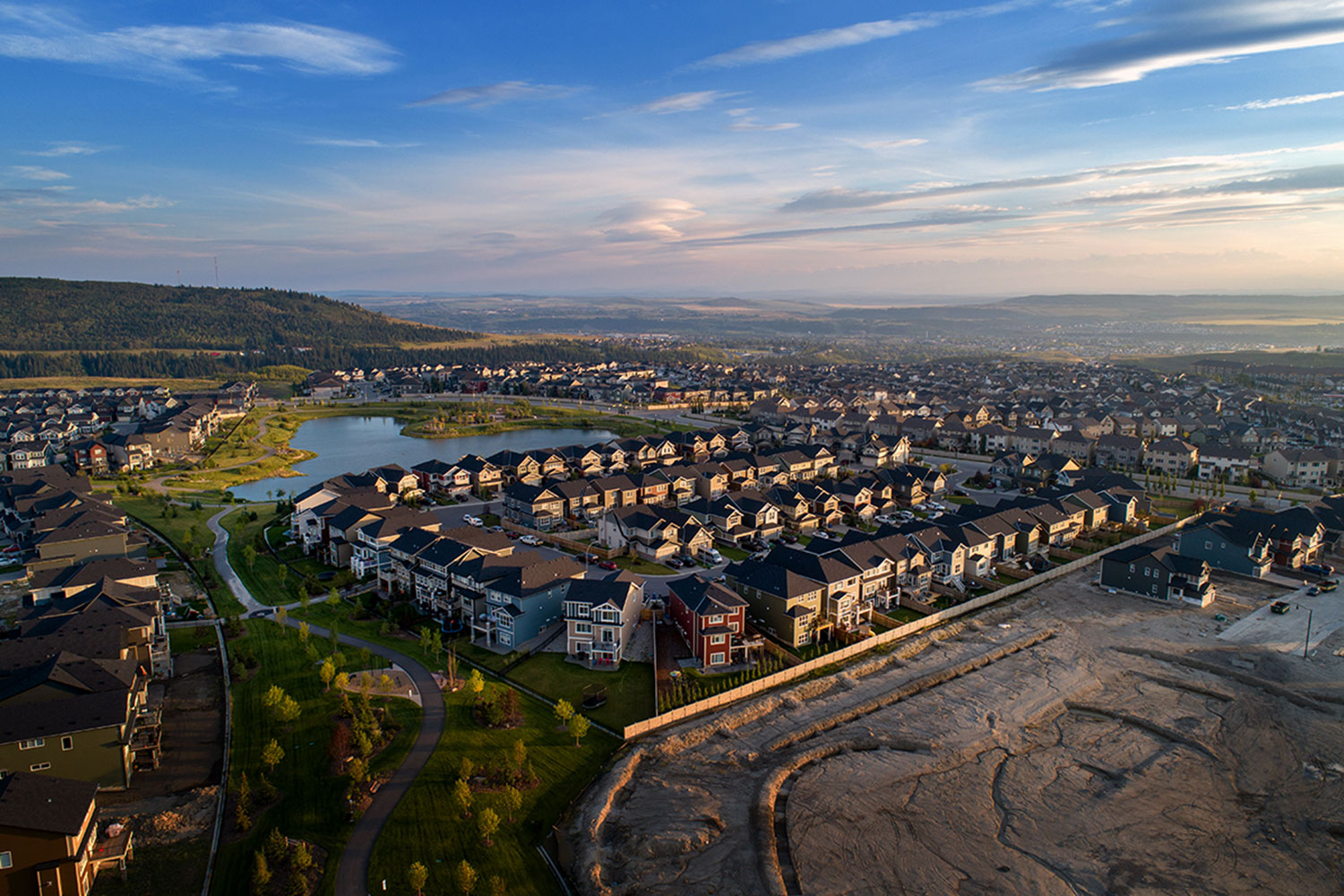 Courtesy Melcor Developments
June 26, 2019 | Andrea Cox
Cochrane: new communities provide plenty of choices for buyers
New communities are sprouting up in all four corners of the quaint mountain town of Cochrane to meet rising demand for a range of housing types and lifestyles.
Cochrane has seen a rapid surge in growth over the past decade and its population now sits above 28,000 people. Recently, a string of new technology businesses putting down roots, along with some exciting new retail and restaurant offerings, have drawn attention to the town normally known for its rich Western heritage and picturesque surroundings.
"Cochrane is a beautiful town," said Peter Paauw, president of Slokker Homes.
Slokker Homes is launching Rivercrest, which will be one of the first communities on the way into Cochrane from the south. The 38-hectare community, a joint venture between Slokker Homes and Qualico Communities, will eventually be home to more than 400 families.
Bordering the neighbourhood of Riversong to the south and River Heights Lane to the east, Rivercrest features plenty of natural beauty, including convenient access to the Bow River.
A $54-million bridge over the Bow River connecting the north and south sides of Cochrane is under construction with an expected opening in 2020, providing easy access to the new development by car. The new bridge will also feature pedestrian and bike pathways.
"The bridge will provide a great access point to get into downtown Cochrane for Rivercrest residents," said Paauw.
Rivercrest's housing mix will include 329 single-family and duplex homes and 87 townhomes. The single-family builder group includes Sterling Homes, Broadview Homes, Trico Homes and Timber Creek Homes. Duplex Homes will be crafted by Kingsmith Homes.
"They have been working hard on building and designing some fantastic showhomes that they are excited to unveil," said Cheryl Heilman, marketing director with Qualico Communities Calgary.
A soft launch for the community is planned for the end of July, with the grand opening slated for the fall.
Slokker Homes will be releasing an innovative suite of townhomes as the development progresses.
Adjacent to Rivercrest, the new community of Precedence – the final piece in the broader Riversong neighbourhood – will be unveiled on July 13.
"Precedence sits atop a beautiful, treed natural area. Homes offer amazing views of the Bow River Valley, the Rocky Mountains and the town of Cochrane." - Cam Hart, Tamani Communities
The grand opening will be Stampede themed, featuring food, activities and the unveiling of new showhomes by Trico Homes and Jayman Built.
"Precedence sits atop a beautiful, treed natural area. Homes offer amazing views of the Bow River Valley, the Rocky Mountains and the town of Cochrane," said Cam Hart, vice-president of Tamani Communities, the developer behind Riversong and Precedence. "We've definitely saved the best for last."
Home designs include townhomes and laned homes by Trico Homes, and semi-estate paired homes and single-detached homes by Jayman Built. The homes display a unique mix of West Coast, Prairie and Urban Contemporary architectural designs.
Meanwhile, the third stage of Melcor Developments' Sunset Ridge community recently received approval, opening another 80 acres of land for a variety of housing types, a community association site, a dog park, a hockey rink, new regional pathways and secondary access to Highway 22.
New showhome parades were released in the spring, with offerings from Jayman Built, Homes by Avi, Douglas Homes and Excel Homes.
Brent O'Neill, assistant development manager for Melcor Developments, says Sunset Ridge's amenity pool is a huge draw for homebuyers.
"There are currently two schools in Sunset Ridge and a third will open as part of stage three," he said.
Another new developments on the horizon for Cochrane is the master-planned, mixed-use community of Greystone. Located downtown, the new community will transform the former Burnco gravel pit site. At final build out, it will be home to approximately 1,300 residents.
"It's an exciting project for sure," said Josh Hagen, vice-president of development for Greystone developer Burnswest Properties Ltd.
Tagged: Calgary | Calgary Real Estate | Calgary Real Estate News | Calgary Real Estate News | Cochrane | Condos | Feature | Melcor Developments | New Communities | New Communities | Precedence | qualico communities | Rivercrest | Riversong | Rocky Mountains | Slokker Homes | Sunset Ridge | Surrounding Areas | Surrounding Areas | Tamani Communities
---
---
Connect With Us