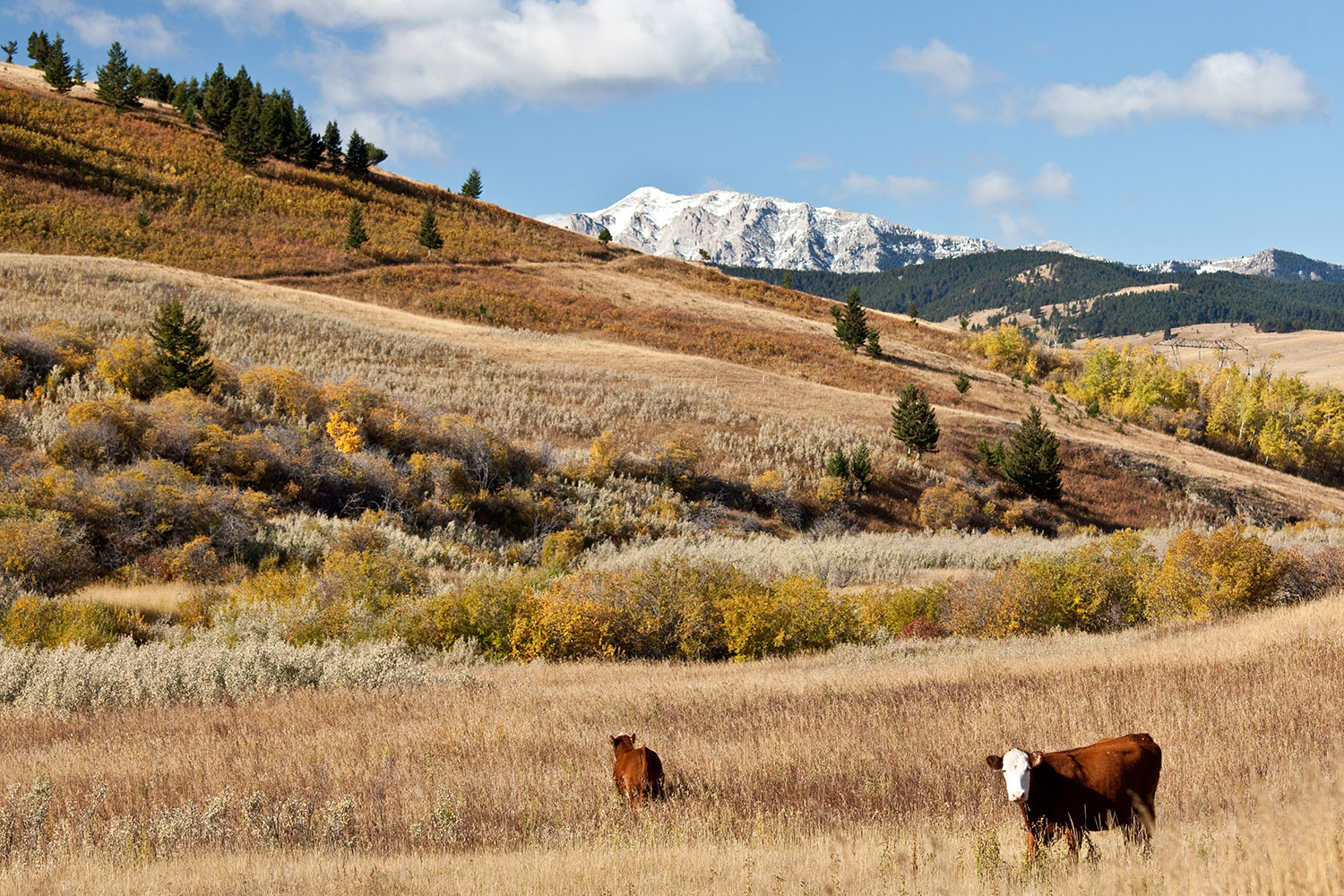 Getty Images
July 12, 2018 | Tyler Difley
The Cowboy Trail
From north to south
The Cowboy Trail winds through the Alberta foothills, showcasing some of the most beautiful scenery our province has to offer. Along the way are many unique communities and attractions that road trippers won't want to miss.
Rocky Mountain House

Located at the intersection of the Clearwater and North Saskatchewan Rivers 77 kilometres west of Red Deer, Rocky Mountain House was the site of competing fur trading posts in the 1800s. The town is known as the place "where adventure begins," fitting given its adventurous past and location along the David Thompson Highway, which ferries travellers into the Rocky Mountains.
Sundre

Only a 75-minute drive northwest of Calgary along the Cowboy Trail, Sundre is a great jumping-off point for outdoor activities, including golf, camping, rafting or kayaking on the Red Deer River, hiking, and horseback riding. The foothills and mountain areas west of Sundre are famous for their herds of wild horses.
Cremona

This small village along the Cowboy Trail was named after Cremona, Italy, home of Stradivarius violins. The village is home to a mix of small businesses, Cremona School, a library and a museum that holds many pioneer photos and artifacts. Cremona was founded as a store and post office in 1906, but wasn't incorporated as a village until 1955.
Cochrane

Cochrane has much to offer for people of all ages and preferences, including families, adventurers and vacationers. The town, located in the cattle country 20 minutes northwest of Calgary and less than an hour from Banff, wears its western heritage proudly. Cochrane treats residents and visitors alike to stunning views of the Alberta foothills and Rocky Mountains, and is close to several pristine natural areas. It's also home to quaint mom-and-pop shops and boutiques, and a community of talented artisans, musicians and writers. No visit here is complete without a stop at MacKay's ice cream for a locally made, frozen treat.
Bragg Creek

Bragg Creek is a family-focused community whose identity is part western heritage and part great outdoors. Roughly 4,000 residents call this hamlet 45 kilometres west of Calgary home. Bragg Creek is the gateway to Kananaskis Country, and a fantastic jumping-off point for anyone who enjoys hiking, biking, camping, golfing, fishing or horseback riding.
Priddis

The Priddis area has much to offer, including world-class golf, beautiful acreage properties, luxury homes and vast natural areas to explore. Top attractions include the Priddis Greens Golf and Country Club, the Azuridge Estate Hotel, the Hamlet of Priddis, and the Ann and Sandy Cross Conservation Area.
Millarville

This hamlet is best known for its popular farmers market, hosted by the Millarville Racing and Agricultural Society. This year, the market is open on Saturdays from 9 a.m. to 2 p.m., from mid-June through to early October.
Turner Valley

Turner Valley holds historical significance for the Alberta oil and gas industry – oil was discovered in the area way back in 1914 – but the bustling town also has rich farming and ranching heritage. If the stunning scenery isn't enough to draw you to the area, other attractions include Eau Claire Distillery, Chuckwagon Café and Turner Valley Golf Club.
Black Diamond

This small town's name comes from the high-grade coal mine that opened in the area in 1899. The town is known for its small-town hospitality, talented artists and musicians, and "Boomtown" downtown business district.
Longview

This small, but tight-knit community of just over 300 people has deep ranching roots, and the area's western heritage is reflected in the exterior design of many local businesses. If you find yourself hungry and in the area, check out the Longview Steakhouse – a local favourite known for high-quality beef and great service.
Tagged: Alberta | Banff | Bragg Creek | Cochrane | Cowboy Trail | Cremona | Feature | foothills | Kananaskis | Longview | MacKay's | MillarVille | Priddis | Rockies | Rocky Mountain House | Rocky Mountains | Sundre | Surrounding Areas | Turner Valley
---
---
Connect With Us