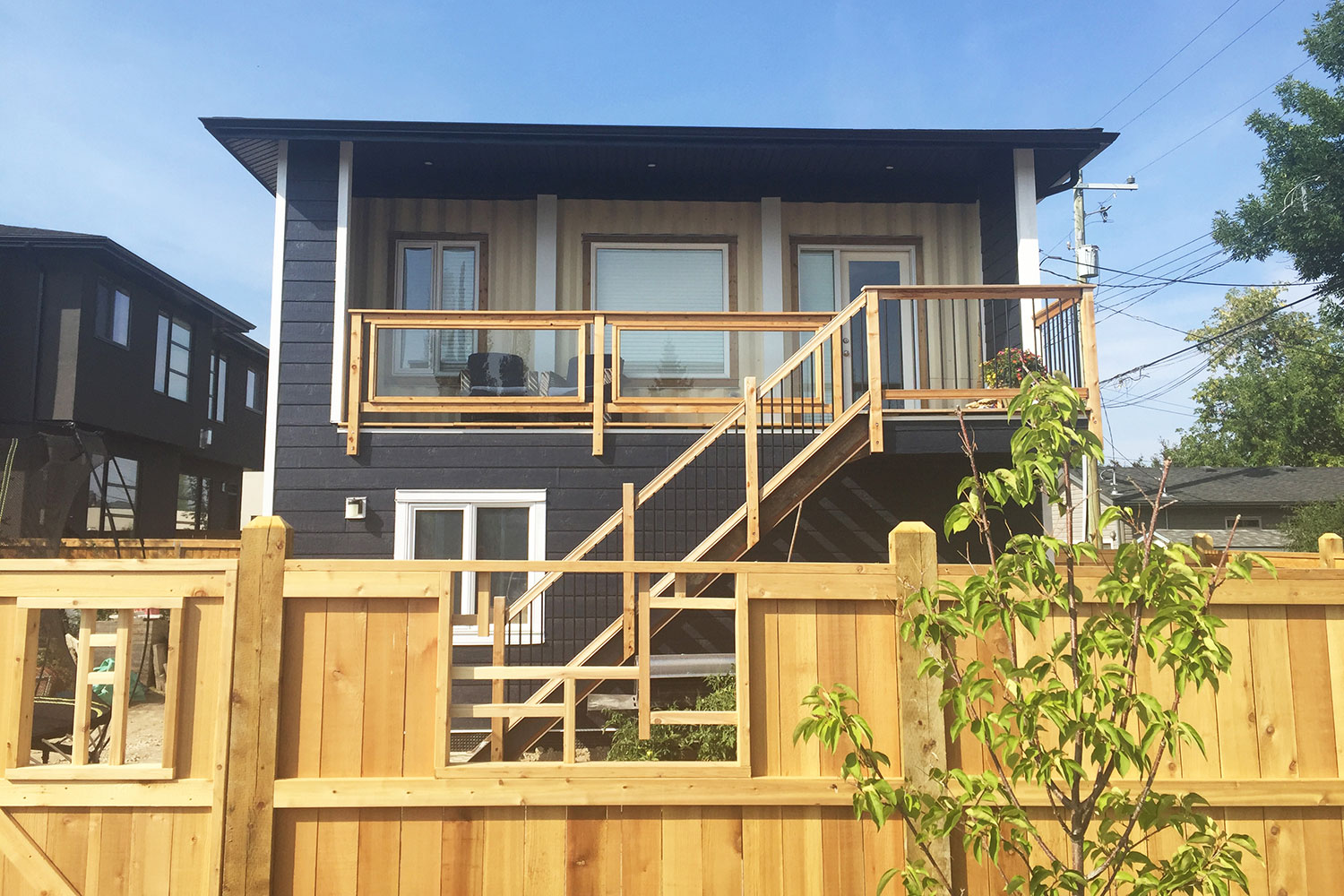 Courtesy Adina Currie
Oct. 04, 2018 | Natalie Noble
Killarney shipping-container home could be first of many for Calgary
If you think shipping container homes lack style and function, Modern Huts, creator of customized shipping container structures, intends to change your mind. Thanks to the successful construction of Calgary's first shipping-container residential project in the community of Killarney, these durable and energy-efficient homes might be popping up in your neighbourhood soon.
Completed in March, Modern Huts' Killarney build is a 480-square-foot, garage-top suite built from three shipping containers. While the owners will reside in the space as they renovate their home of 19 years, it might eventually be used as a rental space, or perhaps a residence for a caregiver.
The benefits of building a shipping container home are numerous. For one, they are quicker to construct than traditional stick-frame homes. "We can really cut build time down, it's at least a third faster," said Modern Huts founder Jeremy Johnson.
"We can really cut build time down, it's at least a third faster." - Jeremy Johnson, Modern Huts founder
Because the containers are steel, they are entirely spray-foamed on the inside. This decreases thermal transfer, a must considering Calgary's hot summers and cold winters. "The homes are more airtight and better sealed in the end," said Johnson. Leaving that steel semi-exposed also means a more durable home, and less maintenance.
Environmentally, shipping-container homes just make sense. They generate less building material waste, and Modern Huts is also committed to reusing, re-purposing and recycling as much as possible.
While changing the public's entrenched views about shipping containers in residential spaces has been a challenge, Johnson says people are starting to come around. "In the end, it's not going to look like a shipping container, but that can be tough to visualize from start to finish," he said.
He adds that although Canadians have been slower to come around than people from countries with milder climates, momentum has been growing among the younger generations.
In the city, Modern Huts is seeing more interest in their products as starter homes, laneway homes or backyard suites. Outside the city, demand is greater for cabins and getaway spaces. "They can leave it, lock it down, and it's totally safe and sealed from the environment," said Johnson.
The Killarney build has generated more citywide interest, and Modern Huts has several other projects in the design phase, but not yet finalized. Two full new-home infill builds are planned, one on Elbow Drive and a second in Killarney.
There has also been national interest outside the city, which is good news for Johnson. "I think next year is going to be very busy for Modern Huts," he said.
Tagged: Calgary | Calgary Real Estate | Calgary Real Estate News | Calgary Real Estate News | Feature
---
---
Connect With Us