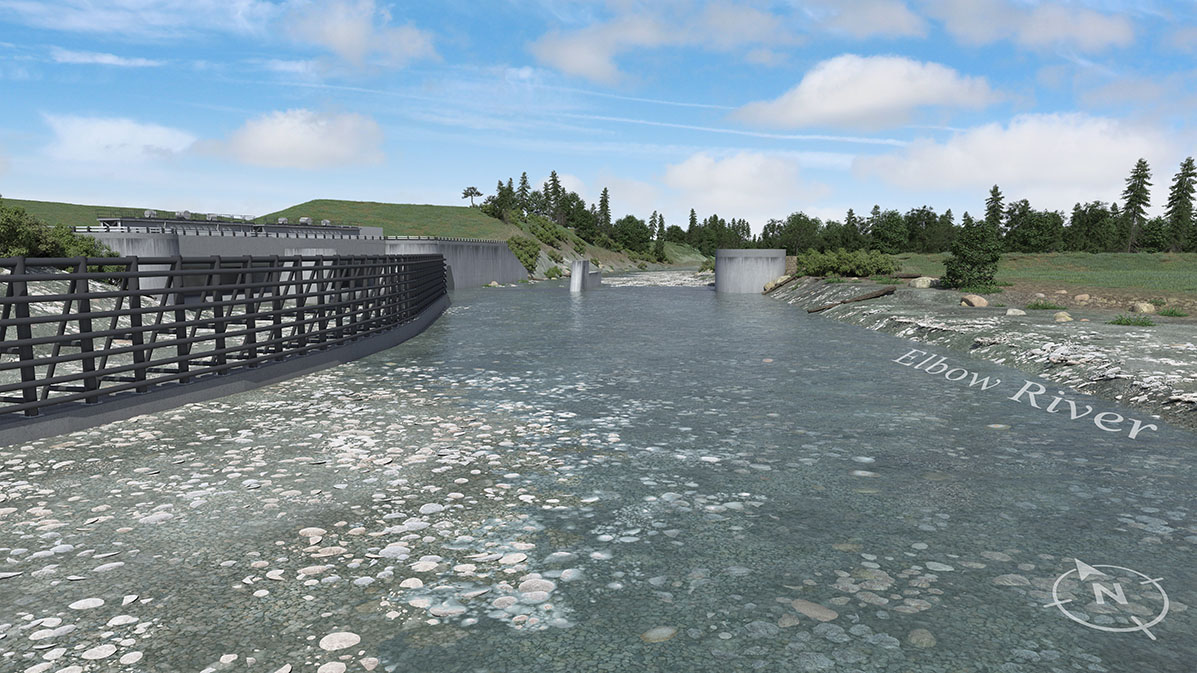 The $432-million Springbank Off-Stream Reservoir will be located 15 kilometres west of Calgary along the Elbow River. Courtesy of the Government of Alberta
Aug. 23, 2021 | Gerald Vander Pyl
Springbank Off-Stream Reservoir approval marks major victory for Calgary's river communities
The Springbank Off-Stream Reservoir (SR1) project is moving ahead after receiving federal approval, which is welcome news for the many Calgarians who have been advocating for upstream flood mitigation measures since the 2013 disaster.
On July 20, Minister of Environment and Climate Change Jonathan Wilkinson was in Calgary to announce the federal government will contribute up to $168.5 million to the project. He had previously approved the reservoir proposal on July 8 following a positive
environmental assessment report
from the Impact Assessment Agency of Canada.
"This critical project will directly protect 80,000 Calgarians by diverting flood water from the river during extreme floods to a temporary reservoir in nearby farmlands and wetlands," said Wilkinson during the announcement.
With an estimated price tag of $432 million, the reservoir will be located 15 kilometres west of Calgary along the Elbow River. Along with the recently upgraded Glenmore Reservoir, the SR1 will handle excess water flows like those from the 2013 floods.
"These announcements are something we've worked towards for a long while," said Tony Morris, co-president of the Calgary River Communities Action Group, which was formed in the aftermath of the 2013 flood to advocate for flood-protection infrastructure.
"The 2013 floods on both the Elbow and Bow rivers were absolutely devastating to the city."
"These announcements are something we've worked towards for a long while." - Tony Morris, Calgary River Communities Action Group co-president
Morris says the flood caused $2 billion in damages to the city and another $4 billion in other areas of the province, so a serious response was necessary to make sure it wouldn't happen again.
"The SR1 is the first really significant upstream project to be done for Calgary on the Elbow watershed," he said. "(But) more significant work needs to be done on the Bow watershed to offer upstream mitigation protection."
All three levels of government favoured the SR1 project option among several proposals, which Morris says is an indication they felt it was the best use of taxpayer funds to prevent future flood damage.
"So, that's fantastic," he said. "Of course, you've got to see the big yellow machines actually building the thing before you start to exhale."
However, Morris says it is reassuring that the province seems to understand that Calgary and southern Alberta need additional protection from flooding, "and that the best method to do that is through sensible upstream mitigation projects."
More information about the SR1 project can be found at
alberta.ca/springbank-off-stream-reservoir.aspx
.
Tagged: Calgary Floods | Bow River | Calgary | Calgary Real Estate | Calgary Real Estate News | Calgary Real Estate News | Calgary River Communities Action Group | Elbow River | Feature | Federal Government | flood | Flood Mitigation | Reservoir | River Communities | Springbank Off-Stream Reservoir | SR1 | water | watershed
---
---
Connect With Us