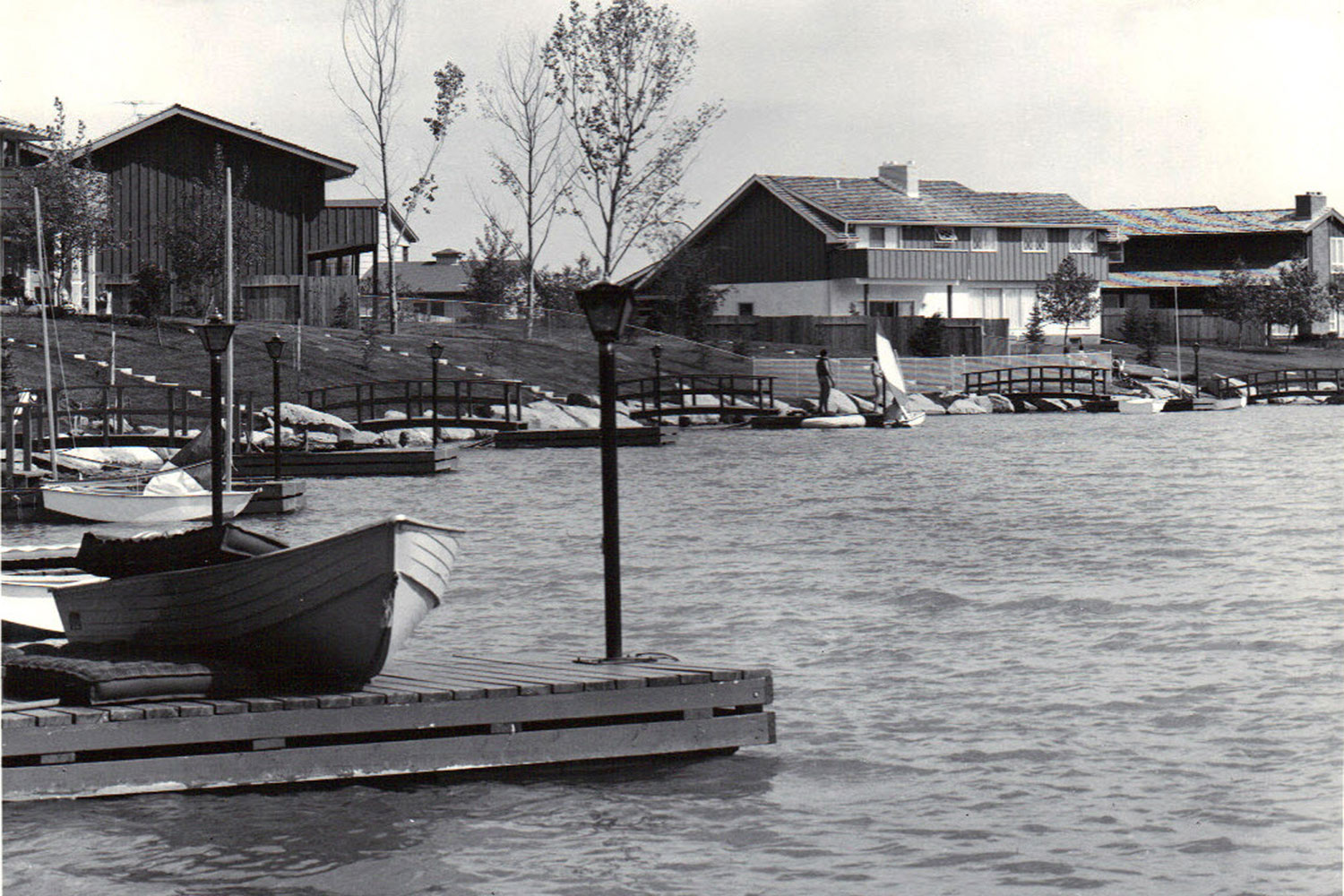 The new Shane Homes YMCA at Rocky Ridge has quickly become a community hub for area residents. Cody Stuart / CREB®Now
March 05, 2021 | Gerald Vander Pyl
Breaking new ground: the fascinating history of Calgary's first lake community
On a cold February day in 1968, a fleet of heavy equipment began stripping the prairie grass from a tract of land in southeast Calgary for a new community.
But any spectators to the activity might have been surprised when the machines started excavating deep into the ground.
It was the unlikely beginnings of Lake Bonavista, a new neighbourhood built by legendary builder and developer E.V. Keith that would become the first manmade lake community in Canada. Calgary now has almost a dozen lake communities, but back in the late 1960s it was a radical idea.
"Crazy," is how Les Cosman recalled the reaction from most people to Keith's plans, formed after he took an airplane flight over some early lake communities in Los Angeles.
"Every year he would look at the California market to see what was going on, because it was so big relative to our market," said Cosman, who would eventually become CEO of Genstar, which bought Keith Construction when Keith's declining health caused him to step away from his businesses.
"He saw lake developments down there and he came back and decided we were going to build a lake."
Cosman says Keith had already shocked the local real estate scene by building Willow Park, Calgary's first golf course community.
"Like everything else, he came up with an idea," he said. "Pardon the expression, but (Lake Bonavista) was breaking new ground."
In 1968, after months of excavating, the 52-acre Lake Bonavista was created along with a 25-acre park that included a 65-foot hill with a waterfall.
A second lake, Bonaventure, was added afterwards.
"Keith was a visionary," said Cosman.
"He had a reputation as a gambler, but he always gambled with his own money and not somebody else's."
"Like everything else, he came up with an idea. Pardon the expression, but (Lake Bonavista) was breaking new ground." - Les Cosman, former CEO of Genstar Development Company
Beverly Sandalack, associate dean and professor of landscape architecture and planning in the Faculty of Environmental Design at the University of Calgary, says in land-locked Alberta, "water is a real drawing feature, for both living and recreation."
"I think it did start trends," she said, adding you only need to check Google Maps to see the numbers of manmade lakes that have been built in the city since Lake Bonavista.
"I can totally understand their appeal, and if you have a family, it must be totally fantastic to have that in your backyard."
But Sandalack also wonders what the future holds for lake communities, as climate change makes water a more and more valuable resource.
She says in her department at the University of Calgary, "we talk a lot about what the 21st-century city is going to look like, and on the Prairies, it is just not going to be built around lakes."
That being said, the appeal of Calgary's current lake communities remains strong.
Mike Mikkelson recalls spending many happy days at Lake Bonavista as a child.
Although his family lived in northwest Calgary, an aunt and uncle bought one of the first homes in Lake Bonavista, and he was a frequent visitor.
Mikkelson says even then, "it was always in the back of my mind that one day I would move to (Lake) Bonavista."
That finally happened in 1995, and Mikkelson is now the president of the Lake Bonavista Homeowners Association, whose volunteer board oversees operation of the lake and surrounding parkland.
"When Keith built the lake in 1968, he created the home owners association to be stewards of the lake and the park – to manage and take care of his legacy and what he created," said Mikkelson.
The association recently began construction of a new $2-million, 7,500-square-foot community building to replace the original one built in the late 1960s.
Mikkelson says Lake Bonavista remains a great community in which to live, with many schools, churches, a shopping centre, easy access, and desirable homes that retain their property value.
"But (the lake) is the centre piece," he said. "People are moving back to the community for a lot of reasons, but I think most are coming for the lake."
Tagged: Beverly Sandalack | Calgary Community | E.V. Keith | Feature | Genstar | Keith Construction | Lake Bonavista | Lake Bonavista Homeowners Association | Les Cosman | Mike Mikkelson | Popular This Year | University of Calgary
---
---
Connect With Us