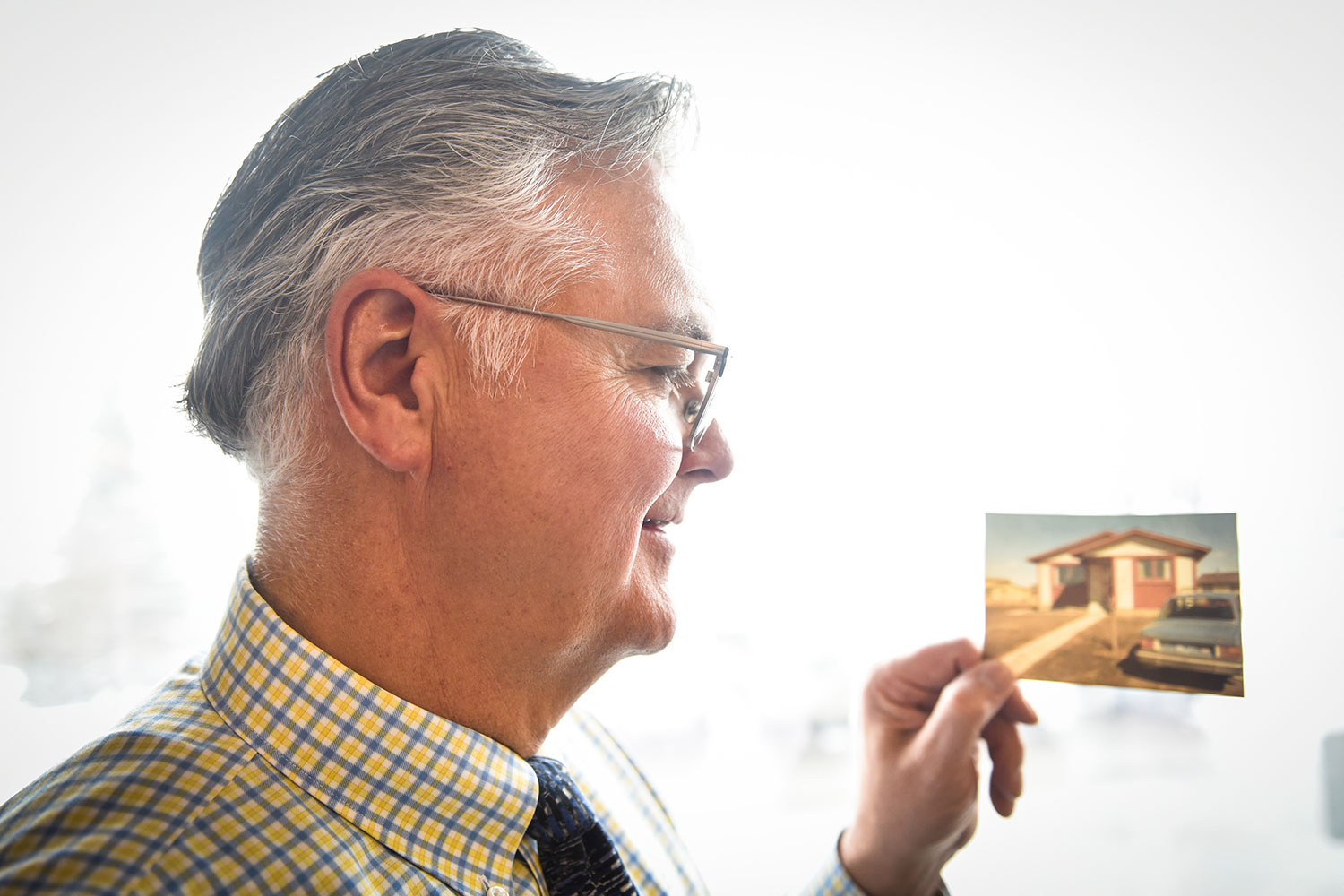 CREB® CEO Alan Tennant holds a photo of his first home, a Falconridge bungalow purchased in 1981. Terence Leung / CREB®Now
May 06, 2021 | Alan Tennant
My First Home: Alan Tennant, CREB® CEO
By CREB® CEO Alan Tennant (as told to Terence Leung)

I remember being 23 years old. The year was 1981. I was a Medicine Hat banker with my new wife, Rona, and a new job in Calgary, staring down a brand-new, three-bedroom, one-bathroom bungalow. Oh, and a mortgage to pay.
We had two cars (with no garage to put them in) and no way of knowing that four years later, mortgage rates would hit a whopping 18 per cent.
We asked the question many people do now when they contemplate their first home purchase: can we afford it?
Yes, Kraft Dinner became a popular meal in the Tennant household during that time – a hard lesson in why having eyes bigger than your wallet is usually a bad idea. Buying your first home is a wonderful thing, but being house poor is not. Having a little bit of extra money each month allows you to eat more than just Kraft Dinner, and gives you the freedom to continue doing the things you enjoy.


I also remember the barren yard and thinking it would be a tremendous idea - it wasn't - to save on sod by seeding the whole thing, while putting together a fence that was estimated to be about a third of an acre in length.

We bought in Falconridge because it offered a community with people who were in similar stages of life. Our house was small and situated in a quiet cul-de-sac. Fairly no frills. Ironically, the downtown condo we now live in is larger than our first home.

But this house was ours, and it was the first one we ever purchased. It's the house where we brought our first daughter home from the hospital. It's where we had our first family Christmas. Most importantly, it was a place we could call, with certainty, our home.

The game-changing political move of the National Energy Program wreaked havoc on the local economy, but we still owned where we lived and we made it through. You never forget your first home, both the good and the bad. We wanted to be homeowners, and the experience changed us.

If I could hop in my DeLorean to go back and talk to my 23-year-old self, I'd say that you can't hang all your equity on a single address. You can't look at real estate investment in terms of just that specific property. You must treat it as equity that you grow over an extended period of time, and that you can transfer into other homes as your career progresses and your family grows.




Think hard about the community and how your needs might change as you get older. You can modify and renovate your home all you like, but you can't change your neighbourhood.

If you look hard enough, there's something out there for people on nearly any budget – just be patient.
Finally, if you're using a rigid list of "must haves" to guide your home search, such as a specific neighbourhood, minimum square footage or number of bedrooms, you might eliminate fantastic possibilities you never knew existed.

If you stay open to those possibilities, they could surprise you.

Tagged: Abbeydale | Alan Tennant | CREB® | Falconridge | Feature | House & Home | Kraft Dinner | Medicine Hat | My First Home | national energy program
---
---
Connect With Us