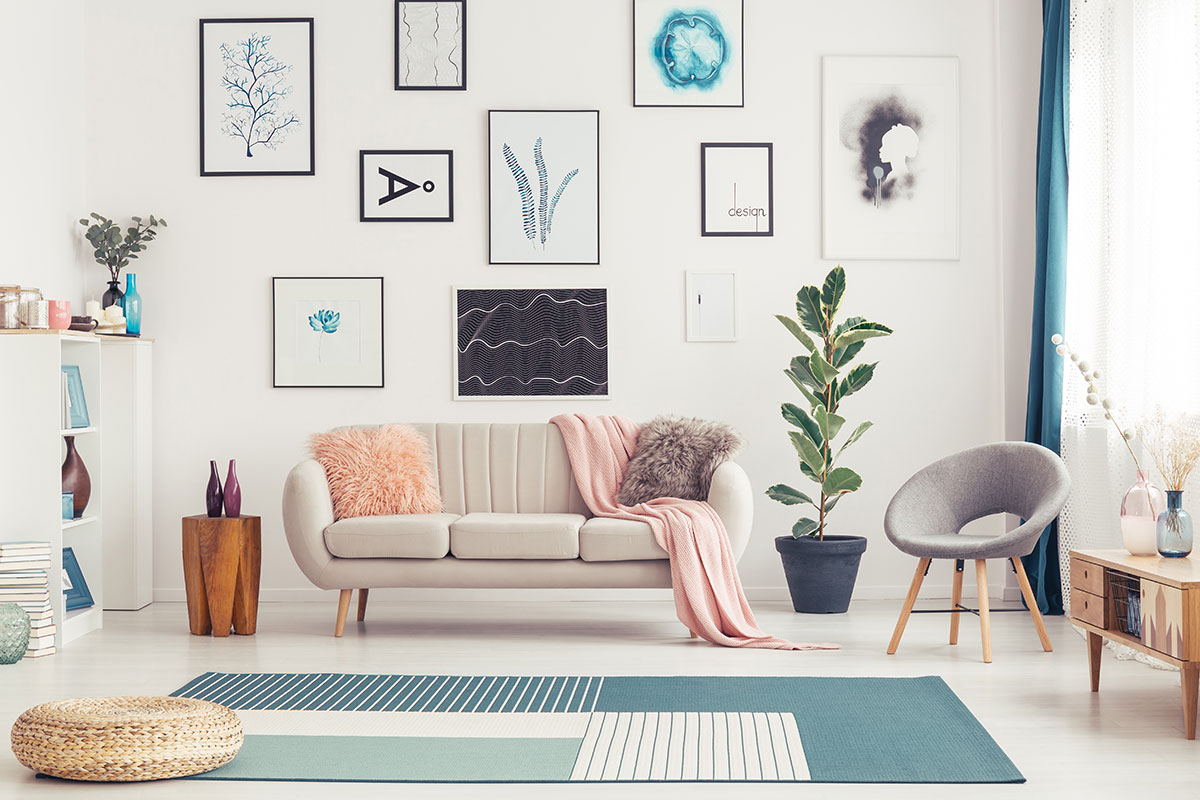 Getty Images
April 09, 2021 | Tyler Difley
Making a masterpiece: tips for choosing and arranging art
The art displayed in a home provides personality, creates a welcoming atmosphere and offers a glimpse of your unique style to guests. And while there aren't many unbreakable rules for choosing and arranging art, you still don't want to fling it all over the place with little thought to how those pieces work with each other or the space.
Here are four guiding principles that will have your home looking like an expertly curated gallery in no time.
1. Consider the room
Each room in a home serves a specific purpose and the art in those rooms should complement that function. Here are a few pointers:
Kitchen
– This is often a lively and hectic area of the home, so focus on fun, smaller pieces that don't overwhelm the space. It's also an area that tends to offer up little in the way of wall space, so get creative when it comes to placement.
Bedroom
– Since you spend most of your time here sleeping, aim for art that is soothing, relaxing and calm. An oversized piece hung over the bed or on the wall opposite the bed often works well.
Office
– An office calls for art that personalizes the space, while providing inspiration and positive energy. Hopefully, the right mix of pieces will be just as effective as a cup of coffee when it comes to keeping you motivated and productive.
Bathroom
– Bathrooms vary wildly in terms of design, so aim for art that works with the existing vibe. A key consideration here is making sure your art is well protected to avoid damage from heat or humidity.
Living room
– This is the room guests see the most of and often the one with the most space for art. That means plenty of possibilities, but also plenty of pressure. Keep things simple by picking a large conversation piece to build around or opt for a more eclectic gallery wall.
2. Size and scale
This applies to both the art and the space where you want to place it. Working from your largest pieces to your smallest ones is usually a good rule of thumb. While a single large or oversized piece can make a huge impact and stand alone in a space, smaller pieces often look best in groupings, especially if they share a theme or colour scheme.
The size of your room or wall space is also important to consider, so make sure the art is to scale. Large pieces can quickly crowd and overwhelm a small space, while a big, open room can look empty and directionless without a larger piece to provide a point of interest.
3. Match or contrast
It can feel very natural to match art to the established design style and colour scheme of a home. Choosing one theme to work from also simplifies the overall aesthetic and creates a cohesive look.
However, matching isn't always the answer, and choosing contrasting pieces that complement the existing design can often be even more impactful. Bright, colourful pieces look fantastic in an otherwise neutral room where other elements aren't competing for attention, while simple and subdued art looks great in a room that is already jam-packed with colours and textures. These style swerves also add interest to a room that may not otherwise have much in the way of focal points.
4. What makes you happy?
This might seem like an overly obvious consideration, but it's the most important one at the end of the day. If you stick with art that you enjoy and love looking at, you can't go wrong. Starting with a few pieces you love – whether they were carefully selected or serendipitously acquired – also provides a strong foundation to build from and may help you determine the types of art you want to seek out and add to the mix in the future.
Tagged: advice | art | bathroom | bedroom | Calgary | Calgary Real Estate | Calgary Real Estate News | Calgary Real Estate News | colour | Complement | contrast | Design | Design | Feature | House & Home | How To | kitchen | living room | office | Room | scale | Size | style | Theme | tips
---
---
Connect With Us