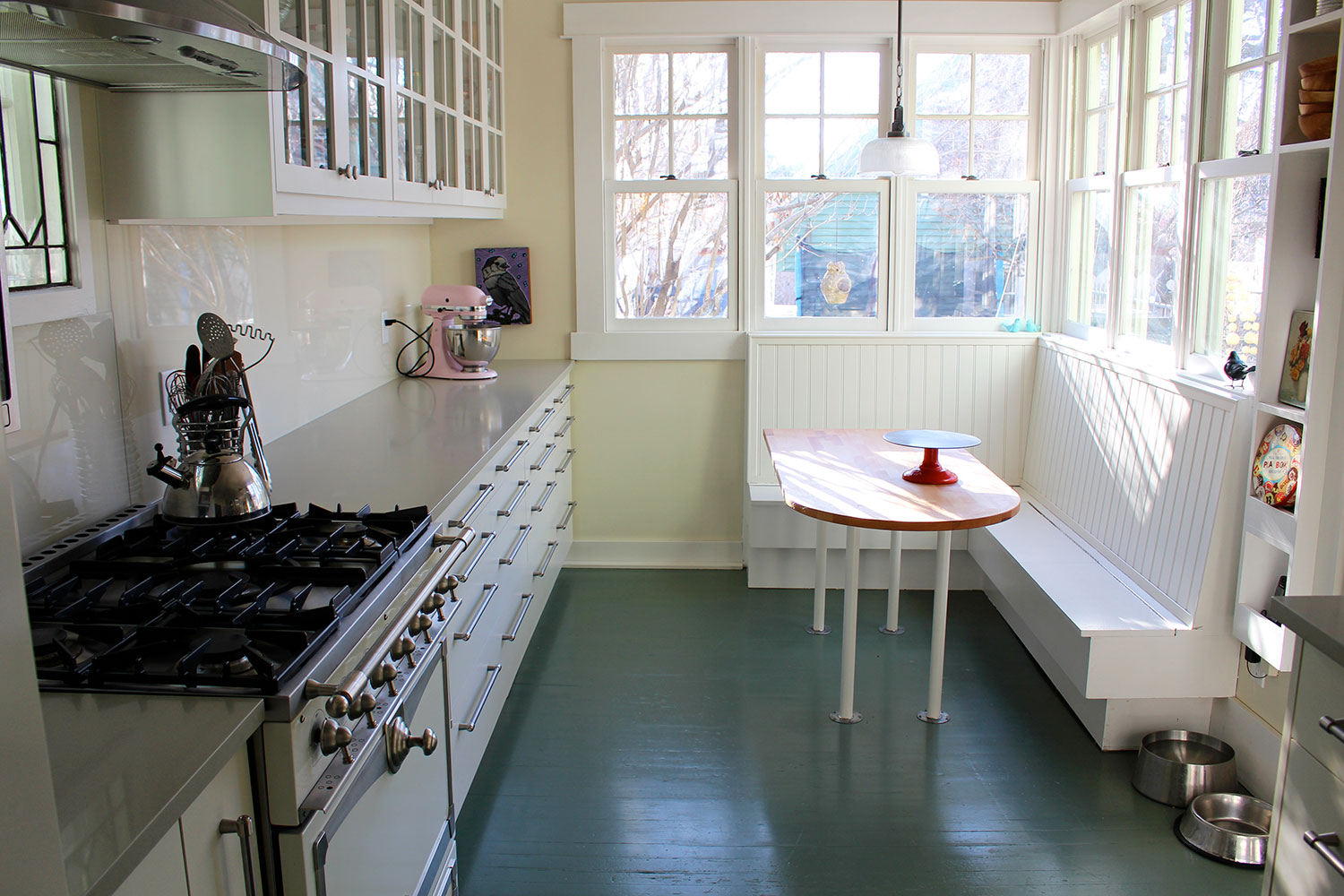 The kitchen, post-renovation. Courtesy Julie Van Rosendaal
Oct. 16, 2019 | Natalie Noble
My First Home: Julie Van Rosendaal, cookbook author & food columnist
Long before Calgary culinary personality Julie Van Rosendaal fell in love with her Ramsay home, which was built in 1906, her mother declared it "Julie's House."
"My parents knew the previous owners," said Van Rosendaal. "Marc Boutin of the couple is a really well-known architect in town. My mom pestered them about when they would sell it to us for years. Finally, they called her because they had outgrown the home."
The Van Rosendaals purchased the home in 2006 and are still there with their son today.
"We got possession Nov. 1, but we asked if we could come in the night before to check out our neighbours on Halloween," she said. "My sister ended up buying the house across the street, so having her there and our kids running back and forth is amazing."
The 1,300-square-foot, two-storey home housed Canadian Pacific rail workers in its early days.
"It's super creaky and crooked, there's no closet space, only one bathroom and the basement's not finish-able, but I just love it. It's so quirky."
"It's not very big. It's on a 25-foot lot, it's old and it's got tons of character," she said. "It has lots of evidence of past owners. There are handprints with 'Virgie 1932' written in the cement in the back and we found a Valentine in the wall with the name 'Bernice' on it.
"It's super creaky and crooked, there's no closet space, only one bathroom and the basement's not finish-able, but I just love it. It's so quirky."
Van Rosendaal and her husband work together from home. One of three bedrooms is now an office and the kitchen doubles as a workspace for her delicious creations.
Renovated in 2015 with custom-built drawers and cabinets to make working there more convenient, the space is one of her favourites.
"I do all my photography here," she said. "It's long and kind of galley styled. It's got great sunlight, with a booth around one side and west-facing windows that wrap around. You can open up the windows and also enjoy outside on the deck or in the yard."
Van Rosendaal has changed as little as possible, preferring to preserve her home's original character.
"I'm not really good at home improvements, so I probably shouldn't have an old house," she said. "When we moved in, we replaced the furnace, we got a new roof at one point, we've done some painting and just replaced the upstairs windows, but nothing major."
The neighbourhood was a deciding factor in the purchase, and the family has watched it transform over the last 13 years.
"Now we're right in the middle of all the breweries and there's a new pedal pub operating, so you can hear them going by, and there's people on their scooters," she said. "During the Stampede, we're right beside all the action – we can see the fireworks and everything. This is not for everyone, but I love it.
"I can't imagine not living in Ramsay, and it's tough because all the houses here are either teardowns or they're brand new and really expensive. Our house cost $450,000 when we bought it, is probably worth about $500,000 now, and how much money do we want to sink into it in renos? But I have no plans to leave. Yeah, I love it."
Tagged: Calgary | Calgary Real Estate | Calgary Real Estate News | Cookbook | Culinary | Feature | Food | House & Home | Julie Van Rosendaal | kitchen | My First Home | My First Home | Popular This Year | Ramsay | renos | Renovations | Renovations
---
---
Connect With Us