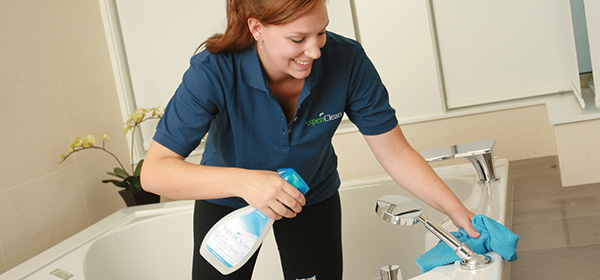 Aug. 16, 2012 | CREBNow
Keeping it Green
From energy efficient light bulbs to Net Zero neighbourhoods to cleaning supplies, ecological friendly products are making their mark with homeowners.
As far as eco-friendly homeowners go, CREB® HomeSmarts — an extension of the Go Green project — familiarizes REALTORS® with energy standards as well as allowing them to use green features as part of property searches for potential homeowners. "HomeSmarts broadens our view of what sustainability means," said Lisa Roberts, manager of CREB® Member Programs when HomeSmarts was launched this spring. "It focuses on the home itself and what homeowners can do in terms of ease and affordability; so there's something for everybody, regardless of comfort level with going green and your financial circumstances."
Included in the current going green revolution are a number of cleaning products available on the market. Green Calgary recommends several products including Cascades recycled toilet paper, Claudia's Choices laundry powder, Seventh Generation facial tissue and Squeaky Clean Scrub.
After rapid expansion in Vancouver, AspenClean, products developed especially for cleaning professionals, is opening its first satellite office in Calgary.
"We chose Calgary because of its proximity to Vancouver, its booming economy and its growing awareness of the importance of environmentally responsible businesses," said Alicia Sokolowski AspenClean president and co-CEO. "We know Calgarians like to look after their own health and that of the planet and so do we."
AspenClean products are 100 per cent natural as well as the only cleaning products certified by Ecocert, are vegan, have not been tested on animals and use only pure essential oils instead of fragrances. AspenClean products are currently available at Amaranth and Sokolowski said they will be added to other natural and green markets soon.
Net-zero homes — homes that produce as much energy as they use — or close to, are popping up all over Calgary. In 2010, Avalon Master Builder created the netzero Discovery 4 house, located in McKenzie Towne. Discovery 4 includes hardwood floors constructed of reclaimed wood, solar panels and xeriscaping landscaping.
Xeriscaping is a form of gardening using a minimum amount of water and energy and includes techniques such as grouping plants by their water needs, testing your soil, utilizing mulch and planting native species.
The northwest community of EchoHaven includes a net-zero home used for demonstrating energy efficiency and sustainability between November 2010 and June 2011. Prospective buyers to the community can build their own home or select a green builder and guidelines have been laid out to ensure architectural and performance standards for solar access and a minimum EnerGuide rating of 84 for all homes. Landmark Homes recently unveiled a net zero home in the community of Cranston and the Okotoks community of Drake Landing became the first solar community in North America in 2007.
Tagged: Calgary Real Estate | Calgary Real Estate News | Green Living
---
---
Connect With Us