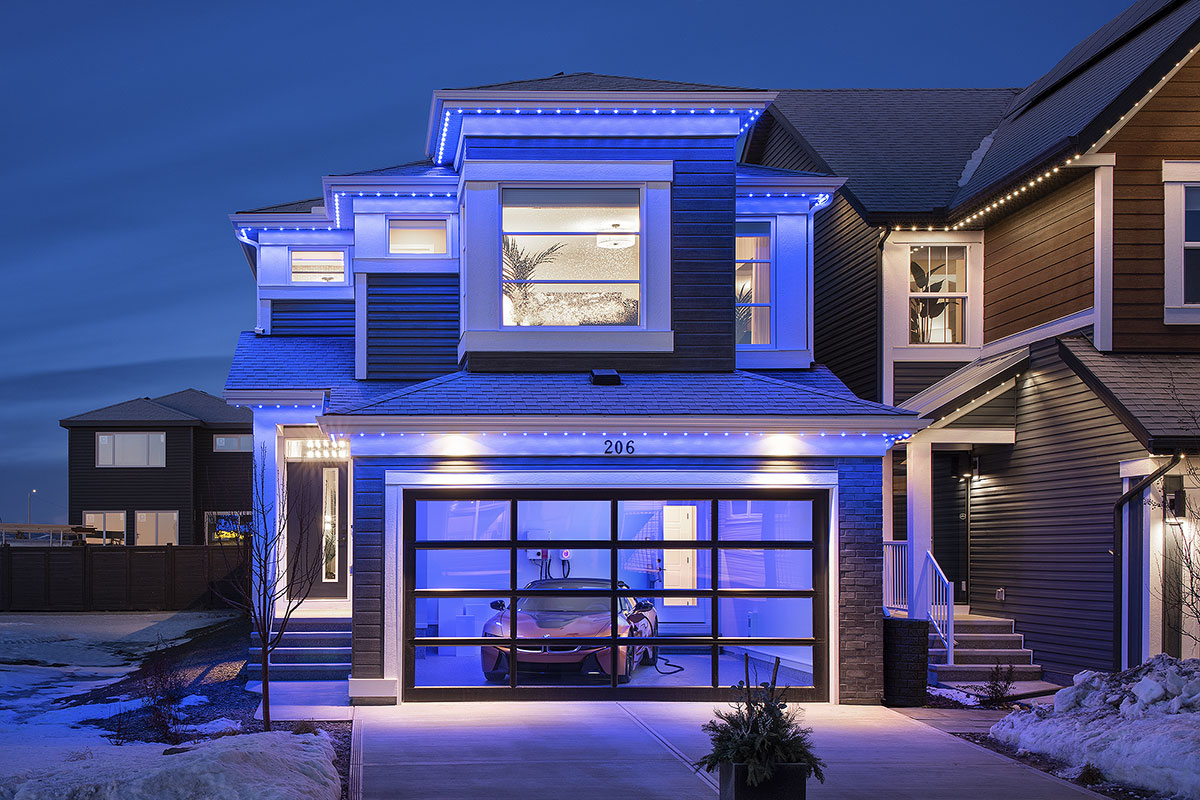 Jayman Built's new net-zero showhome, the Madeline Ultra E-Home, in Seton. Courtesy of Jayman Built
April 20, 2021 | Gerald Vander Pyl
Jayman's new net-zero homes make energy-efficient design more familiar and accessible for Calgary homebuyers
The future of energy-efficient housing in Calgary has been given a boost, with a major homebuilder now offering a net-zero option on all its models.
Jayman Built recently unveiled its Quantum Performance Ultra E-Home upgrade, which results in a home designed and constructed to produce as much energy as it consumes on an annual basis.
Larry Noer, Jayman's president and COO, says the company has long sought to improve the energy efficiency of its homes, dating back to when the company started outfitting its new homes to Built Green standards about 15 years ago, with high-efficiency furnaces, LED lighting, triple-pane windows and other technologies.
Noer says in later years, solar panel wiring was roughed into homes for easy panel installation down the line, followed by the addition of solar panels as standard equipment in 2019.
"Almost every year we were innovating, so we had to decide what to do next," he said.
The result was Quantum Performance, a package that includes a proprietary wall insulation system, on-site electrical generation through solar panels, a super-efficient heat pump and air conditioning system, and other upgrades.
"It starts to demonstrate that it's possible, that it's important, and it also (will help) to drive the costs down of achieving net zero, so it will spread across the industry." - Melanie Ross, SAIT Green Building Technologies research manager
Noer says the Quantum Performance Ultra E-Home has received net-zero certification from an independent rating and testing system developed by the Canadian Home Builders' Association in conjunction with Natural Resources Canada. The net-zero design is 80 per cent more energy efficient than a home built to conventional standards and can reduce greenhouse gas emissions by more than eight tonnes a year.
Calgarians can now schedule a tour of Jayman's net-zero showhome in the southeast community of Seton or
view a virtual tour of the home online
.
Noer says making a Jayman Built home net-zero certifiable adds a few steps to the standard purchase and construction process.


Buyers pick their home model and lot, then Jayman uses a third-party energy modeling company that calculates the location of the lot, direction of the home, roof lines, and various other factors.

"Then they energy model it to tell us what the insulation values need to be, how many solar panels need to be on the roof, how the house might be better positioned one way or another," said Noer. "Basically, they tell us how we need to build that house to hit net zero."

He says the additional cost for the Jayman Quantum package will run about $50,000 to $60,000, subject to changing commodity prices, but owners can expect to save about $2,300 a year on energy costs.

Melanie Ross, research manager with the Green Building Technologies division at SAIT, says a builder committing to net zero is a significant development.

"It starts to demonstrate that it's possible, that it's important, and it also (will help) to drive the costs down of achieving net zero, so it will spread across the industry," she said. "And really, that's what we're trying to achieve, to get to the point where everyone builds to net zero."

She says education is a key step in the early stages of adoption, as homeowners learn about the potential reduction in carbon emissions from a net-zero home and the long-term cost savings on utilities.

"Having a showhome available that people can walk through and understand goes a long way in that homeowner education," she said.

Tagged: Built Green | Calgary | Calgary Real Estate | Calgary Real Estate News | Calgary Real Estate News | Canadian Home Builders Association | CHBA | Emissions | Energu | energy efficiency | Feature | green | Green Building Technologies | green homes | Green Living | Heat Pump | Housing Market | Jayman | jayman built | Natural Resources Canada | Net-zero | Quantum Performance | SAIT | Seton | showhome | solar
---
---
Connect With Us