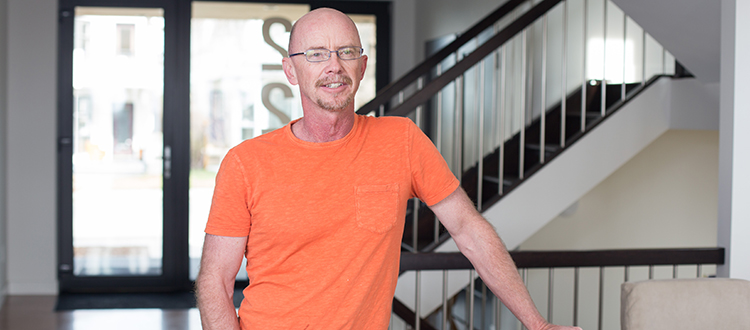 Homeowner Chris Stevenson has spent the last five years building his net-zero home in southwest Calgary. Photo by Adrian Shellard/For CREB®Now.
April 21, 2016 | Joel Schlesinger
Clean living
A green revolution is underway as more Calgarians seek to reduce their carbon footprint with increasingly energy-efficient homes
No one can accuse Chris Stevenson of being all talk and no action when it comes to living green. The 51-year-old Calgarian is walking the walk when it comes to reducing his carbon footprint.
So much so he built his own net-zero home – that is, one that generates as much energy from renewables, such as solar panels, as it consumes.
"I like to do things right, and I'm cheap: I didn't want to be paying a lot for utilities," joked Stevenson, who, until recently, made a living investing in real estate.
"In Calgary, there can be a lot of emphasis on conspicuous consumption and not a lot of emphasis on energy efficiency in the housing world. So I thought, 'I want to show people that you can do something pretty cool in terms of design and still make it net-zero.'"
Located in southwest Calgary, Stevenson's net-zero home is almost complete. Over the past five years, he said the passion project became an all-consuming one that essentially became his full-time job.
"I did the math and it worked out that it would be cheaper for me to take time off work and build it myself than hire people to do it," he said.
Yet while building a net-zero home is the gold standard of energy efficiency, it comes with a high price tag – a fact that Stevenson has found out first hand.
"As younger generations come up, the envelope is being pushed more and more in terms of sustainability and reducing their carbon footprint."
"After year three, I realized it was more expensive than anticipated," he said. "But it's still worth it in my mind."
While cost may be a barrier to some homebuyers, the tide is changing with each new generation, said Don Barrineau, division president of Mattamy Homes in Calgary.
"You're seeing a lot of interest in it," he said. "And certainly as younger generations come up, the envelope is being pushed more and more in terms of sustainability and reducing their carbon footprint."
Mattamy recently constructed five net-zero homes in its master-planned community of Cityscape in the city's northeast. The homebuilder and developer said the three-bedroom, two-storey homes represent the cutting edge of energy efficiency, including industry-best insulation, ultra-high-efficiency heating and cooling systems, as well as solar panel arrays that feed energy back into the city grid.
While going green is still not as easy as it should be, Barrineau believes it will soon be standard in the homebuilding industry.
"We're just in the first or second inning," he said. "That's why it is still very expensive, but it's getting less so by the day."
Barrineau likens the current state of net-zero homebuilding to the auto industry's approach to fuel efficiency and safety a few decades ago.
"When everything started in that direction in the 1970s, technology was still in its infancy and costs were high," he said.
But over time, technology improved and became more widespread. Costs came down and many features became standard.


It's the same with the housing industry, said Barrineau.

Even in Calgary, companies are developing new technologies to improve energy efficiency.

Among them is Kubix Corporation, a boutique design and build firm that is pioneering a new way to construct homes using recycled steel-frame, styrene panels. The panels are highly energy-efficient and cut down on labour and waste, said Domenic Buonincontri, a principal at Kubix.

"The building goes up in one-eighth of the time of a typical stick- frame building and the walls are insulated to R60 and the ceiling is R80," he said.

"Equally important, we're not cutting down trees. The average stick framed house in Calgary comes with a lot of waste, while we have none."

That reduction in waste is significant from a carbon footprint standpoint, added Buonincontri.

"Waste from constructing a typical home creates about 3.5 tonnes of greenhouse gas emissions," he said.

He noted Kubix's panels do add about 30 per cent more to the construction cost of a home.

Buonincontri believes governments need to step in with incentives to encourage sustainable homebuilding – an idea echoed by Stevenson, who noted his property taxes recently jumped by $500 per month because his net-zero home is deemed to have more market value.

"It's so ironic that energy-efficient houses get punished financially," he said. "Unfortunately, right now, the cheapest built house is often the least efficient house."

Tagged: Calgary Real Estate | Calgary Real Estate News | carbon footprint | energy efficiency | energy efficient | Energy Saving | Green Housing | Green Living | Green Living | greenhouse | Homebuilding | Mattamy Homes | Net-zero | solar | YYCRE
---
---
Connect With Us