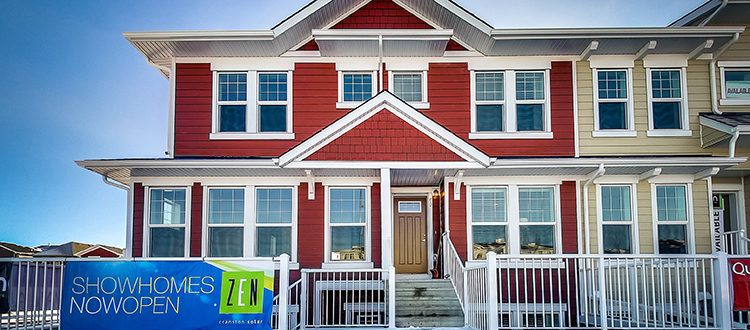 Avalon Master Builder is currently building Zen Solar in Cranston, where all 66 townhomes in the southeast community will have solar panels. Photo courtesy Avalon Master Builder
April 21, 2016 | Barb Livingstone
Tesla of homebuilding
Net-zero homes teetering between niche and mainstream, say experts
A net-zero home may soon become the Tesla of modern homebuilding.
Avalon Master Builder president Ryan Scott – whose company, in 2008, built its first of three net-zero houses in partnership with SAIT – said while consumer demand for green housing technologies is growing, there is still a ways to go before they become mainstream, given the added price tag.
"A certain number of people will put their money where their mouth is and buy a net-zero home (homes that produce as much energy as they use), just as they do for a Tesla (electric car that used to start at about $75,000 US)."
So when will net zero be more mainstream – just as the most recent model of Tesla ($35,000) has?
Landmark Group of Companies president Reza Nasseri, whose company built an entire 14-townhome net-zero community in 2013 in Edmonton, is optimistic evolving industry best practices, alongside changing buyer attitudes, may see net-zero affordability occur much sooner than many think.
Nasseri, an electrical engineer, predicts a substantial drop in the price of solar panels within five years will also mean greater homeowner acceptance.
The intent of net-zero homes is to reduce average annual household energy bills to zero gigajoules (GJ) through everything from energy-efficient furnaces and grey-water recycling to green roofs and solar panels, while also cutting carbon and greenhouse gas (GHG) emissions. Natural Resources Canada (NRCan) estimates housing accounts for 15 per cent of Canada's GHG.
By the end of this year, Landmark hopes to have all its new homes at least net-zero ready, just requiring the addition of solar panels.
With government energy policy changes, Scott expects not all costs of housing energy efficiency will be placed on homebuyers, "but it will take some time."
In the meantime, Avalon itself is building Zen Solar in Cranston, where all 66 townhomes in the southeast community will have solar panels. It has been met with "fantastic response," said Scott.
The housing industry is also making recognition and comparison of energy-efficient homes easier for homebuyers, with a yearlong pilot Net Zero Energy (NEZ) labeling program.
Sonja Winkelmann, director of net-zero energy housing for the Canadian Home Builders' Association (CHBA), expects a full program to launch this fall.
The pilot is also following Net-Zero Energy ready (NZEr) homes which, to date, have energy use of 35 to 40 GJ/year.
Mattamy Homes has built five net-zero homes in its new Cityscape neighbourhood – to be labeled under the CHBA program – in partnership with NRCan and Owens Corning Canada.
The homes will provide the company – Canada's largest homebuilder and one of the biggest in North America — with learnings it will use going forward in both Canada and the U.S., said Mattamy Calgary division president Don Barrineau.
He noted the Cityscape community in the city's northeast itself has a young buyer demographic. Barrineau predicts interest in net-zero housing will grow as the next generation buys homes.
Tagged: Avalon Master Builder | Calgary Real Estate | Calgary Real Estate News | Canadian Home Builders Association | CHBA | Cityscape | energy efficiency | energy efficient | Green Housing | Green Living | Green Living | homebuilder | Homebuyers | Mattamy Homes | Net-zero | SAIT | YYCRE
---
---
Connect With Us