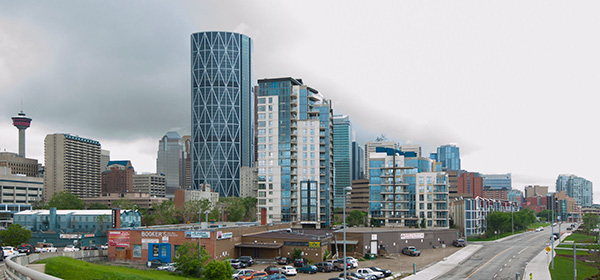 Aug. 14, 2013 | Cody Stuart
Lowest in Canada
Space in Calgary's once constricted downtown office market could soon be a little easier to come by.
While ranked as the tightest market in Canada in a
report from Avison Young
, the vacancy rate in the downtown core could escalate alongside new developments set to enter the market. "Though the level of development across the country is impressive, it's also worrisome, especially in places like downtown Calgary and Toronto where office space under construction as a percentage of the existing inventory sits at 6.6 per cent and 7.6 per cent, respectively," said Bill Argeropoulos, vice-president and director of research (Canada) for Avison Young. "While the new towers will eventually lease up, it's the backfill space that tends to linger and ends up being a drag on the market."
However, in a story in The Calgary Herald, Newmark Knight Frank Devencore vice-president Michael Gigliuk said any such "backfill" shouldn't be cause for alarm, as there is sufficient demand to fill any surplus.
"The demand is there for quality space," Gigliuk told the Herald. "You always get migration to the new buildings from the old.
According to a report from Gigliuk, with close to five million square feet of downtown office space under construction, the vacancy rate in Calgary's downtown commercial market could climb as high as 12.4 per cent.
With 2014 still a long way off, new AA Class developments currently under construction in downtown Calgary include Cadillac Fairview's City Centre site and Oxford's Eau Claire Tower. The West Tower of Eighth Avenue Place, also under construction, is fully leased. Telus has recently announced the development of their new Telus Sky mixed use development which includes approximately 400,000 sq. ft. of office space, with the balance being residential rental units.
"A month or so into the third quarter (not reflected in mid-year tally), the construction announcements continue to flow across the news wire with Manulife Financial's real estate arm launching a tower in downtown Vancouver (980 Howe Street) and in Calgary (707 5th Street SW), while Brookfield Office Properties is proceeding with Brookfield Place Calgary," said Argeropoulos.
At 56 storeys and 247 metres in height, Brookfield Place will be the tallest structure in western Canada when completed. Previously known as "225 Sixth" and the former site of the Calgary Herald building, Brookfield Place is a full-block development site in the heart of downtown, bounded by First and Second Streets SW and Sixth and Seventh Avenues SW. Construction of the east tower is scheduled to commence in September 2013 with completion expected in the latter half of 2017. The entire project is expected to create 1,300 construction jobs and 7.5 million construction man-hours in Calgary.
In the report from Avison Young, vacancy in Calgary's downtown office space was four per cent, followed closely by Ottawa (4.4 per cent) and Vancouver (4.6 per cent). The highest was Lethbridge (13.5 per cent) while Regina (5.5 per cent) saw the greatest jump. Unsurprisingly, Calgary, at $57 per square foot (psf ), an increase of $5.66 psf over 2012, Vancouver ($52 psf, -$2 psf ) and Ottawa ($47.95 psf, -$0.53 psf ) registered the highest average gross rents for class A space during the first half of the year.
Tagged: Avison Young | Calgary Commercial Real Estate | Calgary Real Estate | Calgary Real Estate News | Commercial | Downtown Calgary | Vacancy Rate
---
---
Connect With Us