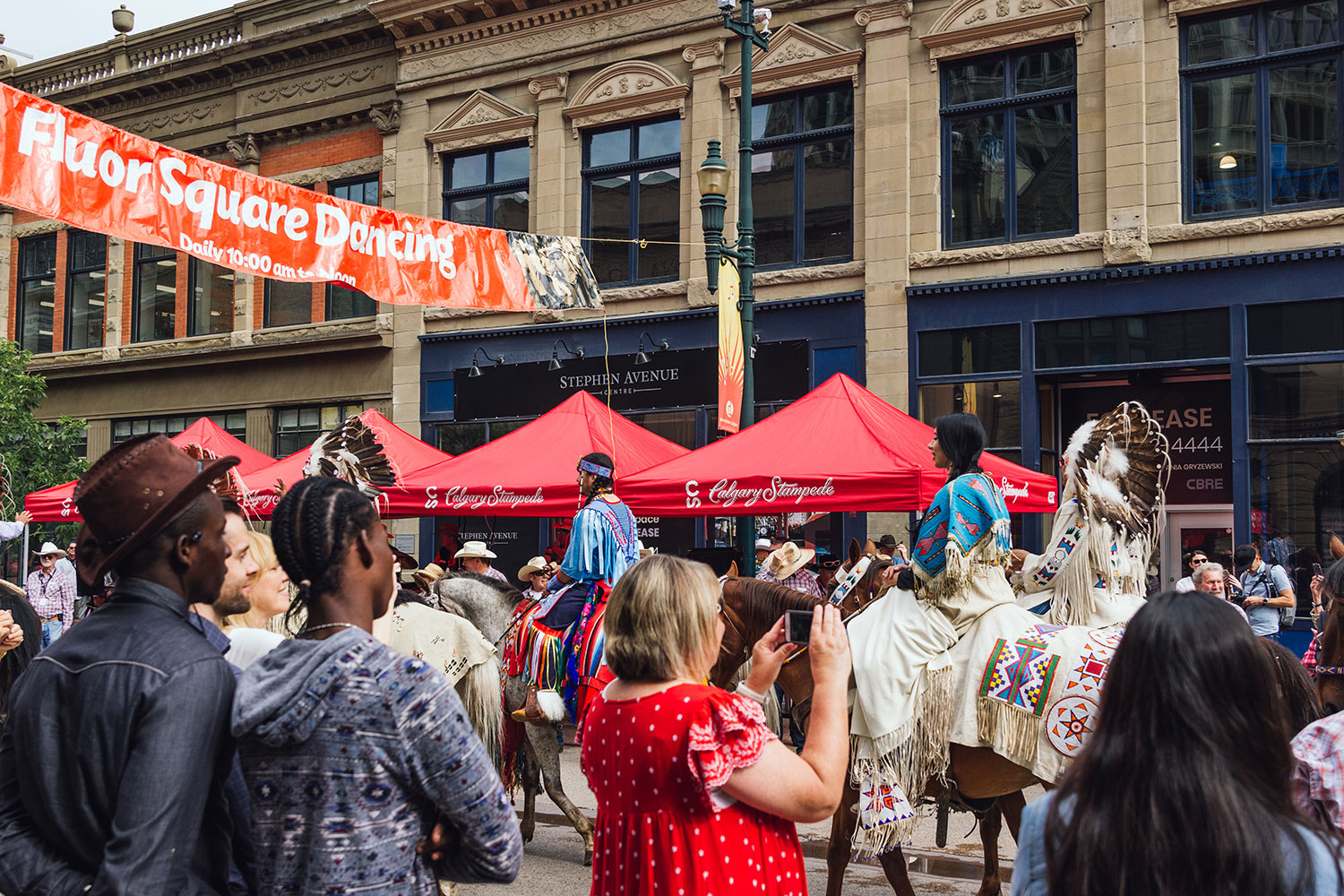 Courtesy Calgary Downtown Association
Feb. 07, 2020 | Natalie Noble
Road revitalization: Preparing Stephen Avenue for the future of downtown Calgary
Don't be surprised if you notice more action down on Stephen Avenue in the months to come. It's all part of the City of Calgary's innovative plans to reimagine and energize the area.
Much more than a facelift, the revitalization takes a three-pronged approach. Co-spearheaded by the Downtown Calgary Association, each phase will prepare the popular thoroughfare for the future of downtown, encouraging more people to visit, stay longer and increase business.
Phase 1 began with the project awarded last summer. Research, design and engagement conducted so far are now available in the City's
insights report
, sharing outcomes, metrics and observations about the ways the street is used, as well as economic analysis.
While the larger components of the project are further out, there are low-cost actions that will benefit Calgarians and businesses in the short term, as activity is extended into evenings and weekends. A major highlight of the first phase is the upcoming Glow Festival, set for Feb. 14-16.
"We can see the street's nearing the end of its usable service life and we want a strong plan in place to be ready when dollars become available." - Michael Magnan, City of Calgary
"We'll be staging and activating four blocks of Stephen Avenue for this event and we've completely changed the format this year," said Marco De Iaco, executive director of the Downtown Calgary Association.
"We want to activate and energize the avenue with fire pits on every block, two live music stages, ice patios and fun activities in the middle of winter when you typically don't see these kinds of events in your downtown core."
Testing ideas in real time is key to the project's foundation, De Iaco says. "Then we can answer a number of questions about how we program it, invest in the infrastructure, brand it, and what type of policies are put in place to entice investment and innovation."
Phase 2 kicks off early this summer. "This is our 'activate and experiment' phase, where we can test and measure the impact of ideas identified in Phase 1," said Michael Magnan, project manager of urban initiatives with The City of Calgary.
This phase runs into 2022, when the City hopes to present council with a strong business plan backed by data, findings and responses from the first two phases to secure downtown investment dollars in the 2023-26 budget cycle.
"(Downtown Calgary's) reduced workforce and struggling economy, coupled with deteriorating conditions on the avenue, provide an opportunity to rethink what Stephen Avenue can do for Calgarians," said Magnan.
"We can see the street's nearing the end of its usable service life and we want a strong plan in place to be ready when dollars become available."
Phase 3 will finalize the business case for the project, which requires major investment.
"We want to create an environment in which businesses can be successful," said De Iaco.
"To do this, we need to create amenities and assets that are attractive – to visitors from the suburbs, to those who live in the downtown core, to tourists, and to investors and capital."
Tagged: Businesses | Calgary | Calgary Downtown Association | Calgary Real Estate | Calgary Real Estate News | Calgary Real Estate News | City of Calgary | Commercial | Downtown | Downtown Calgary | Feature | Stephen Avenue
---
---
Connect With Us