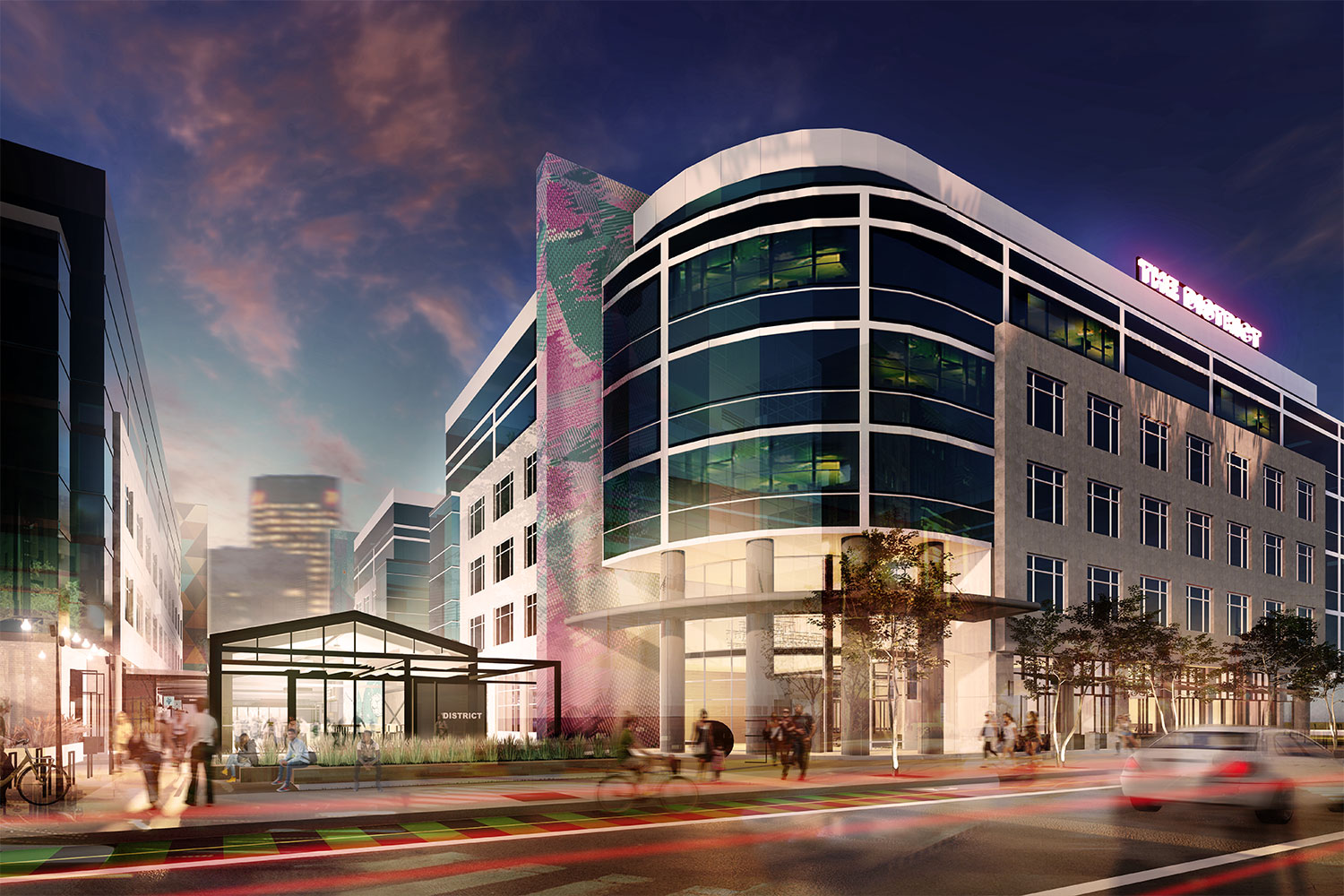 The District at Beltline. Courtesy of CBRE
Jan. 29, 2021 | Barb Livingstone
Refreshed Beltline real estate development could become office hub for Calgary's burgeoning tech sector
While downtown Calgary struggles with an office vacancy rate nearing 30 per cent, a unique "campus" development in the heart of the Beltline is seeing success.
The District at Beltline is located on the former IBM complex site along 2
nd
Street S.W. between 11
th
and 12
th
Avenue. Its 360,000 square feet are spread across three office towers connected by a wood-beamed market "shed" to house local food and drink outlets and community event space.
The first refurbished tower is fully leased, while the other two are already 80 and 70 per cent leased, respectively. All clients signed on after the COVID-19 pandemic began.
"It appeals to new companies looking to a younger demographic of employees," said Greg Kwong, regional managing director of commercial real estate company CBRE, adding many companies and employees are looking forward to a return to office human interaction after working from home for months.
CBRE's John Fisher, who oversees the District's office leasing, says San Francisco's Spear Street Capital saw this massive piece of Beltline land as a unique opportunity.
"They are a North American company that specializes in rethinking properties and this was an amazing location and great buildings," he said.


The development taps into what potential employees, particularly in the growing tech sector, were seeking in terms of amenities and location.

"They are companies that want to attract and retain younger employees who want more than a comfy office and a chair," said Fisher.

The District offers not only a comfortable place to work (inside and out), but also places to eat and socialize with friends, and an easy walk or cycle home.

The offices' flexible floor plates offer easy expansion for companies in growth-oriented sectors.

The District's tenants are primarily technology, design and creative firms, with 10 to 400 employees. They include Alberta Central, Calero, Google Cloud, Amanda Hamilton Design, IBI, Royop Development Corp., Superior Lodging and London Life.

Peter Oliver, president of the Beltline Neighbourhoods Association, says the project is a perfect fit for a community "punching above its weight on a national level" in the promotion of lifestyle diversity, with affordable residential options, cycle connectivity, walkability, arts and culture, and accessibility to some of Canada's top restaurants.

The District reflects the Beltline's younger demographic, he says, which has rejected suburbs for a close community that is busy seven days a week.

CBRE's John Moss, responsible for the District's commercial leasing, has only one space left in the food hall and 3,600 square feet remaining in the southeast building earmarked for fitness or personal services.

The campus has already secured three large restaurants, all run by local entrepreneurs. Most retail tenants are expected to open this summer, with the rest following by September.

Tagged: Alberta Central | Amanda Hamilton Design | Beltline | Beltline Neighbourhoods Association | business | Calero | Calgary | Calgary Real Estate | Calgary Real Estate News | Calgary Real Estate News | CBRE | Commercial | Commercial | Companies | entrepreneurs | Feature | Food | Google Cloud | IBI | IBM | Leasing | London Life | office | retail | Royop Development Corp. | Spear Street Capital | Superior Lodging | Tech Sector | Technology | Tenants | The District | The District at Beltline
---
---
Connect With Us