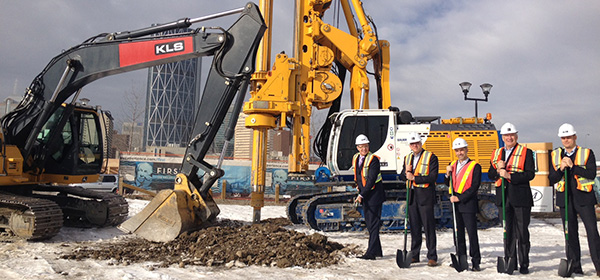 Feb. 14, 2013 | CREBNow
Raising a Village
East Village is on its way to becoming one of Calgary's most sought after neighbourhoods.
"Starting this year it's fast forward again, it hasn't slowed down at all actually which is really great," said Susan Veres, vice president marketing and communications for the Calgary Municipal Land Corporation (CMLC).
"We finished the year last year (and) interest in the remaining parcels of land was really quite high so our focus last year and this year will be on commercial development, less on the multifamily side." While the focus for 2013 will be more so on commercial offerings, residentially the East Village is seeing steady progress. In September 2012, ground was broken on the 21-storey, 203-unit FUSE by Embassy Bosa Inc.
On Feb. 7, FIRST, a residential project by FRAM+Slokker became the second residential offering to break ground. FIRST will be comprised of 18-storeys and 196 units representing about 200,000 sq. ft. of development.
"Calgary is a unique market; we have enjoyed a great response to our initial product offering and now with permitting in place, we are starting construction immediately," said Fred Serrafero, vice president, development, FRAM Building Group.
New residential offerings like those seen in the East Village are welcome in a tightening Calgary real estate market. According to the Canada Mortgage and Housing Corporation (CMHC), 11,622 housing units were started in the Calgary Census Metropolitan Area in January.
"The trend in total housing starts has been relatively stable in Calgary over the last four months, as a rising pace ofsingle-detached construction has offset a moderation in multi-family starts," said Richard Cho, CMHC's senior market analyst for Calgary. "Overall housing starts in Calgary continue to be robust, supported by job creation, net migration and reduced active listings in the competing resale market."
Commercially, the face of the East Village to date, the Simmons Building, is also in the midst of great change. After being refurbished by the CMLC, the building requires further "base building" with an announcement planned later this year for how the space will be repurposed.
While Veres remained mum on what exactly the Simmons Building will become, she did say "I think Calgarians will love it," said Veres. "I think its going to become a notable destination and it's a great publicly active use that we're putting in the space and the whole building will be utilized."
Upcoming groundbreakings in the neighbourhood include the National Music Centre on Feb. 22. The centre's design will incorporate the King Eddy Hotel, a mainstay in Calgary's musical history, and will include five floors of exhibitions, education programs for all ages, collections of musical instruments and equipment and live performances within 160,000 sq. ft. of space.
In June, ground will be broken on St. Patrick's Island. In 2010, more than 6,000 Calgarians were consulted about the island's development and a master plan for the recreational space was released in July 2011. Major developments to the island include restoring the lagoon between St. Patrick's Island and St. George's Island, enhanced river access, boardwalks and festival and performance spaces.
"I think (East Village) affords a different lifestyle, it affords you close proximity to downtown — so if you are the type that has a job in or near the downtown core you really have this luxury of living very close but not in a community that is sort of not master planned because this is a completely master planned community," said Veres. "So in that you know that St. Patrick's Island will be a recreational space — that's what its designated to be — you know that Fort Calgary is staying a protected site, you know that the National Music Centre is an amenity, the library's an amenity."
The East Village's western border has been chosen as the site for Calgary's new Central Library. A new facility to replace the Castell Central Library has been in the works since 2004 when city council approved a $40-million contribution towards a new building. Block 127 in the East Village was approved as a site for the library in July 2012. Included in public engagement to create dialog for the new library was a survey that received more than 12,700 responses between June and August 2012.
"Engaging Calgarians on the new Central Library is one of the most exciting projects I've experienced," said Alderman Druh Farrell, who sits on the Calgary Public Library Board. "People speak passionately about what they want and need in this new facility. The new Central Library will be a reflection of this collective vision."
East Village
National Music Centre
New Central Library
Tagged: Calgary Real Estate | Calgary Real Estate News | City of Calgary | Commercial | Community | Condo | Downtown Calgary | Growth | Residential
---
---
Connect With Us