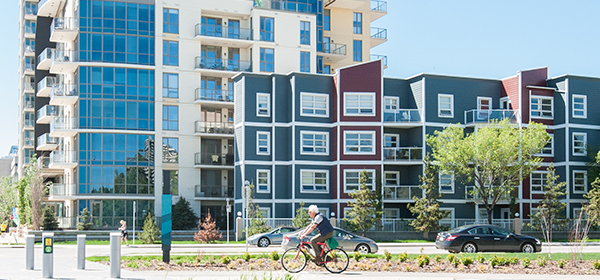 June 05, 2013 | Cody Stuart
Market Rolling Along
While May brought plenty of falling rain to Calgary, sales in the city's real estate industry were headed solidly in the other direction.
Driven in part by an increased demand in the condominium market, Calgary residential monthly sales improved over the previous year in May, exceeding expectations, although slowing from 2012's double digits. Emerging as a contender for the most improved sector in 2013, sales of condo townhomes increased substantially, with year-to-date sales up 20 per cent to 1,355. Condominium apartment sales totalled 1,672 units, a 10 per cent increase after the first five months of the year. Year-to-date single-family sales in Calgary numbered 6,937 units, for an increase of 0.45 per cent.
"Tighter mortgage rules impacted what buyers could afford to purchase in the Calgary market," said Ann- Marie Lurie, CREB®'s chief economist. "And while the majority of buyers are purchasing single-family homes, the attractive price point has improved demand for condominiums."
With less supply relative to demand in resale, condominium prices are on a path to recovery. In May, the benchmark price for condominium apartments totalled $263,600, a yearover- year increase of seven per cent. Condominium townhomes reached a benchmark price of $292,100, a five per cent increase over the previous year.
Reinforcing the numbers coming out of the city's multi-family market, a
BMO Bank of Montreal report
showed that one-third (33 per cent) of prospective buyers in Calgary planned on purchasing a condo rather than a traditional home in the next five years, an increase of seven per cent from the fall.
"Downsizing baby boomers and upsizing — from the parents' basement — echo boomers are likely to support the condo market in the coming decade," said Sal Guatieri, senior economist, BMO Capital Markets.
Calgary's condo market ranked amongst the most affordable in the country in a recent report from
RBC Economics
. Trailing only Edmonton amongst markets included, buying an average condo in Calgary required an average expenditure of just 22.9 per cent of the average home's income to cover mortgage, property taxes and utilities. Compare that number to the costs of buying a similar home in Toronto (33.5 per cent) and Vancouver (41.6 per cent), and it's clear why Calgary's condo sector is experiencing such growth.
Outside of the condo sector, sales activity in all categories totalled 2,544 units for the month, a seven per cent increase over May 2012 figures, despite a drop in inventory levels, which were 17 per cent lower than levels recorded in 2012. Singlefamily sales totalled 1,766 units in May, three per cent higher than levels recorded in 2012.
According to Becky Walters, CREB® president, these two factors are creating market conditions that favour the seller, causing stronger than expected price growth. The unadjusted benchmark single-family price totaled $456,900 in May, a seven per cent increase over 2012 and a one per cent increase over the previous month.
"Buyers need to have financing in place so they can act quickly when they see the right property," she said, adding buyers also need to have a clear sense of what they can afford and what they are prepared to pay before entering negotiations.
While sales growth in the city is exceeding expectations, the rate of increase has slowed from 2012's double digits. There is downward pressure on inventory levels, because there are fewer than normal new listings at a time when sales volume is increasing.
"Improvements in Calgary's resale housing sector are being fuelled by the combination of employment gains, migration growth and tight rental market conditions," Lurie said. "However, resale price growth will likely moderate, as competition in the new-home sector and sluggish economic growth expectations will weigh on the housing market."
Monthly Housing Summary - CREB®
Tagged: Calgary Housing Market | Calgary Real Estate | Calgary Real Estate News | CREB President Becky Walters | CREB® Chief Economist Ann-Marie Lurie | Residential
---
---
Connect With Us