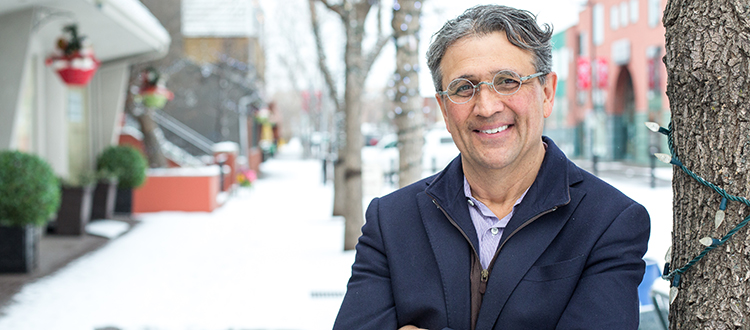 Sano Stante recalls secondary suites as being one of the top issues to come up during his CREB® presidency in 2011. Photo by Michelle Hofer/For CREB®Now
June 06, 2016 | Cailynn Klingbeil
55 Years of Real Estate: 2011 CREB® president Sano Stante
Secondary suites and sustainability highlight Sano Stante's year as CREB® president
The year was 2011: Naheed Nenshi was in his first full year as mayor, secondary suites had become part of Calgarians' daily lexicon and the term "sustainability" had started to creep into community development.
Looking back at it now, then CREB® president Sano Stante noted his year at the helm not only gave him a front-row seat to the action, but an enviable opportunity to influence change.
He noted his work with CREB® in advocating council to legalize secondary suites across the city stands out the most from his year of presidency.
"It's something I was really proud of," said Stante.
In a February 2011 statement, CREB® called on council to permit secondary suites provided homes remained owner-occupied, had sufficient parking and safety concerns were met. Secondary suites were an affordable and sustainable housing choice for Calgarians, CREB® said.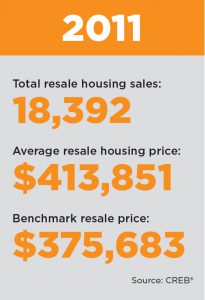 When the issue went before council in March 2011, councillors voted against easing prohibitive rules, maintaining the status quo instead.
Little has changed in the five years since. Earlier this month, council reviewed an amendment to the land-use bylaw that would simplify the application process for those who live in districts where suites are legal. The amendment did not, however, include provisions for adding suites to areas where they are currently not allowed.
"It's still not solved," said Stante, noting the issue has become more politicized over the years.
Stante's year as president was also marked by a slow but steady strengthening of Calgary's resale residential housing market following the downturn in 2008-09. Sales by year's end increased by 7.6 per cent to 18,392. The benchmark price levelled off by 1.8 per cent to $375,683.
"We were just turning a corner," said Stante. "The amount and pace of recovery was quickening."
Meanwhile, 2011 also represented a year of organizational changes. CREB® welcomed Alan Tennant as its new CEO following the retirement of longtime leader Ron Esch. The association also hired its first economist, Ann-Marie Lurie.
Through it all, Stante said the theme was sustainability – from advocating for sustainable growth in Calgary through city-wide approval of secondary suites to emphasizing organizational sustainability within CREB®.
The concept of sustainability also started to take root in community development, with more homebuyers expressing interested in self-contained mixed-used walkable communities.
"People were interested in walkable, green communities. Those were things they valued," said Stante, whose interest in sustainability stretches beyond his 31 years in real estate, when he worked for a solar company in Kelowna, B.C. "It was a shift in the mind of consumers, away from suburban areas to more urban, walkable communities."
"People were interested in walkable, green communities. Those were things they valued."
Stante pointed to examples of dense European cites, which "just feel so right."
"We're stuck with what we have, but how do you make it better?" he asked. "How do you transform it into a more liveable city?"
Stante is currently considering those questions on a smaller scale, thinking about how a home can be transformed into a more liveable space, depending on who is living in it. He said the emerging needs of retiring baby boomers represent areas of opportunities for today's real estate profession.
"It's something that's starting to come to the forefront, and will be increasingly important as the tsunami of aging boomers approaches," he said.
He pointed to laneway housing, or pairing seniors with day cares, as ways real estate can morph with changing societal needs.
Homes that are adaptable, accessible and affordable will be key to future urban development, Stante added.
"There are some interesting and sustainable solutions," he said. "There could be positive outcomes, if we're ready for it," he says.
Tagged: 55 years of calgary real estate | Baby Boomers | Calgary Real Estate | Calgary Real Estate News | City Council | CREB® CEO Alan Tennant | CREB® Chief Economist Ann-Marie Lurie | past presidents | Residential | Secondary Suites | sustainability | Uncategorized | walkable | YYCRE
---
---
Connect With Us