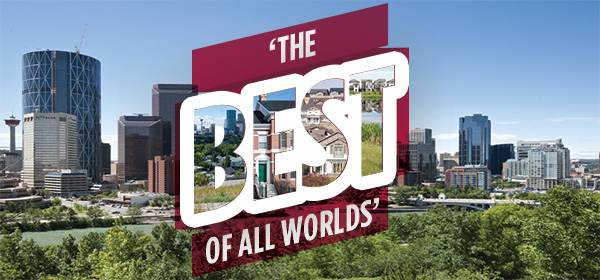 Dec. 19, 2012 | Cody Stuart
The Best of All Worlds
If you were to choose a theme for real estate in the Calgary area in 2012, perhaps it would be the "year of the pleasant surprise".
Heading into 2012, CREB® predicted an 11 per cent increase in sales, citing the persistent record low interest rates that have greeted Canada homebuyers since 2009 as a key contributor to the increase. Instead, the Calgary area experienced a 23 per cent increase in year-over-year sales in October and is headed for equally positive numbers by the end of the year. Calgary bucked the national downturn even as markets like Vancouver and Toronto saw sales decline in the wake of the new mortgage rules and lingering concerns over the health of the economy.
"Calgary has continued to record relatively strong economic, employment and migration growth," said CREB® economist Ann-Marie Lurie. "This, combined with improving affordability, has encouraged consumers to purchase real estate in Calgary."
Calgary continued to retain its status on RBC's Housing Trends and Affordability report. Released in March, August and November, the RBC report ranked Calgary's housing market as one of the most affordable in the country.
"The Calgary-area market enjoyed the best of all worlds recently: stronger home resales and home building, moderately rising prices, and attractive and improving affordability," said RBC chief economist Craig Wright in the August report.
It was a better outcome than predicted in January by CREB® President Bob Jablonski, who cautiously called for "stable price growth in a low interest rate environment, encouraging both the first-time buyers and the moveup buyers to be more active in the marketplace."
Provincewide, CREB® predicted a 6.9 per cent hike in MLS® sales for the year, a number that came in fairly stark contrast to the rest of the country. Unlike Alberta, British Columbia, Ontario and Quebec all forecasted a decline in sales – a story that would emerge as an ongoing trend in 2012.
In addition to enticing interest rates, an influx of new Calgarians was cited as a major contributor to the city's forecasted sales increase. Released in February, Statistics Canada's 2011 census numbers showed the city's population had one of the highest rates of growth in the country, rising by 10.9 per cent since 2006.
"That people are coming to Alberta shouldn't be a surprise," said ATB Financial economist Will Van't Veld, who pointed out the province's healthy job market. "In fact, it's slightly more surprising that it took until the first quarter of 2012 to see the numbers really spike."
Statistics Canada's numbers would be reinforced in June with the release of Calgary's 2012 civic census, which showed the city's population rose by 2.68 per cent between April 2011 and April 2012. The rise, which took Calgary's population from 1,090,936 to 1,120,225, represents the biggest population increase in the city since 2007.
The growth in MLS® sales in the city came despite major changes to Canada's mortgage legislated by the federal government. The changes, which took effect on July 9, reduced the maximum amortization period from 30 years to 25, and dropped the limit Canadians can borrow when refinancing their homes from 85 to 80 per cent.
The changes, announced by Finance Minister Jim Flaherty, were meant to quell fears of an "overheated" housing market and ensure Canadians weren't taking on more debt than they could afford.
"We want people to make sure that when they purchase the most important purchase they'll probably ever make in their life, that they do so in a prudent way. And some calming of the market is desirable," said Flaherty.
Flaherty's announcement also signaled the end of insured mortgages for homes with a purchase price of more than $1 million and fixed the maximum gross debt service ratio at 39 per cent and the maximum total debt service ratio at 44 per cent.
In spite of those changes, Calgary's status as one of the nation's real estate hot spots remained largely unchanged.
According to RBC's November report, buying a standard two-storey home in Calgary would require the average Calgarian to part with 39.3 per cent of their household income. Compare that number to markets like Toronto and Vancouver, where the same purchase would require 61 and 87 per cent, respectively, of average household income.
Of course, not all homes sold in Calgary in 2012 were of the affordable variety, at least not to the average buyer. Highlighting the year in luxury home sales were some high profile transactions that saw the record set for the most expensive condo ever sold in the city – a 5,260 sq. ft. unit in The River complex. It sold in February for $8.3 million, only to be topped a few months later when another unit in the same complex sold for $9 million.
Through the first 11 months of this year, 14,367 homes priced $1 million or more were sold in Calgary, compared to 13,120 sales through all of 2011, an increase of 9.5 per cent.
The city's status as the nation's exception to the norm was cemented with the release of the Canadian Real Estate Association's (CREA) November numbers and resale housing forecast. According to CREA, through November, seasonally adjusted year-to-date MLS® sales in the city increased by 19.2 per cent. The increase places Calgary well clear of Edmonton, the next hottest market with an increase of 4.7 per cent, and miles away from Vancouver, where sales declined by 22.3 per cent over the same period.
Calgary is poised to continue its run as Canada's top market in 2013.
"[Calgary] really does stand out as a shining star in Canada," said CREA chief economist Greg Klump. "Given the fact that there's a really upbeat economic outlook, I'd say that is fueling both consumer sentiment and housing activity."
Tagged: Calgary Housing Market | Calgary Real Estate | Calgary Real Estate News | Condo | Development | Downtown Calgary | Growth | Home Buyers | Home Owners | Home Sales | Housing Prices | Residential
---
---
Connect With Us