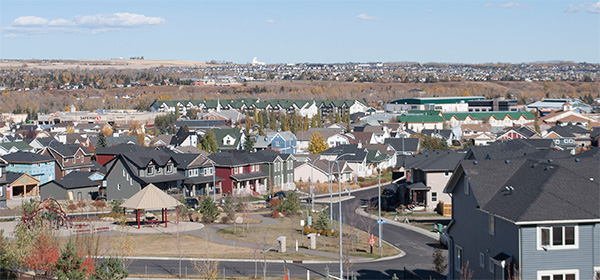 Feb. 06, 2014 | CREBNow
Community Feel of Okotoks
Looking for a small town feel, but yet wanting to be close enough to the bustling movements of city life? Okotoks is just a stone's throw away from the southern city limits of Calgary.
The community aspect of the town has people looking to purchase homes in towns like Okotoks. Sales of singlefamily homes have declined in Calgary in the final quarter of 2013, but were on the rise in surrounding towns such as Okotoks.
"Lifestyle preferences play a role in demand," said CREB® Chief Economist Ann-Marie Lurie. "Single-family homes in surrounding communities tend to provide newer and larger homes at a lower cost than in Calgary."
With a 19 per cent gain over 2012, Okotoks saw its highest level of annual sales on record, which totaled 699 units. The number of listings in Okotoks was down by 6.5 per cent on an annual basis, this resulted in declined inventory levels and tightening market conditions.
The sales in the fourth quarter increased by 50 per cent compared to the fourth quarter of 2012.
Rising from 2012 were the singlefamily benchmark prices at 4.8 per cent, which had an average price of $385,308 in 2013. Single-family prices have been on the rise since the last quarter of 2011.
Donna Stratton has been a resident in Okotoks for nine years, and loves the community aspect the town has to offer.
"We wanted something outside of the city, but still had all the amenities that the city had to offer, but we wanted quieter, more community, more of a family oriented community," said Stratton. "Okotoks in itself is a community in itself, so it is different than say a community in Calgary let's say Citadel or something it is just that community, even though we have many communities it is all one community and that's what I like."
One thing that Stratton loves is that there is a pathway system across from her house, which she can walk down to the river.
"When we first moved to Okotoks, we were so used to city life, here [Calgary] you can get dinner anywhere you want, in Okotoks everything was closed at 7:30 p.m. or the Ricky's, which was basically
one of the main restaurants at that point, was closed at 8 p.m.," said Stratton. "We had thought we had made the biggest mistake of our lives, we were like 'What are we going to do', because nothing is open."
Okotoks has seen many changes since Stratton moved there nine years ago; places are now open late and on Sundays, new businesses are going up and the town is growing. Stratton said, "We have a new program in Okotoks that is coming in 2016, and I am part of the planning committee for the opening and closing ceremonies." The World Children's Baseball Fair travels around the world, and Okotoks will get to host the large event.
DRAKE LANDING
| Drake Landing in Okotoks is the first community in North America that uses solar power to heat homes. During the summer months, the district system is designed to store solar energy underground, and then distributes that energy during the winter months. Over 90 per cent of residential space heating needs in Drake Landing are being met by solar thermal energy. The garage roofs have solar panels installed on them, giving a total of 800 solar panels for the entire community. These homes are 30 per cent more efficient than conventional homes.
ROTARY PERFORMING ARTS CENTRE
| The building the Rotary Performing Arts Centre (RPAC) occupies was a church for the Okotoks community, as the congregation grew, the Okotoks United Church had to find a new home. The Okotoks Arts Council bought the church and renovated it to accommodate a facility for the performing arts. The building was renovated to keep much of the history of the church, and to have amazing acoustics for all performances that would be held there. Providing concerts, theatre, comedians, films and more the RPAC gives the Okotoks residents a facility to go enjoy numerous performances. The RPAC is able to reflect the dynamic, creative energy that residents in Okotoks have.
OKOTOKS RECREATION CENTRE
| A one-stop area for any recreation need, the Okotoks Recreation Centre has a wide range of activities for all ages. Looking for a traditional workout? The gym has all the equipment needed for any workout routine. If a scheduled class is more your speed the recreation centre offers anything from swimming to spin classes. A swimming pool, skating rink and gymnasium are all parts of the recreation centre. If you have youngsters, there is a never-ending list of activities to keep them busy; from hanging out at the Okotoks Youth Centre, going to the Okotoks School Age Care Centre or dropping off your baby at the Kindercare Baby Centre. The Okotoks Recreation Centre offers something for all ages.
OKOTOKS ART GALLERY
| Located at the Station Cultural Centre, the Okotoks Art Gallery is devoted to art and visual culture. The ongoing series of contemporary and historical art exhibitions are always on display. The gallery already has a list of exhibitions for the early part of 2014, these include: Under Box Mountain by Debra Rushfeldt, Homeward Bound by Greg Pyra, Freedom: The Social, Symbolic & Senses of Freedom by Okotoks High School students and An Alberta Aviary by Erika Schulz. On top of displaying art exhibits, the gallery also hosts programs and events for adults, families and seniors. There is always something new on display at the Okotoks Art Gallery.
Next weeks CREB®now feature will be Olympic Communities - If you have a home that you would like to advertise in communities around COP/WinSport contact our ad sales team at cren@creb.ca or call 403.263.4940
Tagged: Calgary Real Estate | Calgary Real Estate News | Okotoks Real Estate
---
---
Connect With Us