March 03, 2014 | Cody Stuart
Calgary's High-End Home Sector Plenty Healthy
When it came to the housing market, Calgary grew a lot more luxurious in 2013.
According to
RE/MAX's Upper-End Report
, sales of homes priced at $1 million or more in Calgary increased by 34 per cent in 2013, putting Calgary's luxury market only behind Vancouver in terms of growth. In total, 730 properties priced at $1 million or more were sold in Calgary in 2013 compared to 544 in 2012. Rather than indicating a peak, the report predicts the sector should continue to see a rise in sales in 2014.
"With solid confidence in place, Calgary is expected to mirror 2013's stellar performance, with the luxury market proving strong and steady," said the report. "Another record year is possible, particularly with the optimism that's now building."
Since hitting 340 in 2009, sales in Calgary's luxury market have more than doubled in the last five years.
Calgary's luxury condominium sector was a key component of the success in the city's million-dollar market last year, with sales rising by 88 per cent. Driven by a continued emphasis on popular established areas in the city's core, the year saw 77 sales of condos priced at $1 million or more. The growing appeal found in the luxury condo market has been evident in not only the sales taking place but in the profile of the properties up for grabs.
In November, a 6,000+ sq. ft. penthouse in downtown Calgary was listed for $10 million. The highest price ever paid for a condo in the city is $8.99 million for a 5,600 sq. ft. penthouse located in The River condo tower in Mission. The sale, which took place in the spring of 2012, broke the previous record of $8.3 million for a condo in the same building.
Record-setting sales however weren't confined to the condo sector. The highestpriced single-family property to change hands in the city set a new record in 2013. The $11.1 million home in Crescent Heights featured several amenities commonly identified with the high-end luxury sector, including a library, rooftop terrace, as well as a media room and total automation.
When determining reasons as to why Calgary's luxury market is experiencing such success, a report from
Sotheby's International Realty Canada
pointed to the city's booming commercial sector and the resulting rise in in-migration as key factors. According to Sotheby's, it is estimated for every 300 sq. ft. of new office space created, an additional person is added to downtown Calgary.
A recent report from CBRE Limited showed that the current construction cycle in downtown Calgary is expected to add 6.3 million sq. ft. of office space to the market.
"The high number of executive level jobs created will continue to fuel demand for toptier real estate specifically, as newcomers take advantage of the city's relatively affordable real estate market to 'buy up'," said the report.
Next Week's CREB®now will feature Aspen Woods, The Slopes and West Springs. REALTORS® call 403.263.4940 to advertise your listings.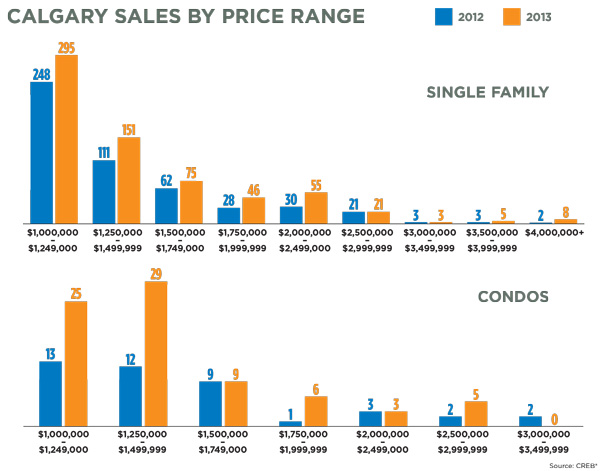 Tagged: Calgary Luxury Real Estate | Calgary Real Estate | Calgary Real Estate News
---
---
Connect With Us