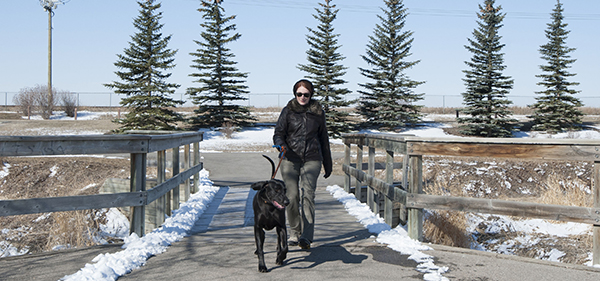 Oct. 29, 2014 | Cody Stuart
Moving northwards
Airdrie's housing market on pace for record year
Housing affordability and changing lifestyle choices are fueling double-digit growth in Airdrie.
The city's residential resale housing market recently posted its best third quarter ever, with sales activity jumping 16 per cent to 455 units between July and September, according to CREB®. Year-to-date sales, meanwhile, have increased by 28 per cent to 1,354 units compared to the same period in 2013. Not surprisingly, Airdrie's population is booming as well. The latest City census, released in August, showed the urban hub grew by 5,331 or 15 new residents per day, versus 3,849 total or 11 new residents per day last year.
Airdrie's current population stands at 54,891, a 10.76 per cent growth rate, compared to 8.42 per cent last year.
"We've always had really strong [population] growth over the last 10 years. We've averaged anywhere from eight to 10 per cent a year," said Kent Rupert, economic development team leader for the City of Airdrie.
"We're seeing more services out here. You look at our recreation centres and that type of thing – I think people are starting to see the type of lifestyle out here and deciding that's a good fit for them."
One major reason so many are choosing to call Airdrie home is the city's relative affordability in comparison to Calgary. The unadjusted average benchmark price for a resale single-family home in Airdrie totaled $387,767 in the third quarter, according to CREB®. While the price represented a 10 per cent increase over the previous year, it still offered prospective homebuyers an attractive option to Calgary, where the single-family benchmark price topped $512,800 in September.
"Low interest rates, rising wages, positive net migration and tight market conditions in Calgary continue to support the demand growth in the regional resale housing market this year," said CREB® chief economist Ann-Marie Lurie.
"As supply levels for homes priced under $400,000 in the single-family market have declined in the city of Calgary, many consumers are considering their options in surrounding areas."
Airdrie's new housing market is similarly reflecting buyers' growing interest in the city. In August, the city saw 70 single-family starts, a 30 per cent increase from one year ago, according to Canada Mortgage and Housing Corp. (CMHC). Year-to-date single-family starts have jumped to 559 units, an 11 per cent gain from the same period last year.
Overall starts – which include single-family, semi-detached, row and apartment housing – sit at 1,169 year to date, a 2.1 per cent increase from 1,145 in 2013.
"Growth continues to be significant in Airdrie," said Mayor Peter Brown. "People move here as a lifestyle choice, enjoying our friendly community with great recreational and arts choices; our challenge is to continue to develop our community in a way that makes sense today and tomorrow to maintain our excellent lifestyle."
Tagged: Airdrie | CMHC | Feature | Home Sales | Single-Family
---
---
Connect With Us