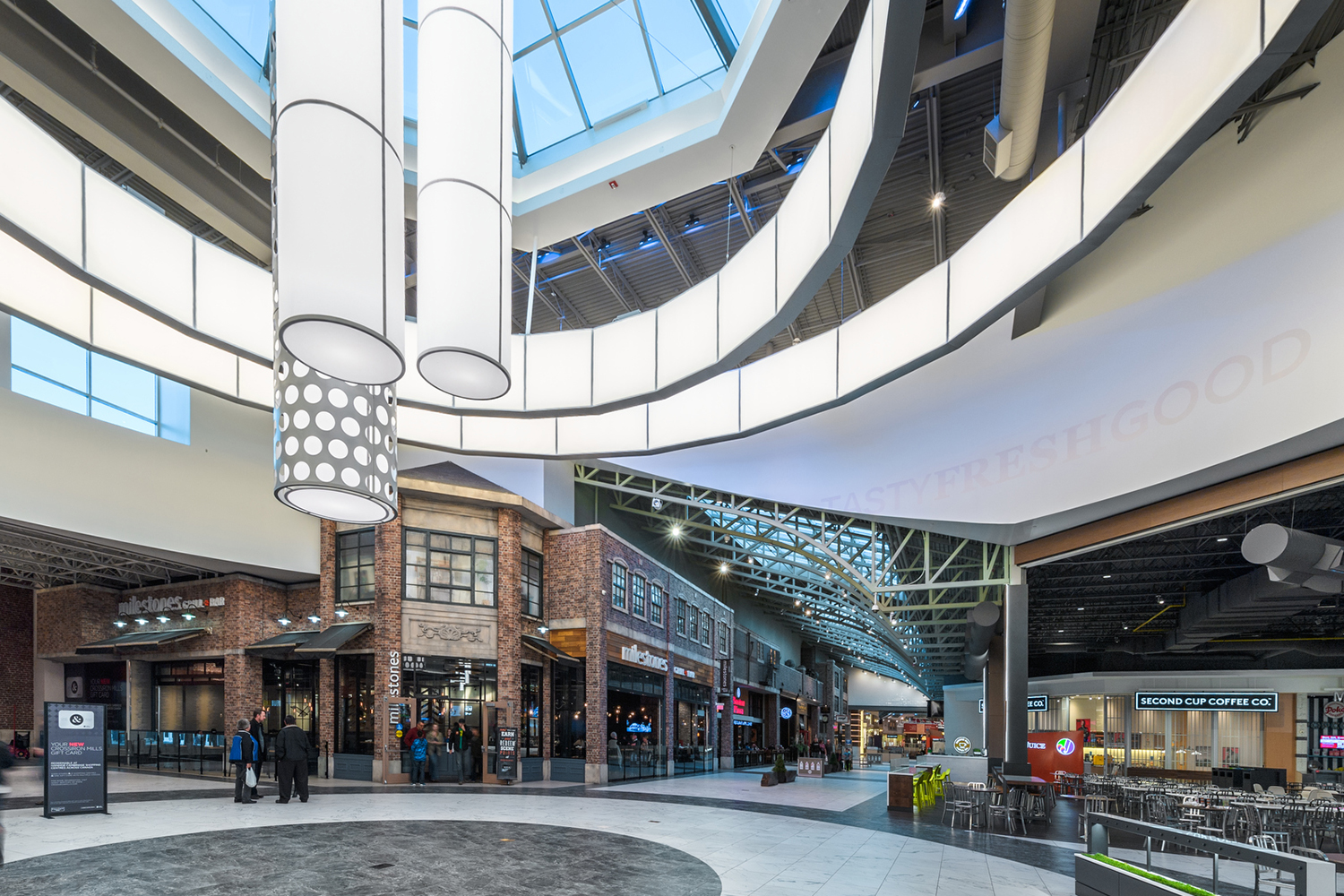 The architecture and design features of CrossIron Mills celebrate Alberta's geography, landmarks and cultural icons. Courtesy CrossIron Mills
Oct. 18, 2017 | Geoff Geddes
Shopping around
Selection, convenience and one-of-a-kind design continue to draw crowds to CrossIron Mills
Bigger isn't always better. However, CrossIron Mills is a classic example of the perfect combination of quantity and quality. The ambitious retail development has enjoyed smooth sailing, even through periods of economic downturn, and become the go-to shopping centre for area residents and visitors alike.
Located in Rocky View County, just north of Calgary on Highway 2, CrossIron Mills occupies 1.4 million square feet across 674 acres of land. It offers 200 specialty stores and premium-brand outlets, as well as 17 large-format anchor stores.
While mall patrons sing its praises, some feared the timing of its launch in 2009 might start things off on the wrong foot.
"Canada was in a deep recession, so there was trepidation about opening a regional centre," said James Moller, general manager of CrossIron Mills.
Yet, even as media focused on the risks, mall management crafted a good news story of their own.
"We held a career fair in the summer of '09 in Calgary to fill 3,500 positions," said Moller. "In the midst of doom and gloom, we brought hope by creating much-needed jobs."
Since then, it has been onward and upward. Today, the mall is the biggest one-level shopping centre in Alberta and the first enclosed shopping centre built in Western Canada in 20 years. Even the mall's design screams "one of a kind."
"We celebrate the great things about Alberta and its heritage through compelling design features, architecture and six themed neighbourhoods," said Moller.
"When we came to Rocky View County, there were a couple of industrial warehouses here and not much else. Since then, the area has exploded and we played a significant role in that." - James Moller, CrossIron Mills general manager
These Alberta-centric elements are inspired by the geographic regions, landmarks and cultural icons of the province, such as the fossil neighbourhood paying tribute to Drumheller.
Given all that CrossIron Mills offers, it's no surprise that Albertans and others are embracing it.
"They love the location and convenience," said Moller. "We're at the intersection of Highway 2 and the Stoney Trail ring road, so we're easy to reach."
For Country Hills resident and longtime patron Louise Ingram, convenience is "reason number one, two and three" for her loyalty.
"Chinook Mall and Market Mall are harder to get to and busier when you get there," said Ingram.
"I attend church in Balzac and often stop at the mall afterward for lunch. I also like the theatre and certain stores like Indigo and Saje."
Others appreciate the 6,500 parking stalls and excellent mix of retailers, nearly half of which are factory outlets or discount stores. If they tire of shopping, patrons can choose from seven movie screens or select one of the 50 food options for a fast-food, casual or sit-down meal.
Just as the mall's features are varied, so too are the customers. In addition to their core clients in Airdrie and Calgary, the mall welcomes visitors from a large chunk of the province, including Banff, Edmonton and Lethbridge, as well as Saskatchewan.
And, since any good relationship is a two-way street, Moller is proud of the centre's impact on the surrounding area.
"Some thought we would have a negative effect on Airdrie and retailers, but it's just the opposite," he said.
"When we came to Rocky View County, there were a couple of industrial warehouses here and not much else. Since then, the area has exploded and we played a significant role in that."
Ingram admits she was a skeptic at first, thinking "nobody builds malls anymore." Yet, she's glad to see the centre succeed and the development that has followed, such as construction in the Livingston and Carrington neighbourhoods of Calgary.
Considering its part in promoting development in the area, it's only fitting that CrossIron Mills has developed and expanded since its launch, too. A $63-million expansion recently added 50,000 square feet and some notable tenants to the mall, including a Polo Ralph Lauren factory outlet store.
Tagged: Airdrie | Balzac | Banff | carrington | Chinook Centre | CrossIron Mills | Edmonton | Feature | Highway 2 | James Moller | Lethbridge | livingston | Louise Ingram | Market Mall | Polo Ralph Lauren | Rocky View County | Saskatchewan | Surrounding Areas
---
---
Connect With Us