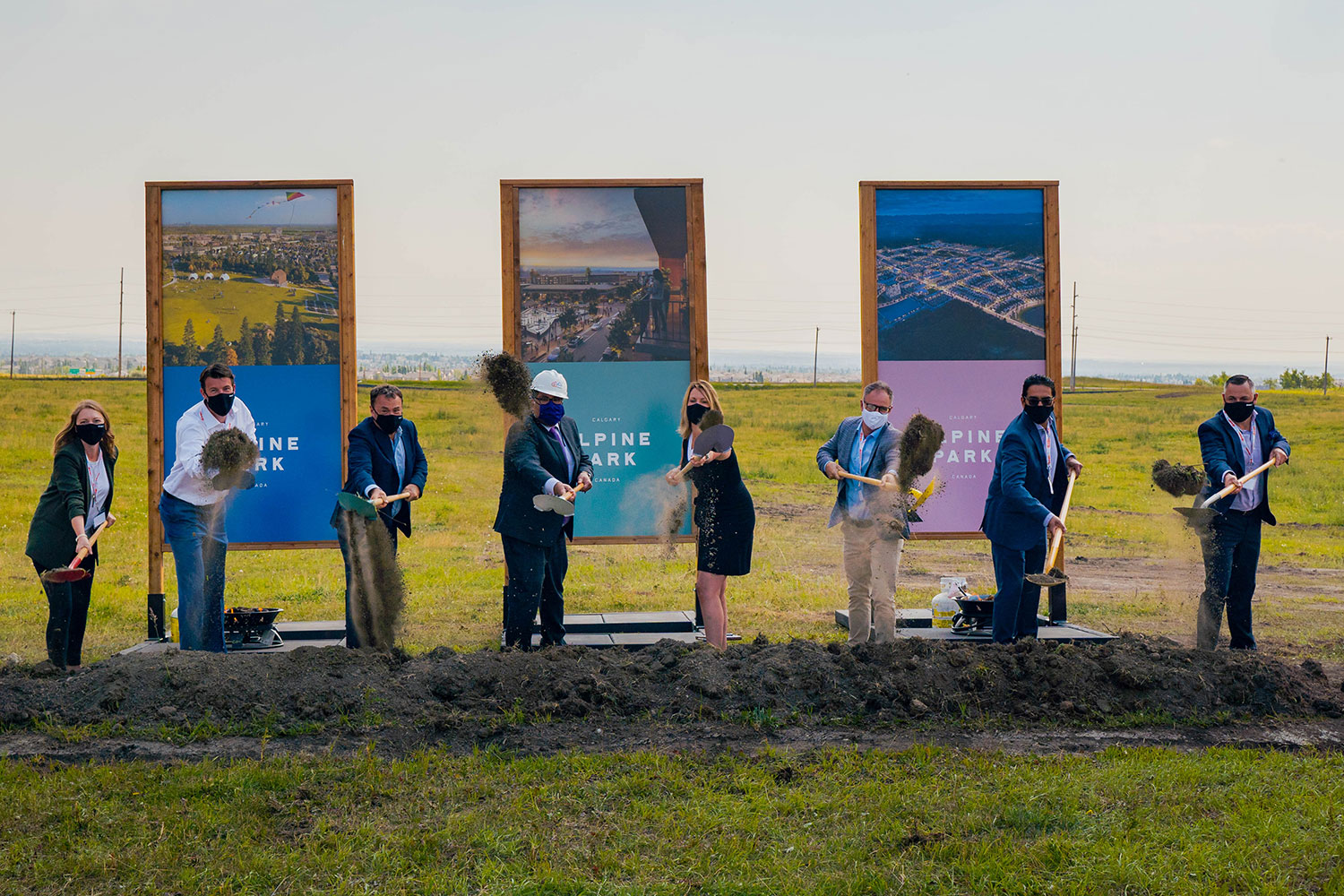 The groundbreaking ceremony for the new community of Alpine Park. Stakeholders on hand for the event included Mayor Naheed Nenshi. Courtesy of Dream Unlimited
Aug. 28, 2020 | Barb Livingstone
New southwest Calgary community brings inner-city mentality to the suburbs
By early 2022, the first of Alpine Park's eventual 10,000 residents will be moving into a mixed-use community at the heart of a new type of Calgary suburb.
Tara Steell, general manager for Dream Unlimited's Calgary land division, says that even before the COVID-19 pandemic, the developer's market research had shown buyers were seeking neighbourhood integration through "New Urbanism" principles more commonly found in the inner-city core.
The new 646-acre community, situated at 146
th
Avenue and 37
th
Street S.W., will feature mountain and city views, but its internal focus will be on promoting connectivity between homes – which will include everything from starter to estate residences and both multi-family and single-family designs – and between neighbours themselves.
"Calgarians are ready for something new," said Steell. "It is putting people first, with human interaction on a different scale, much more like inner-city living."
That means most homes will be laned (garages in back), providing front porches and space for interacting with neighbours. Wide-path boulevards will sport double rows of trees going through multiple parks and additional trees on individual home lots will add to the alpine feel.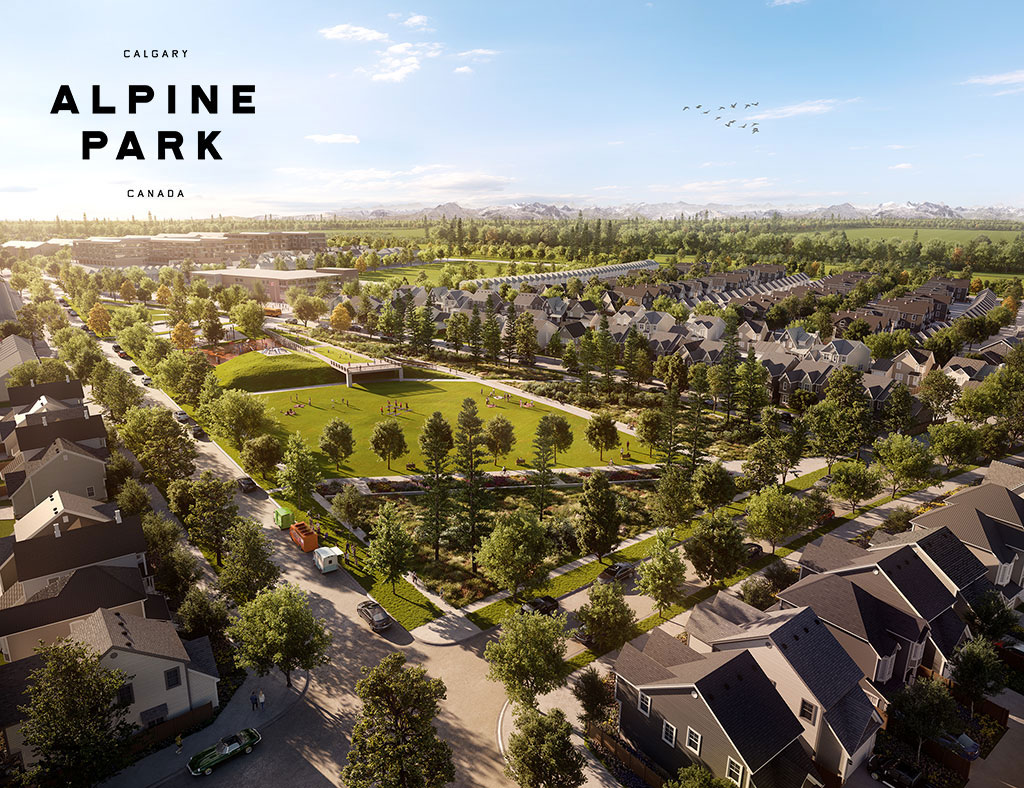 A 100-acre village centre will sit at the true heart of the community. It is expected to include seniors housing, along with commercial and retail offerings like cafes and grocery stores. To ensure the village centre's viability, Dream will keep it as a company-owned, long-term asset, ensuring it performs and preventing empty streetscapes in the future.
Most homes will be within an eight-minute walk of the village centre, Steell says, ensuring that once they are in the community, residents can leave their car at home and walk to the grocery store, to school or even to work within the commercial core.
Once the Southwest Calgary Ring Road opens in 2021, it will only take 20 minutes to drive from Alpine Park to downtown.
Site grading and utility work will continue at the development through this winter, with showhome construction slated for next spring. Those showhomes – from Calbridge Homes, Cardel Homes, Genesis Builders and Homes by Dream – will open in fall 2021.
The first phase of the community will feature unique, three-storey townhomes with underdrive garages from the back lane. The rest of the homes in the initial phase will be single-family residences.
Completion of Alpine Park is expected within 15 years, at a total cost of $2.5 billion.
Tagged: Alpine Park | builder | calbridge homes | Calgary | Calgary Real Estate | Calgary Real Estate News | Calgary Real Estate News | Cardel Homes | Connectivity | COVID-19 | COVID-19 | developer | Downtown | Dream | dream development | Dream Unlimited | Feature | Genesis Builders | Homes by Dream | Inner City | multi-family | New Communities | New Communities | New Urbanism | showhomes | Single-Family | Southwest Calgary Ring Road | Suburbs
---
---
Connect With Us