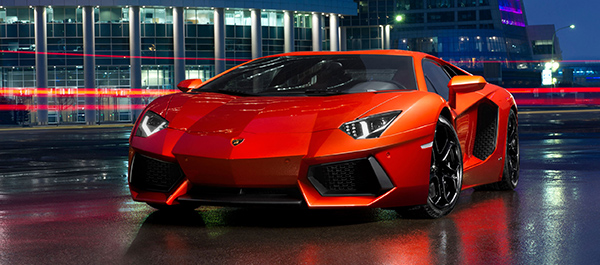 Sept. 17, 2014 | CREBNow
Laps of luxury
*CREB®Now real estate news luxury feature*
Hot and haute rides complete today's million-dollar mansions
The extravagance of Calgary's luxury listings, inevitably, comes down to the details – the crystals in the chandelier, the velvet in the carpet and the pixels on the big screen. After all, achieving affluence in the home means striving for perfection.
Yet ironically, this feat is most commonly being discovered in the garage, where petroleum princes are going hand in hand with today's palatial palaces.
After all, what's a million-dollar home without the hot ride to go with it?
Luxury cars are not new to Calgary, they are just becoming more common. The city is currently home to more than a dozen luxury nameplates ranging from Lexus and Acura to Ferrari and Bentley. As early as next year, Lamborghini and Rolls Royce are expected to move in, further altering that driveway-look for many Calgary homes.
"Canada's demographics are changing. Baby boomers are getting older, and they're aspiring to luxury," said Todd Richardson, dealer principal at the newly opened Lexus of Royal Oak in the city's northwest. "As well, luxury nameplates, in general, are shifting some of their product lines, essentially making luxury more affordable."
In spirit of that true luxury experience, CREB®Now has identified five rides that will turn your opulent abode from hot to haute:
Bentley Continental GT Speed
Few automakers speak to luxury more than Bentley. The Continental GT Speed, in turn, embodies that opulence. Whether as a coupe or convertible, this agile prowler offers enough power to satisfy discerning drivers (560-horsepower V-8), yet creature comforts to win over the Gucci crowd (contrast stitching in the seats; real chrome on the vents; piano black trim). And available for as little as $238,000, it's one of the more affordable of the bunch.
Mercedes-Benz AMG GT S
The new kid on the block was unveiled in Germany earlier this month, and is already being hailed as the "Porsche 911 killer" by the automotive press. Due to arrive in Calgary showrooms this spring as a 2016 model, the 503-horsepower super car is dripping with style and substance. Highlights include a "hot inside V" turbocharge-mounted 4.0-litre V-8, an all-aluminum frame that shaves the car's weight down to just 293 kilograms and "aviation-style" cabin that features jet-engine-esque air vents below the infotainment screen. "It represents the birth of a new AMG," said Lone Star Mercedes-Benz sales manager Simon Clarke. "It blends the latest of fashion and performance into one crazy package."
Ferrari 458 Speciale
A few lucky Calgarians got a special sneak peek of this blue-and-white beast during a special unveiling at Ferrari Maserati of Alberta earlier this year. Yet with only five available in Alberta, and all reportedly already accounted for, you'll likely have to drool over it in your neighbour's driveway. Motivated by 602 horsepower of undiluted sports performance and boasting a zero-to-100 km/h time of three seconds, this Pininfarina-designed Ferrari further ups the ante through its standard telemetry option. The company has put professional drivers in the car on recognized tracks, uploaded that info to the 458 Speciale and will overlay it on a dashboard screen with the path taken by everyday drivers, showing where to brake, where to throttle, etc... Not bad for a meagre $350,000.
Lamborghini Aventador
This modern-day Batmobile will have you thinking your neighbour is Bruce Wayne, offering the best combined display of brute force and flamboyant style on the production vehicle scene today. Touted as one of the most drivable Lamborghinis ever produced, the Aventador comes with a 6.5-litre 691-horsepower V-12. At a stop speed of 350 km/h, it would take 18 minutes to travel from Calgary to Banff – not that we recommend that. And, dare we say, it's even built for Calgary's winters, offering a seven-speed automatic transmission and all-wheel drive. Be prepared to shell out for this unique combination of style and substance, however; the 2014 Aventador LP 700-4 runs for upward of $550,000.
Tagged: Bentley | cars | Feature | Ferrari | Lamborghini | luxury | Mercedes-Benz
---
---
Connect With Us