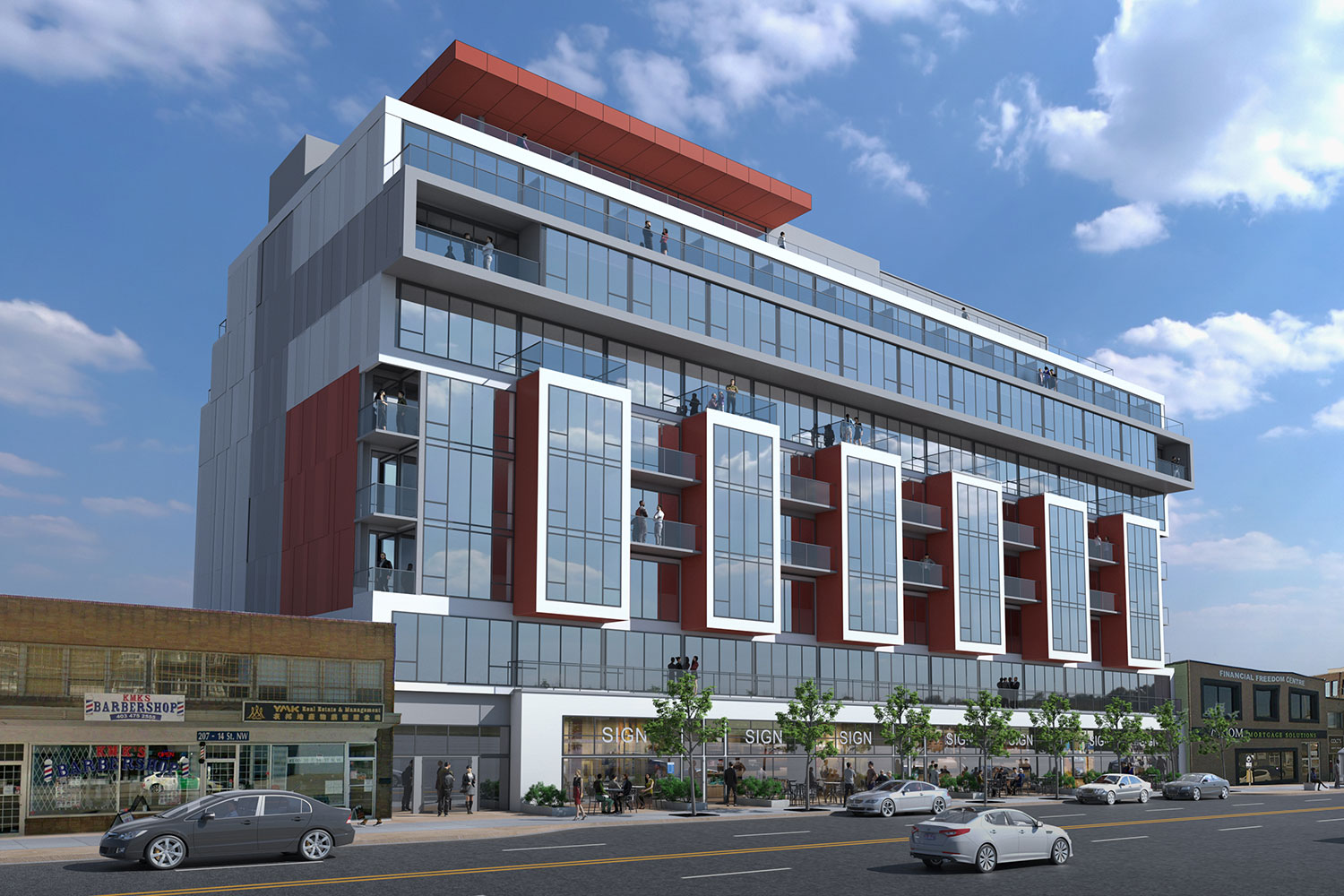 At completion, SOLA will boast 172 condo units – all equipped with smart-home automation. Courtesy of Ocgrow Group of Companies
Oct. 26, 2020 | Josh Skapin
New Kensington condo development innovates with commitment to smart technology
Calgary's condo market may be mired in a bit of a slump, but developers are still finding ways to make their latest offerings stand out.
This is what Ocgrow Group of Companies has done with SOLA, the company's new development in inner-city Kensington that will boast 172 condo units – all equipped with smart-home automation.
SOLA will be Canada's first luxury condo development to be fully integrated with Amazon Alexa devices.
"I firmly believe the real estate and tech sectors will continue to mesh," said Harish Consul, president and CEO of Ocgrow Group of Companies.
"There will be more and more innovation in real estate, and we wanted to build the most tech-innovative building in Canada."
Every unit in the new development will include an Alexa device, Alexa smart door lock, Alexa front door camera with two-way audio, and smart plugs.
One- and two-bedroom condos in SOLA start at $298,000. At completion, the building's amenities will include a penthouse terrace lounge, rooftop fitness centre and pet spa.
Ocgrow has other residential buildings planned that will also boast Amazon automation.
"There will be more and more innovation in real estate, and we wanted to build the most tech-innovative building in Canada." - Harish Consul, Ocgrow Group of Companies
Through voice activation, SOLA residents will be able to ask Alexa to share the news or weather, play music, or add to their shopping list, among other functions.
"If you are away from your condo and someone is at your front door with an Amazon package, you'll be able to view the delivery person, talk to them, and if you agree, you'll be able to unlock the front door – all Alexa-enabled through your voice," said Consul. "You'll be able to watch him come into your lobby, drop the package off, leave and lock the door."
The partnership with Amazon ensures all the smart-home devices in SOLA will be integrated, an important factor that is often overlooked, according to the developer.
"People (sometimes) have a hodgepodge of a Google home device, Alexa device or Apple Siri device, and it isn't integrated," said Consul. "One technology isn't always compatible with another technology or another device. The only way to do it right is to integrate it throughout the entire building in all the units."
SOLA's unique technological offerings are one of the ways builders are "looking to differentiate themselves," says Jackson Cornelius, consulting and advisory lead for Urban Analytics in Alberta.
"It definitely has the ability to sway a buyer's decision to make a purchase at one project versus another based on these things, because it is truly unique to that project and such a new thing," he said.
In addition to leveraging technology within the home, SOLA will also utilize new technology in the purchase process. Interested parties will be able to buy their new condo online through Shopify.
"There will be a lot of conventional buyers who will want to walk into a show suite, sit down and review the documents," said Consul. "Having said that, there are a lot of buyers that we see – the younger demographic and the investor – who are comfortable doing that online.
"There is a wide range of buyers who are very comfortable buying online and we think that's only going to increase over the next five, 10 years."
Tagged: Alexa | amazon | Calgary | Calgary Real Estate | Calgary Real Estate News | Calgary Real Estate News | Condos | Condos | construction | Feature | Housing Market | Innovation | luxury | new homes | Ocgrow Group of Companies | online | Shopify | smart | smart home | SOLA | tech | Technology
---
---
Connect With Us