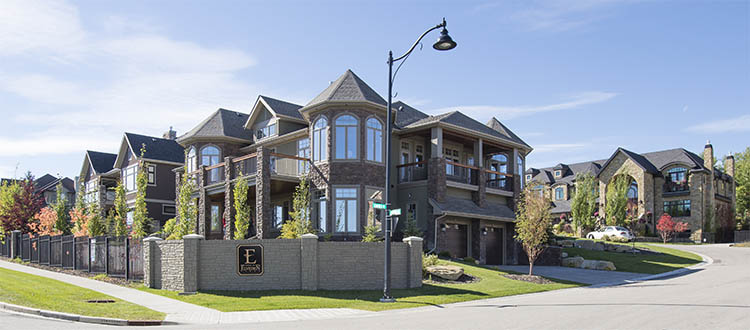 The number of $1-million-and-up homes sold in Calgary and area year to date has increased 30-plus per cent over 2015. CREB®Now photo
Sept. 30, 2016 | Miles Durie
The rise of luxury
Opulent housing segment continues to show staying power in 2016
The highest end of the home market is a unique beast. It's a sector in which a small percentage drop in price can equate to hundreds of thousands of dollars in savings – and where a minimal increase in sales volume can look like a huge boom.
Year to date the number of $1-million-and-up homes sold in Calgary and area has increased 30-plus per cent over 2015. But in real numbers, the growth was just 99 sales, from 329 up to the end of August last year to 428 for the same period this year. (To put those numbers into context, overall about 14,000 homes changed hands in that period.)
"It's three per cent of the market," said CREB® chief economist Ann-Marie Lurie. "The bulk of our activity falls between $300,000 and $500,000."
While the volume is small, the statistics are a definite positive for the industry and the city. They represent a bit of a comeback from the sharp decline seen after 2014 when the energy sector began to feel the effects of the precipitous drop in oil prices. That year, January-through-August $1-million-plus sales totaled 606. The decline to 329 the following year was a reduction in sales volume of almost 46 per cent.
"That was the first sector of the market that got hit," Lurie said. "We've seen sales activity improve this year, but last year was a really weak year."
Even with the increase in sales, it remains very much a buyer's market. There are homes in this price category that are listed at, or have sold for, several hundred thousand dollars less than their tax-assessed value.
"There are great deals, and now is a great time to buy," said Rachelle Starnes, a REALTOR® with Engel & Völkers who has 15 years' experience in the top end of the market. "Investing now, with prices below the cost to build, will ensure a great return when the economy stabilizes — far greater than investing in the stock market."
"There has been some price compression there as well, which has generated more interest."
Starnes mentioned a couple of homes as examples, one of which was tax-assessed and bank-appraised at $2.15 million and is currently listed below $1.9 million. Another home that brought $2.3 million a few years ago sold recently for $1.78 million.
The highest-priced homes include properties and acreages outside Calgary proper in areas such as Rocky View County, Lurie said.
"There has been some price compression there as well, which has generated more interest," she said.
Starnes said the luxury market tends to garner more interest from foreign investors, as well as retired executives, top corporate leaders relocating from other cities and elite professionals from various fields.
The bulk of the luxury homes sold so far this year have been in the city centre, with more than 200 sales, according to CREB®. The west side accounted for another 100 sales, with the rest scattered around the northwest, south and southeast.
"The city centre has seen some of the most significant price decreases," Lurie said.
But Starnes noted those decreases won't continue forever.
"When the market does come back and people have confidence again, those prices will be back up," she said.
Tagged: Calgary Real Estate | Calgary Real Estate News | CREB® Chief Economist Ann-Marie Lurie | Feature | luxury | million dollar market | Rocky View County | sales | YYCRE
---
---
Connect With Us