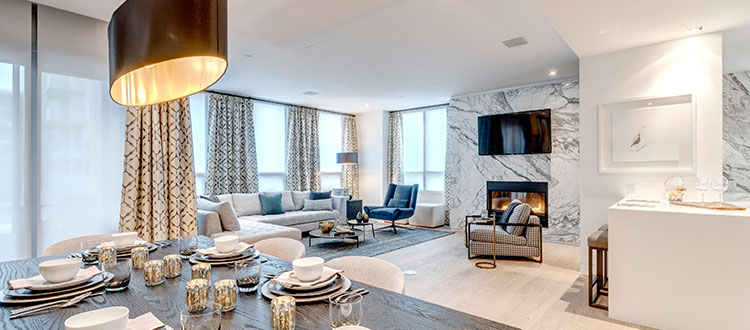 Located in Mission, The River represents the highest priced luxury condo on the market. Photo courtesy The River
Jan. 28, 2017 | Kathleen Renne
HAUTE TO TROT
Calgary's luxury market showing staying power, say experts
A high-end fitness centre and kitchen to cater private events; a concierge service or tranquility room; a car wash and, yes, even a pet wash.
These are among the amenities today's buyers can expect with the purchase of a luxury condo in Calgary, a sector real estate experts say is showing some staying power despite soft economic conditions.
A Sotheby's International Realty Canada report released this month noted 19 condos priced at more than $1 million sold in 2016, which was consistent when compared year-over-year.
Twelve condos sold between $1 million and $2 million in 2016, down 14 per cent from 14 units in 2015; five condos were sold between $2 million and $4 million in 2016 and 2015, while two condos sold for more than $4 million.
One of the latest additions to the luxury condo circuit is The River, a 38-unit project on the north bank of the Elbow River where the average price runs around $3 million.
Anne Clarke, a Sotheby's International real estate professional and The River's director of sales, noted buyers' interest in the project has been steady over the past two years, with only two units remaining in the development, which includes a tower and a low-rise building consisting of condos and town houses.
"Most of our buyers are coming from large estate homes in the country, and they're used to space and privacy. The River focused on maximizing that privacy," said Clarke, who anticipates Calgary's aging demographic will increase demand for large, luxury condo units.
The River is being developed by 26th Avenue River Holdings Inc., an affiliate of Ledcor Properties. Three units in the project sold at $3.59 million each in 2015, while a 5,600-square-foot penthouse sold for $8.99 million in 2012.
Engel & Völkers Alberta president of sales Mark Evernden admitted Calgary's current economy is impacting luxury condo sales, creating, "an abundance of inventory." Yet despite modest activity, Evernden noted luxury condos are "a growing sector."
He added Calgary's luxury home sector tends to be more robust due the dynamics of demographics.



"Most of our buyers are coming from large estate homes in the country, and they're used to space and privacy. The River focused on maximizing that privacy."



"In downtown Vancouver, Toronto and New York, you have families moving into condos. Here, we don't have that," said Evernden. "Instead of spending $2 million on a condo, a family can get an inner-city house for that."
Evernden pointed to re-development in Garrison Woods, Altadore and South Calgary, as well as in the 17th-Avenue and Eighth-Street S.W. area, as "up-and-coming" spots for luxury-condo products.
"We're still in a soft market, but it will come back," he said.
Cliff Bungalow – Mission Community Association president Bob Lang said the southwest inner-city community is a hot bed for high-end condo developments such as The River because of its proximity to downtown and Beltline amenities.
Eau Claire Community Association chair Jim Hughes echoes Lang, pointing to projects such as Eau Claire Estates, one of the city's earlier luxury condo towers dating from 1981, the Princeton Grand, as well as The Concord, which broke ground in 2015.
Hughes added the Eau Claire Community Association wants to see more residential development to meet its population target of 5,000. Yet because of Eau Claire's prime location, developers are more interested in building office towers rather than residential.
Evernden, meanwhile, believes foreign buyers could further shake up Calgary's luxury condo sector in the years ahead.
"We are being looked at in the world," he said, predicting foreign investment in Calgary real estate will continue to grow. Currently, Canada Mortgage and Housing Corp. (CMHC) notes foreign buyer activity in the city's apartment sector represented 0.9 per cent of all activity in 2016. That's down from 1.1 per cent in 2015, but up from 0.2 per cent in 2014.
Tagged: Beltline | Calgary Luxury Real Estate | cliff bungalow | Condos | Engel & Völkers | Feature | luxury | Mission | Sotheby's Realty Canada | The River
---
---
Connect With Us