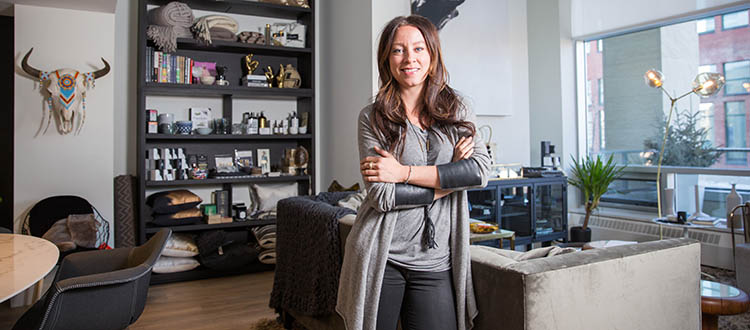 Calgary-based interior designer Amanda Hamilton recommends staying away from 'hot trends,' and instead create personal spaces in the home. Photo by Adrian Shellard/For CREB®Now
Jan. 19, 2017 | Kathleen Renne
What's hot for homes in 2017
Local designers offer advice on how to create personal spaces
One could describe Calgary-based interior designer Amanda Hamilton as trend averse.
"Focusing on trends is a sure way to date your home," she said, pointing to dwellings from the 1980s that show their vintage via their yellow-oak interiors and brass details. "We don't follow trends. Trends are interesting for people who are into fast design."
Hamilton added current economic conditions can also further influence trends' relevance.
"In this economy, people are being more conscious of what they're spending their money on. There's a sense of longevity in goods," she said. "It has become stylish to look for vintage and used items. People are able to save money this way and, also, create character in their homes."
Whether trend-setting or trend adverse, this is the time of year for "What's-Hot-and-What's-Not" lists to pop up across all media, offering guidance on a wide variety of subjects from what to wear to how to decorate.
"The tropical-plant trend is hotter than ever. You're seeing it everywhere from wallpaper and fabrics to actual tropical palms being incorporated into interiors."
So in the spirit of what's "hot" for 2017, Hamilton identifies the use of brass and bronze fixtures in homes. She cautions, however, they should be used sparingly, as they could serve to date a domicile.
When it comes to flooring, Hamilton noted a growing appetite for bleached floors and those with herringbone patterns.
She also is witnessing is a desire for interiors that evoke a "relaxed, bohemian desert vibe."
Calgary-based interior designer Alykhan Velji also highlights several trends on his radar for 2017, including one he terms "Jungle Fever."
"The tropical-plant trend is hotter than ever. You're seeing it everywhere from wallpaper and fabrics to actual tropical palms being incorporated into interiors," he said.
Another trend is one he calls "Back to Natural."
"Natural materials such as exotic quartz, marbles and granites are making a huge mark in design. This is more than just counters; you are now seeing these materials in decorative accents for the home," he said.
Velji added he's also seeing wicker pop up in home décor, especially when it comes to furniture.
"It brings in texture and an unexpected quality to a space," he said.
And arches are making a comeback.
"It's the perfect way to highlight a window and create softness in a space," said Velji. ­­
When it comes to colour, Benjamin Moore has announced Shadow 2117-30 as its Colour of the Year for 2017. The company described it as a rich, royal amethyst.
Pantone, meanwhile, has identified Greenery 15-0343, a vibrant green hue, as its colour for 2017.
Velji said Benjamin Moore's and Pantone's colour selections offer a "great way for people to get inspired about adding colour into their space," which, he suggests, can be done in subtle ways with accessories like pillows and throws.
Just as important as what's on trend is what to avoid. Despite its ubiquity, Hamilton said, "a grey-and-white palette can feel very clinical. There's not a lot of depth and soul to it. Clients should use something to break up the grey on grey on grey." She suggests a bleached floor as one example.
Hamilton recommends homeowners avoid being "matchy-matchy" when it comes to interior decorating.
"While items in your home should speak the same language, they don't need to be the same material," she said.
In other words, don't go for a sofa and two chairs that are all identical when outfitting your living room.
"It's like dressing head-to-toe in the same brand. There's no interest in that," said Hamilton.
Both Hamilton and Velji agree what's most important is for individuals to have homes that are unique to them.
"Let the ideas marinate and evolve in your own brain. You need to take inspiration and turn it into your own," said Hamilton.
Tagged: amanda hamilton | Calgary Real Estate | Calgary Real Estate News | decorating | Feature | homeowner | interior design | paint colour | Renovations | trends | YYCRE
---
---
Connect With Us