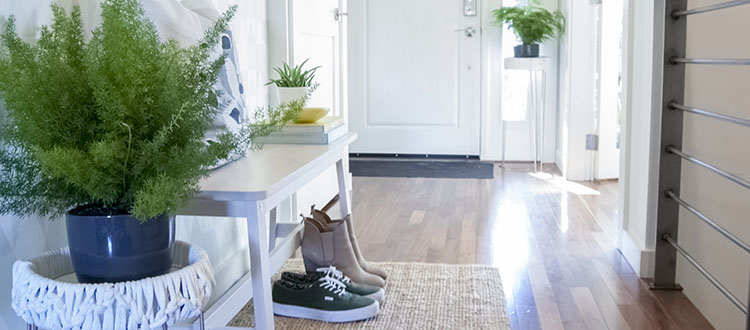 One of the trends to be explored at the Renovation Runway will be the strong influence of Nordic design, whether it be through Scandinavian wallpaper, lighting, or the kind of hardwood used. Photo courtesy Wicket Blue Interiors.
Dec. 08, 2016 | Kathleen Renne
Runway ready
Rebranded Calgary Renovation Show to feature what's hot for 2017
New Year's resolutions are almost as inevitable as the New Year itself. And if those resolutions include home renovation projects, then the Calgary Renovation Show is here to help.
Previously known as the Calgary Homexpo, the rebranded show returns to Calgary for its 46th year Jan 13 to 15, 2017, but with a new name, new look and new presenter – Marketplace Events, the group behind the Calgary Home + Design Show and Calgary Home + Garden Show.
"The all-new Calgary Renovation Show focuses on reimagining your current space," courtesy of some 200 exhibitors related to the latest in home and renovation trends and products, as well as a variety of guest presenters, said show manager Teri Salazar.
Highlighting the year's Calgary Renovation Show, which will be held in the BMO Centre at Stampede Park, will be the all-new Renovation Runway, designed by Wicket Blue Interiors and presented by CREB®Now.
"We know that a lot of consumers who come through the show aren't just looking for renovation materials, but for design inspiration as well," said Wicket Blue principle and designer/decorator Rosalyn Lazaruk, adding the runway is offering
Show attendees the chance to "be front row centre for a first look at 2017's renovation and home trends."
Lazaruk describes Renovation Runway as eight "giant, three-dimensional design boards," each suggestive of a different look that's hot for 2017.
"If you think of a regular design board – with things like tile, hardwood, wallpaper samples and paint colour – it would normally be done on a small, portable board," she said.
"For the runway, we're using an eight-by-eight wall piece. We'll set up each space like a little vignette. One might have a chair, another a table.
By way of a sneak preview, Lazaruk said one look that'll be featured is the New Nordic.
"Trends don't have to result in a complete overhaul."
"There's a really strong influence of Nordic design right now, whether it be through Scandinavian wallpaper, lighting, or the kind of hardwood used," she said.
Lazaruk terms another design trend for 2017 as Desert Modern. It's a look that fuses elements of mid-century design with items such as terracotta tiles, natural woods and Navajo prints on textiles and rugs.
Lazaruk said the design realm has focused on neutral, monochromatic palettes for a long while. Now, emerging trends are focusing on "how to layer on that neutral base," including using textures and colour, which Lazaruk said are returning to the home sphere.
"Trends don't have to result in a complete overhaul," said Lazaruk, adding she hopes show attendees will be inspired by what they see at Renovation Runway.
"It's about adding two or three elements into your space to give it a fresh, new look for the season. It could be something as simple as painting a wall, adding new top cushions to your couch, laying down a new area rug or putting up some wallpaper."
For more information about the Calgary Renovation Show, including how to purchase advance discounted tickets, visit www.calgaryrenovationshow.com or call 403-253-1177.
Tagged: advice | Calgary Home + Design Show | Calgary Home + Garden Show | calgary homexpo | Calgary Real Estate | Calgary Real Estate News | Calgary renovation show | interior design | Renovation | Uncategorized | YYCRE
---
---
Connect With Us