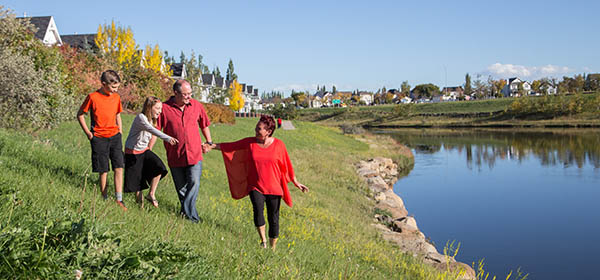 Clifford Koss and Janice Conley with their children Steven and Sophia in McKenzie Towne. Photo by Adrian Shellard/For CREB®Now
Oct. 06, 2015 | Kathleen Renne
Tried and true
Small-town experiment pays off for McKenzie Towne residents
Clifford Koss and Janice Conley have called the southeast community of McKenzie Towne home for 15 years. They moved there in 2000, after renting in McKenzie Lake across Deerfoot Trail.
"We like the area so much we named our business after it," says Koss, referring to the couple's home-based distribution company, Prestwick Resources. (Prestwick is one of four areas that make up McKenzie Towne, the other three being Inverness, Elgin and High Street, a 120,000 square-foot commercial strip.)
In fact, these days Conley and Koss say they rarely have occasion to venture outside of the community.
"Between the shops along High Street and South Trail Crossing at 130th Avenue S.E., we don't have to really leave the area," said Koss.
Added Conley: "I love my commute in the morning," adding her daily drives usually involve dropping off their two children at school or going to the grocery store.
"I like to joke that she does 15,000 kilometres a year in circles around McKenzie Towne," said Koss.
And that's how McKenzie Towne's developer Brookfield Residential envisioned the resident experience when it started developing the area in 1995.
"McKenzie Towne was set up as a traditional neighbourhood development. One of the characteristics of such a development is that all your daily needs are within a five-minute walk," said Bob Clark, senior vice-president of business development for Brookfield Residential.
He noted the phrase "traditional neighbourhood development" didn't enter the community-planning lexicon until the 1980s.
"McKenzie Towne was the first development of this nature done by a major developer," said Clark. "It was a trend-setting community. We had people come to look at McKenzie Towne from Russia, North America and China."
In fact, Brookfield modelled McKenzie Towne after small towns it saw that were successful in incorporating residential, retail and commercial design.
"We looked at a lot of small towns in North America – how they set up shops close to the street to create a pedestrian realm in front of them," said Clark.
That research influenced the creation of High Street, reminiscent of a small-town main street.
"It was the first time in a very, very long time we'd set up a commercial complex where you could angle park in front of the shops," said Clark.
Fairfield Commercial Real Estate director of tenant services Jay de Nance says McKenzie Towne was a pioneer at creating a town within a town.
"They looked at a healthy combination of national and local retailers, and provided an eclectic mix attractive enough that people would go browse in McKenzie Towne instead of somewhere like Chinook Mall," said de Nance, adding that was a first for a suburban area in Calgary.
Historically, a community's residential and commercial realms were established separately, he added. Now, more developers, like Brookfield with McKenzie Towne, are planning residential and commercial simultaneously.
"This is the way of the future for suburban communities, to see environments planned on a macro scale with residential and commercial," said de Nance.
Conley and Koss both appreciate the pedestrian-friendly nature of McKenzie Towne, something Clark says has been realized through features such as narrower roadways and sidewalks on both sides of the streets.
"McKenzie Towne doesn't have front-drive garages, so it feels friendlier. And High Street brings people out," said Conley.
Clark notes the success of McKenzie Towne has even influenced broader urban design at a local level.
"A lot of principles that came out of McKenzie Towne have shown up in the Municipal Development Plan. We ended up with a community that served as an incubator for a different kind of community," said Clark, pointing to features such as tree-lined roadways and grid-street patterns.
While the Urban Land Institute has recognized McKenzie Towne as being "one of 26 exceptionally planned communities worldwide," Conley believes the best praise comes from her sister, who lives in small-town Alberta.
"(She says) If I had to live in Calgary, I'd move to McKenzie Towne, because it feels like a small town," said Conley.
Tagged: Brookfield Residential | Calgary Community | Calgary Real Estate News | Fairfield Commercial Real Estate | Feature | McKenzie Lake | McKenzie Towne | Residential
---
---
Connect With Us