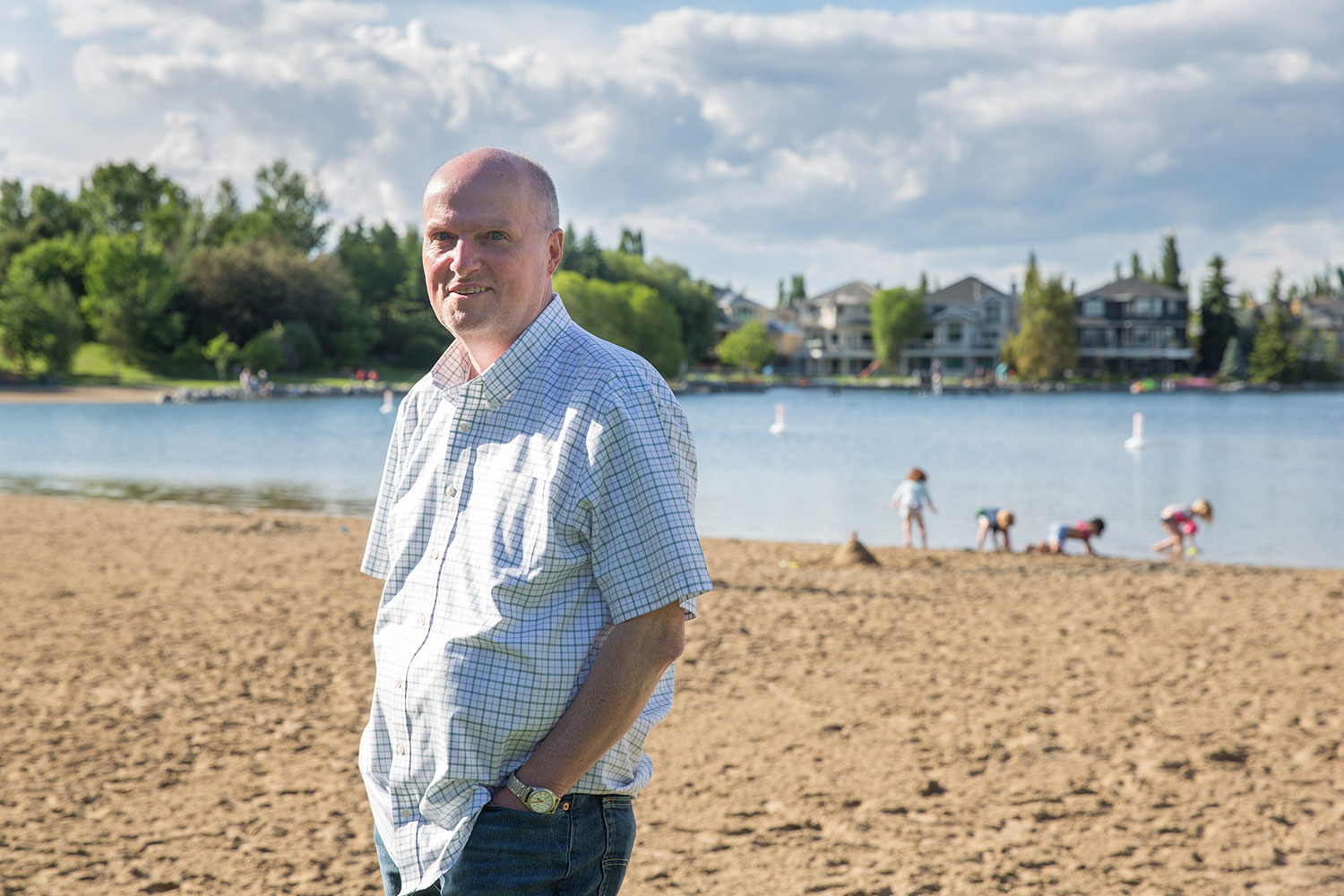 D'Arcy Duquette has lived in McKenzie Lake for 18 years, and has been president of the local community association for a decade. Adrian Shellard / For CREB®Now
June 21, 2017 | Barb Livingstone
First of their kind
Mix of young and old call Calgary's established lake communities home
When D'Arcy Duquette and his family moved to Calgary from Montreal, a lake in their new community was a must-have for his son and daughter.
"I moved them from a home where we had a big in-ground pool in the backyard and were surrounded by lakes," said the 60-year-old transportation industry retiree. "They were spoiled."
After moving into McKenzie Lake, with its 17.5-hectare man-made lake, Duquette's children happily spent summers "in their bathing suits."
McKenzie Lake is one of the older lake communities in Calgary, established in the late 1980s. Like the other more mature lake communities in Calgary, including Lake Bonavista (the first man-made lake in Canada, completed in 1968), Midnapore, Chaparral, Sundance, McKenzie Lake, Arbour Lake and Coral Springs, the majority of homes in McKenzie Lake are single-family and the resale market is the only option for prospective buyers.
Duquette has been president of the McKenzie Lake Community Association for 10 of his 18 years spent in the neighbourhood.
The community, as of 2016's civic census, had 13,709 people in about 4,700 dwellings. Fifty per cent of the population is aged 20-54, with the rest evenly split between those 19 and under and those 55 and over.
Unlike other lake communities, however, not all neighbourhood residences have lake access – something Duquette says buyers should be aware of.
The area developed by Carma Developers (now Brookfield Residential), which assumed control of the property from the bank in 1989, includes lake access. Those homes, numbering 3,200 with about 11,000 people, also belong to the McKenzie Lake Residents Association, which collects mandatory yearly fees to maintain lake amenities.
Lakes in older communities are popular, with most stocked with trout for fishing and offering recreational activities from swimming and skating, to kayaking and pedal boating.
"If you like living in cottage country without the four hour one-way commute, a lake community provides that." - Kevin Egan, Sundance Lake Residents Association director
Some communities have restricted guest numbers to ensure member families are accommodated. For example, the 13.3-hectare Lake Sundance allows a maximum 12 guests per household per day, unless pre-approved by management.
Sundance, established in the early 1980s, has about 3,400 homes with more than 10,000 residents.
Anne Radic, a director with the Sundance Lake Residents Association whose two children grew up in the community, says there is a mix of residents, including younger families buying older homes and renovating them.
"The upside is that since most of my neighbours who have lived here for some years really don't go often to the lake, our younger residents can use our pedal boats, kayaks and rowboats without much of a wait," she said.
About 45 per cent of Sundance's current residents are between 20 and 54, with those 55 and over making up the next largest group, and those 19 and under representing a quarter of the population.
Kevin Egan, another director with the Sundance Lake Residents Association, says one advantage older lake communities have over newer ones is yearly dues are usually far lower, as capital costs of amenities are paid off.
At Sundance, annual lake fees range from $227 to $310 depending on home location (away from the lake versus lakefront). By comparison, fees in newer lake community Auburn Bay range from $441 to $882 for the 2017/18 year.
Egan says common rule of thumb is about 30 per cent of lake community residents actively use the lake, while the rest are occasional/rare users, attracted more to a community's location and access to schools, LRT, hospitals and shopping.
He adds that "if you like living in cottage country without the four hour one-way commute, a lake community provides that."
Many residents remain in older lake communities even when their kids have left, because of the strong community and family connections they've built over time.
Duquette's son had his wedding reception in McKenzie Lake, while his daughter will have hers in Auburn Bay, where her aunt lives.
"They still bring their spouses over to go to the lake," he said.
Tagged: Anne Radic | Arbour Lake | Brookfield Residential | Calgary Real Estate News | Chaparral | Coral Springs | D'Arcy Duquette | Feature | Kevin Egan | Lake Bonavista | McKenzie Lake | Midnapore | Sundance
---
---
Connect With Us