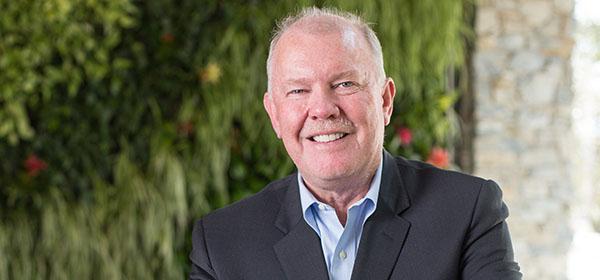 Brookfield Residential Properties president and CEO Alan Norris initially toyed with becoming a golf pro before turning to a career in residential development. Photo by Adrian Shellard/For CREB®Now.
Oct. 01, 2020 | Barb Livingstone
Calgary's urban influencer series: Alan Norris
We've all heard that Rome wasn't built in a day. Neither was Calgary, which continues to undergo an urban renaissance. Over the next five days, CREB®Now will present a series where it has sat down with five influencers who have helped develop the city as we know it today.
The lure of lasting value
He leads a Calgary-based company with assets of $3.2 billion and 1,100 employees in 12 different North American markets.
In its 57-year history, the company has developed and built in 62 Calgary neighbourhoods in all four quadrants of the city.
But while Alan Norris's
Brookfield Residential Properties
has been successful developing communities throughout North America, the president and CEO also leads what may be his biggest task yet: to end homelessness in Calgary.
As chair of the $120-million Resolve campaign to build affordable rental housing for 3,000 people, Norris recognizes it as "an audacious goal. But doable."
And what would be a first in Canada if it succeeds, Norris attributes it to "that philanthropic element that distinguishes us from other cities." Other real estate industry leaders have already contributed more than $11 million to the cause.
Growing up in Scotland, Norris never dreamed of being part of any residential development business — "I'm not sure I would have known what that was. "
In fact, Brookfield's top man toyed with becoming a golf pro but took extra accountancy courses when, as a 16-year-old and already accepted into university, his parents suggested he wait out a year.
Initially focused on languages, he switched to accounting and economics, thinking it more practical in finding a job.
The chartered accountant joined international company Deloitte and picked a stint in Calgary from the firm's many international locations.
In 1980, a young 23-year-old Norris arrived in the city.
Scheduled to return to Scotland two years later, he instead joined Carma Developers as corporate controller.
With the collapse of the Alberta economy in the early 1980s, Carma (in 2011 it became part of new company BRP), like many others, struggled, dropping in 1986 from 400 employees to just 16.
"We were hanging on by our fingernails, " said Norris.
But after restructuring, new equity and land acquisitions in the late '80s, the company brought on communities such as Riverbend, Tuscany and Mckenzie Towne.
Brookfield, he said, "created something special" with a customer commitment that ensured it wasn't "a one-trick pony. You have to do what you say you will do. You have to do the right things for the right reasons."
While Calgary's housing industry used to trek to California for ideas, the city's residential industry is now seen as one of the best for innovation.
"We've been doing tours of McKenzie Towne for people from all over the world since it opened," said Norris.
And that, he added, has been the best thing about his job — helping create something of lasting value.
"I used to walk through many of our communities and say, 'that works, I know why we did that.' It's very special to be able to do that."
Today, with the city's increased push toward densification of the core (established in the municipal development plan through the Plan It initiative), Norris says there is room for both suburban and urban development.
"Both can be done in a sustainable and attractive way. The hump is how it is paid for," he said.
The conversation between the housing industry and City of Calgary over the shift, the supply of developable land and the costs of growth has been acrimonious at times, but Norris believes there are "a lot of positive things happening," describing new city manager Jeff Fielding as a "breath of fresh air" with his practical approach.
Plan It Calgary is a guide for growth over 60 years, and "was not intended to be implemented in 18 months," said Norris.
"Yes we need a strong urban core, but we also need suburban employment/retail nodes," such as Brookfield's master-planned Seton project in Calgary's southeast, where schools, a rec centre and extensive retail and entertainment centres will sit alongside the South Health Campus.
"We see Seton as the southeast downtown; the core in that part of the city," he said. "Livingston (Brookfield's newest planned community) will be the same in the north."
Norris adds with the right partnership between the City and private sector, Calgary's development can be exceptional.
"We are working toward positive densification and we will get there," he said. "We just don't want to have the situation where if you want to move to Calgary this is your only choice."
Norris describes Calgary as a great place to raise families, with its pathways, green spaces and closeness to the mountains, and celebrates the vibrancy and vitality Calgarians bring to the table.
"Some cities are sleepy. In Calgary, it's not 'can do.' It's 'will do,'" he said.
Tagged: Alan Norris | Brookfield Residential | Calgary Real Estate News | community development | Homebuilding | Residential | urban development | urban planning
---
---
Connect With Us