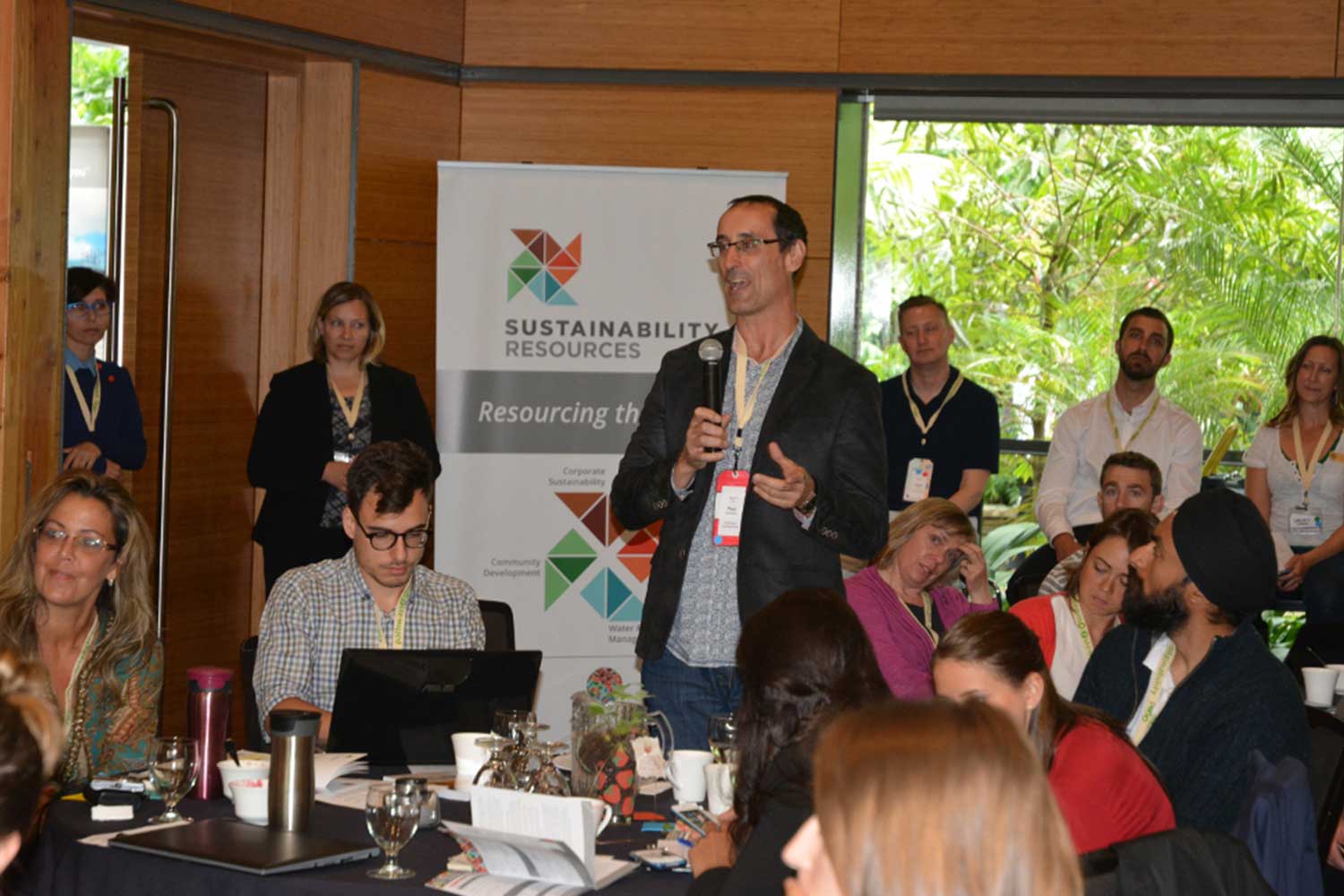 Cody Stuart / CREB®Now
June 23, 2017 | Joel Schlesinger
The good life by the lakeside
Snapshots of Calgary's lake communities
Life at the water's edge may not be the defining Calgary experience. But for thousands of Calgary homeowners, life by the lakeside was a key reason they chose to buy in one of the city's many man-made lake communities. Here's a look at each of the Calgary neighbourhoods with a blue jewel of H2O at its heart, making them among the most desirable communities in
the city.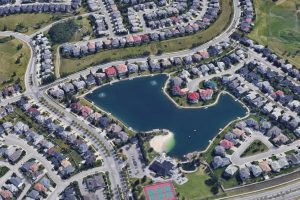 Arbour Lake
In the city's northwest, Arbour Lake was established in 1991 and features a rainbow-trout filled lake lined by stately homes. Envisioned by Melcor Developments, the community is inspired by lake communities in southern California. About 10 acres in size, the lake is a key recreational feature of the community of more than 10,000 residents. With a median age of 41 and household income of about $92,000 before taxes annually, Arbour Lake hosts a number of activities, including ice fishing derbies, boating and swimming. In 2012, Avenue Magazine named Arbour Lake the second-best community in Calgary.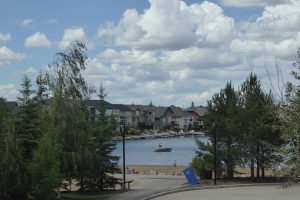 Auburn Bay
About 25 minutes from downtown, the southeast community was created by Brookfield Residential Properties in 2005. The 900-acre community centres on a 43-acre freshwater lake with a sizable private beach. About 11,000 people – with an average age of 30 – live in Auburn Bay. With a median household annual income of about $116,000 before taxes, it features plenty of family-oriented events from beach parties to volleyball tournaments. Close to the new urban district of Seton, Auburn Bay offers a cottage lifestyle with all the benefits of city life, including access to the new South Health Campus.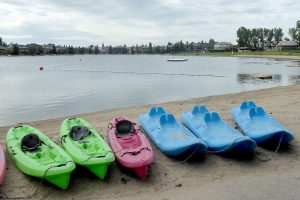 Chaparral
Named after a scenic region in the Baja peninsula of Mexico, this southeast community was established in 1995 by Genstar Development Company, and features a 32-acre lake with a manmade mountain and an alpine-inspired stream that includes two waterfalls. The community's population exceeds 12,000, with an average age of 35 and a median annual household income of more than $115,000 before taxes. Besides a 21-acre park surrounding the lake, it is also close to plenty of shopping destinations. Popular with scuba divers, its lake features large concrete pipes on the bottom as part of an underwater obstacle course.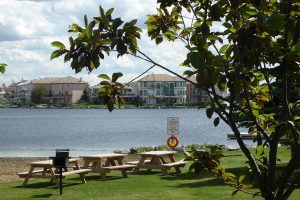 Coral Springs
A community located in Calgary's northeast quadrant, Coral Springs was founded in 1991 by Jager Developments. The 16-acre lake is a hub for recreational activities from boating and fishing during the summer to ice skating and hockey in the winter. The population of Coral Springs is about 6,000, with a median age of 37 and an average household income of more than $95,000 per year before taxes. Inspired by California living, many homes feature bright stucco exteriors. The community also has a very active association, organizing plenty of events year-round for families, including a fall festival with a petting zoo and climbing wall.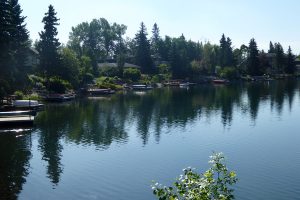 Lake Bonavista
Calgary's first lake community, finished in 1968 by Keith Construction, Lake Bonavista was also Canada's first development built around a manmade lake. The southeast community actually features two lakes: Lake Bonavista, which spans 52 acres, and Lake Bonaventure, 35 acres in size. With a population of about 10,000, Lake Bonavista has a median age of 46 with an average family income of about $111,000 per year before taxes. Home to plenty of events throughout the year, activities include ice skating and boating, as well as catch-and-release shore fishing. Lake Bonavista also borders on Fish Creek Provincial Park to the south.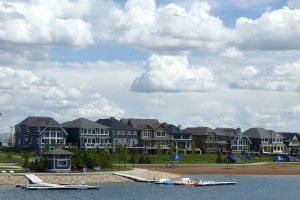 Mahogany
Featuring Calgary's largest lake at 63 acres, Mahogany was launched in 2006 and developed by Hopewell Residential Communities. The lake connects with all of its six neighbourhoods, along with more than 70 acres of wetland, for a truly distinctive living experience. Located in southeast Calgary, the community's population is more than 2,600, with an average age of 31 and a median yearly household income of about $130,000 before taxes. Besides playgrounds and a splash-park for the kids, Mahogany also has a unique fitness park for adults called the TransCanada Outdoor Fitness Park.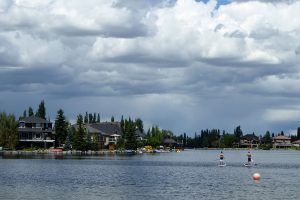 McKenzie Lake
Carma Developers began construction in the mid-1990s with a 43-acre lake at the heart of the community, which today includes 20 acres of park and a beach club for residents. Located in the southeast, McKenzie Lake is home to more than 14,000 residents with an average age of 37, while the community's median household income is about $114,000 annually before taxes. Its rainbow-trout stocked lake is popular with neighbourhood anglers, and like many lake communities, requires no fishing license. The lake is also a hub of activity in the winter, with lit hockey rinks and a 2.5-kilometre skating path.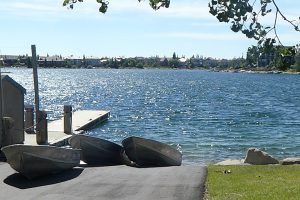 Midnapore
Another southeast Calgary lake community near Fish Creek Provincial Park, Midnapore is also one of the city's oldest developments built around a major water feature. Keith Construction began digging the lake in 1976, which is 30 acres in size with an average depth of about 30 feet, making it ideal for boating and fishing. Named after a city in India, the community of about 7,000 people has a median age of 42 and an average household income of about $80,000 before taxes annually. Midnapore hosts many events throughout the year, including Movie on the Beach, Family Fun Day and a popular Easter egg hunt.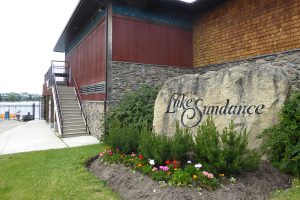 Sundance
To Midnapore's south, Genstar Development Company began Sundance's residential development in 1982. Its 33-acre lake offers swimming, fishing and boating in the summer, and ice-skating, hockey and ice-fishing in the winter. The community is also in close proximity to the popular Sikome Aquatic Facility in Fish Creek Provincial Park. The community's population of about 10,000 has an average age of 40 with a median annual household income of $118,000 before taxes. Among its unique characteristics is a floating dock on the lake, popular with swimmers on hot days. As well, its park has a six-hole disc golf course.
Tagged: Arbour Lake | Auburn Bay | Brookfield Residential | Calgary Community | Calgary Lakes | Chaparral | Coral Springs | Feature | Genstar Development Company | hopewell residential | Jager Developments | Keith Construction | Lake Bonavista | Lake communities | lakes | Mahogany | McKenzie Lake | Melcor Developments | Midnapore | Sundance
---
---
Connect With Us