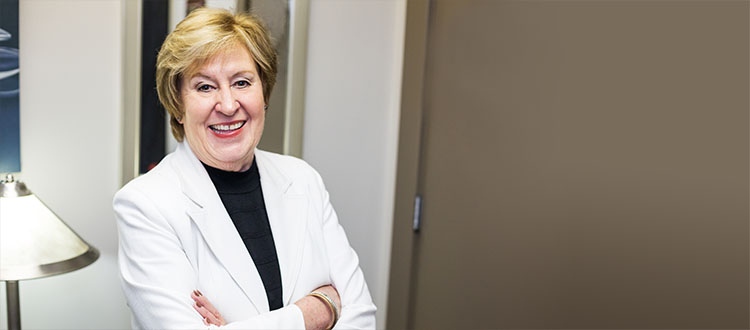 Diane Scott remembers 2010 as the year real estate faced increased pressure from the Competition Bureau. Photo by Michelle Hofer/For CREB®Now
May 24, 2016 | Cailynn Klingbeil
55 Years of Real Estate: 2010 CREB® president Diane Scott
Over the past five decades, Calgary's real estate industry has been bare to it all – from double-digit interest rates to densification. Continuing until the end of 2016, CREB®Now will weave together an incredible narrative of how the local housing industry has evolved through the unique perspectives of CREB®'s 30 remaining past presidents.
——-
Diane Scott's recalls her year as CREB® president in 2010 as one of contention, highlighted by a very public battle between the federal competition watchdog and the country's national real estate association.
Dubbed the "Competition Bureau years," Scott said the debate around what the bureau deemed "anti-competitive real estate rules," which it said limited consumer choice and prevented innovation, shook up the industry then, and its results have reverberated even to today.
"It had everyone pretty riled up," she remembered. "It was a very, very tough year for REALTORS® to understand the models were to be accepted, regardless of what model it was."
In February 2010, the Competition Bureau challenged rules imposed by the Canadian Real Estate Association (CREA) on agents listing properties on the MLS® System. Under CREA's rules, the bureau said agents could not offer consumers the option to pay a fee for an agent to list a home on the system. Instead, consumers had to purchase a pre-determined set of additional services. Such rules restricted the ability of consumers to choose the real estate services they wanted, the Competition Bureau said, forcing consumers to pay for services they didn't need.
The dispute was eventually resolved in October when members of CREA ratified an agreement that allowed consumers to choose which services they wanted from a real estate agent when selling their home, and to pay only for those services. As a result, homeowners could list their properties on the MLS® system for a flat fee.
"It was a big shift for REALTORS® and for those with careers in real estate," said Scott.
For her part, Scott recalled being part of various urgent meetings between CREA and provincial associations during the year-long battle.
"It was a very, very busy year in travel for me," she said. "We were negotiating back and forth with the Competition Bureau. It was a lot of talking and negotiating."
Yet the hard work paid off, added Scott.
"At the end of the day, it was resolved in a way that satisfied the requirements, and REALTORS® learned how to work with it. It worked out," she said.
Scott's year at CREB® president was also one in which the economy was still overcoming a rough patch following the downturn in 2008 and 2009.
Mortgage rules were also tightened in 2010 by then-federal Finance minister Jim Flaherty.
"It was kind of a lot of stuff to deal with, with the Competition Bureau and the market," said Scott. "The financial crisis was kind of behind us, but there were still job losses ... and we were also working off some of the inventory from previous years."
The market had gone from sizzle to fizzle to simmer in just a few years. While sales showed signs of renewed strength early in the year as buyers sought to beat expected changes to mortgage lending rates and interest rate hikes, they soon stagnated due to slow job creation and in-migration to the city. By year's end, transaction levels decline by nearly 17 per cent to 17,094, although the benchmark price increased by more than five per cent to $382,558, according to CREB®
"It was a soft market, but we did start to see the light a little bit at the end of the tunnel," remembered Scott.
"We were trying to stabilize in 2010. By the end of the year, it looked like we were going in that direction."
Scott also remembered 2010 as a "bang-up year" for technology, with digital marketing gaining popularity within the industry.
"Technology turned the industry over on its head," said Scott, who has worked in the real estate industry in Calgary for more than 30 years and is currently broker/owner of Royal LePage Solutions.
In her time in the industry, she's also seen education improve.
"It has become a little more formidable to become a REALTOR®, as the rules and regulations have changed," said Scott. "The industry has worked at improving the quality and careers of REALTORS®."
Tagged: 55 years of calgary real estate | broker | Calgary Real Estate | Calgary Real Estate News | Canadian Real Estate Association | competition bureau | creb president | CREB® | Economy | REALTORS | Residential | Uncategorized | YYCRE
---
---
Connect With Us