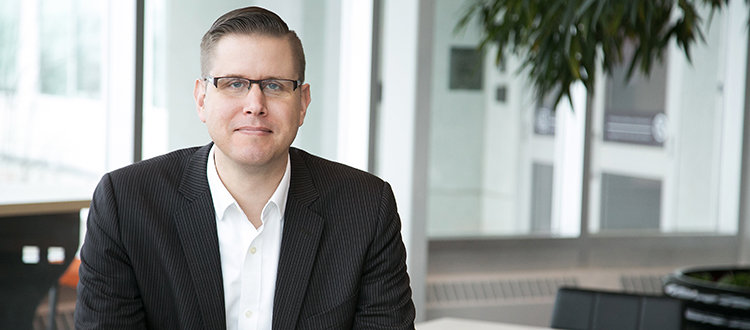 CREB® president Cliff Stevenson says real estate has become an attractive career given the time and cost to get into the industry is a little less than many other industries. Photo by Michelle Hofer/For CREB®Now
April 15, 2016 | Mario Toneguzzi
Steady state
Real estate profession sees little fluctuations during market volatility
Fluctuations in Calgary's housing market over the last several years have not yet significantly impacted the number of real estate professionals practicing in the industry, say officials.
"It's interesting because in down economies we actually see some additions. Professionals in other industries who have lost their jobs often choose to come into our industry instead," said CREB® president Cliff Stevenson. "It keeps everything pretty well balanced. We don't see tremendous fluctuations year over year."
Last year, CREB® reported 5,253 members who record 18,830 sales. That's in comparison with 5,188 members and 25,543 MLS® sales in 2014.
This year, CREB® is reporting 5,277 members so far, and forecasting 18,416 sales by year's end.
"Real estate became a very attractive career given what was happening in the market," said Stevenson. "The time and cost to get into the industry for a career is a little less than lots of other industries out there, so it becomes an attractive option – especially for a timing perspective. People who are pivoting on their careers, this is a little bit easier for them to enter into if you compare it to other industries with the educational and cost requirements."
Natalie Scollard, spokeswoman for the Real Estate Council of Alberta (RECA), which licences real estate professionals, said people looking to enter the profession must first meet the initial eligibility requirements, such as being 18 years of age, having a high school diploma, being proficient in English and having Canadian citizenship.
The first step in the program is the Fundamentals of Real Estate course for $1,500 which gives people a foundational knowledge of the industry. After passing this course, a candidate has to take a minimum of one real estate practice speciality course among residential ($850), commercial ($850), rural ($850) and property management ($1,500). Individuals can take more than one course in certain practices.
Upon passing, candidates will be limited in their profession to the areas of practice in which they have passed.
Scollard said candidates must complete their first course and one practice area course within 18 months, and both are offered online.
As of late March, RECA already had 1,357 people registered in the Fundamentals of Real Estate course. In 2015, 1,529 people were enrolled in various stages of the course.
Stevenson said communication is a key skill set for any real estate professional – they have to be good communicators and be able to work with different people who have different expectations and circumstances.
He adds real estate professionals also have to be patient and innovative – especially with marketing budgets.
"In this economy, you have to be at your very best in all those areas," said Stevenson.
Tagged: Calgary Real Estate | Calgary Real Estate News | CREB® | CREB® president Cliff Stevenson | Real Estate | real estate council of Alberta | REALTORS | Uncategorized | YYCRE
---
---
Connect With Us