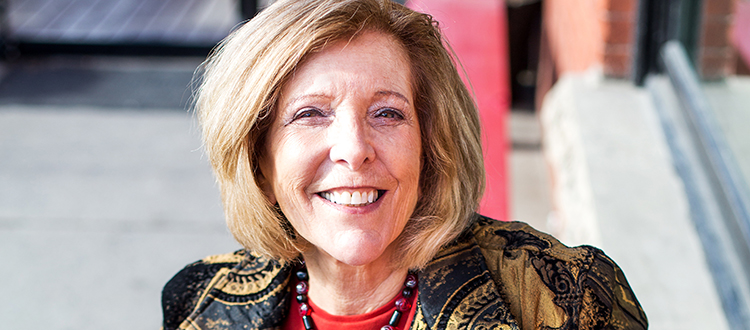 Patti Beaudry remembers a booming real estate market in 1997. Photo by Michelle Hofer/For CREB®Now
June 18, 2016 | Cailynn Klingbeil
55 Years of Real Estate: 1997 CREB® President Patti Beaudry
Former CREB® president Patti Beaudry recalls city's fast pace in 1997
Former CREB® president Patti Beaudry recalls 1997 as a bright spot in Calgary's real estate history, in which resale housing activity and prices hit then peak levels and the city's population experienced a newfound surge.
The economy was vibrant, with new jobs bringing newcomers to the city by planes, trains and automobiles, recalled the 35-year real estate veteran, who guided the organization's board of directors through its boom year. By year's end, the city's population gained 3.3 per cent to 934,300 compared to 2.4 per cent growth the year prior. Three years later, it hit the once-mythical one-million mark.
Calgary's housing market at the time illustrated the impact of this new wave of new residents. Sales in the resale residential sector jumped more than 20 per cent to 18,423, while prices surged by more than six per cent to $146,788, according to CREB®.
The new home side showed even stronger signs of growth, with housing starts in the city up 58 per cent to 11,215 units in 1997, according to Canada Mortgage and Housing Corp. (CMHC).
"It was a smaller city, which made it more interactive."
Yet despite the city's proliferation that year, Calgary still managed to feel like a close-knit community, recalled Beaudry, who was a partner in Prudential Rocky Mountain Real Estate at the time of her presidency.
"It was a smaller city, which made it more interactive, within the real estate industry and in building closer relationships with clients," said the former social worker.
Now reflecting on her real estate career, Beaudry said she enjoyed the relationships she was able to build the most; she had clients whose grandchildren came to her, and she used to host movie nights at Christmas for clients.
"The office used to be a social hub. That still exists today, but it's lessened," Beaudry says. "Those deep relationships seem harder to build."
Within real estate, she's seen an industry "different as night and day." Twenty years ago, it was relationship driven, while now it exists very much online. As a result, most homebuyers are more educated on the market than they used to be.
"Technology is king. It's everything," she said.
There have been many other changes, too. Beaudry's recalled a lot of her business was done through open houses, which lessened as the years proceeded.
Despite the changes, the core of the business remains the same, she added.
"A good agent has a wealth of knowledge to share, and the consumer should take advantage of that," she said.
Not surprisingly, Beaudry couldn't identify any significant challenges facing Calgary's real estate industry in 1997.
"It was just about managing the growth that was happening within the industry," she said. "A couple of people have since said I had one of the easiest years as president. It was quite a steady, stable, sane year."
The industry still, however, faced adjustments. New real estate models that offered different commission structures started to enter the market, "which raised eyebrows." Some in the industry adjusted, while others remained resistant, said Beaudry.
"Lots of pressure was being put on the commission structure," she recalled.
CREB® itself also faced a major decision – to relocate from its longtime downtown location to a new suburban home due to ongoing parking concerns. While the eventual move to the board's current location in northeast Calgary didn't take place until a couple of years later, the groundwork started to be laid during Beaudry's year at the helm.
In the years since she was president, Beaudry has watched the city continue to grow farther outward. Her desire is to see it now grow upward.
"I'd like to see the city start to grow within itself," she said, adding densification in the core could be done through products such as secondary suites or backyard suites.
"Building in the inner city will help local businesses, would get rid of dangerous basement suites and would offer affordability."
Beaudry admitted affordability is not a new issue in Calgary – "the difference now is interest rates, which allow people to afford more" – but a topic timely nonetheless given the current economic downturn facing the city.
Beaudry's advice for Calgarians currently facing challenging times is to keep things in perspective.
"I see a good future for Calgary," she said. "I think this is a temporary slump. Calgarians, and Albertans, are a tough breed. They'll make it work. We've been there before."
Tagged: 55 years of calgary real estate | backyard suites | Calgary Real Estate | Calgary Real Estate News | CMHC | CREB® | densification | new homes | patti beaudry | Prices | Real Estate | REALTORS | sales | Secondary Suites | Uncategorized | YYCRE
---
---
Connect With Us